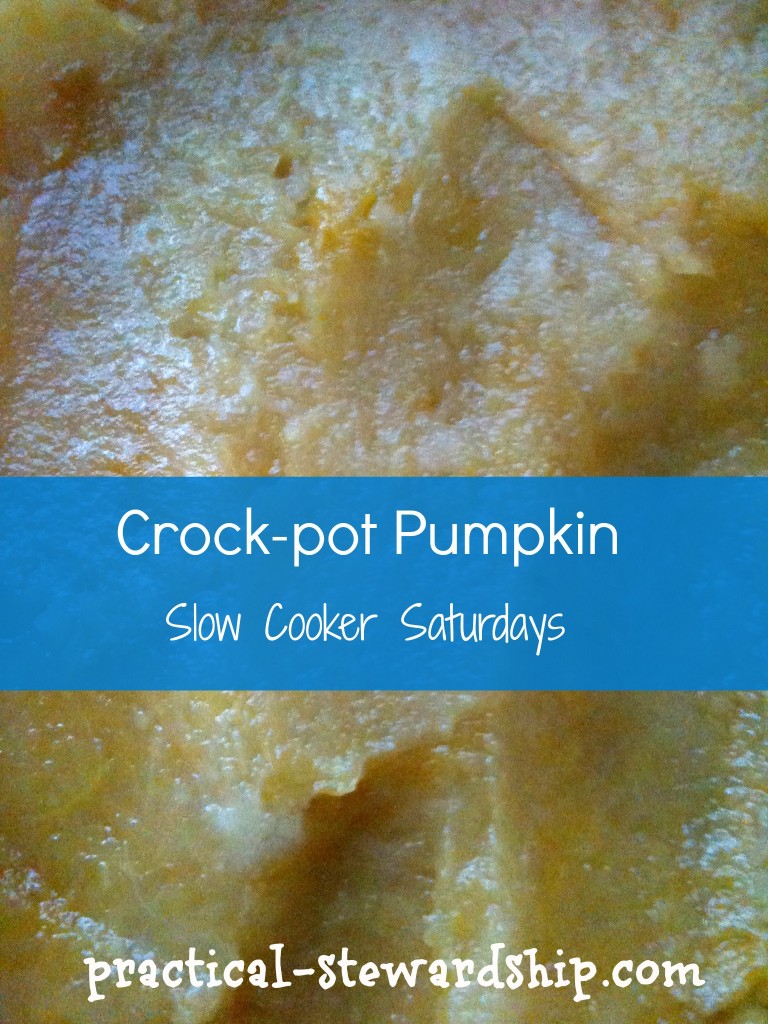 Anyone who knows me knows that I LOVE to use my slow cooker.  I love that I can fix something in the morning or lunch time and ignore it until dinner time.  I like trying a variety of recipes.
I thought I'd start my "Slow Cooker Saturday" series with something that fits the season: cooked pumpkin.  I freeze it and use it throughout the year in pumpkin bread, pie, and my latest, pumpkin waffles.  Last year I cooked it on the stove top, and it was a bit difficult, okay, more than a bit difficult.  It was a burden.  What made it hard was the peeling of the pumpkin before cooking it.  This week I tried in the slow cooker.  'Why not?', I thought.  And it made it sooo much easier!!
*Update 10/12/12 Cooking your pumpkin is such a money saver since the pumpkin can be purchased for so cheap.  Right now we can get pumpkin for $0.17/lb.  $0.17 verses what they sell a 29 ounce can of pumpkin for at $2.99 (current Safeway price), making the pumpkin $1.65/lb.  That's all most ten times the savings.  If we include the cost of using the crock-pot it goes down a bit, but not much.  If you have grown your own pumpkin you are out the cost of your seeds.  Cooking your own pumpkin saves an amazing amount of money!!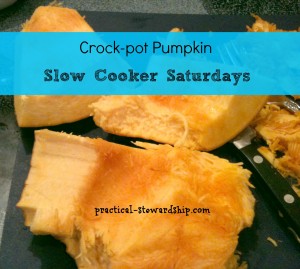 How to Cook Pumpkin in the Crock-Pot

Ingredients

Instructions
Take your pumpkin, and cut it up into manageable-sized pieces. Oh! And be careful!
Scoop out the guts (I keep the seeds to roast).
Put enough water in the slow cooker to fill the bottom, and place the pieces of pumpkin inside.
Turn the cooker on low for 5-8 hours. (I couldn't get to it right away so it might have been 12 hours, and it was still fine. Ah, the glories of the slow cooker.)
Take it out and let cool for about 10 minutes.
Scoop out the pumpkin pulp from the pee.
Discard the peel.
Refrigerate or freeze and use as desired.
http://practical-stewardship.com/2011/11/05/how-to-cook-pumpkin-in-the-crock-pot/
The Verdict: I didn't even need to put it in the food processor to puree.  To me this method saves a lot of time and steps.  I don't have to slave over a stove top, no peeling, no pureeing, so less to clean.  I love it!!  If your pumpkin isn't as smooth as you want it, by all means, cool it, and puree it in a food processor.
Have you tried…?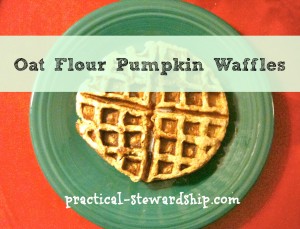 Go here for the complete list of recipes.
We would love to hear from you!  Feel free to comment.  Get free e-mail updates by subscribing here.  Follow us on Facebook and Twitter. "Moreover, it is required of stewards that they be found faithful" (1 Corinthians 4:2 ESV). Thanks for visiting!
Sonja