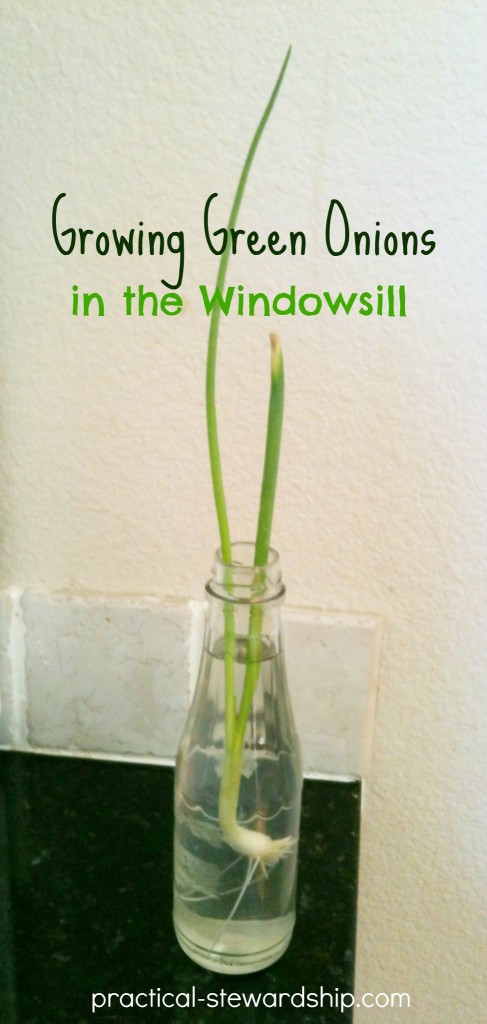 It's DIY FRI. again, where every Friday I try to post something you can do yourself rather than buy, which is a money saver, and can be VERY REWARDING.  Some of these posts are crafts, sewing projects, homemade cleaners, homemade health aids, tutorials, and the like.
When my friend Nancy was over a few weeks ago, she told me in passing about taking the end of a green onion, putting it in water, and growing it inside on a windowsill that receives light.  I did it, and 10 days later I had this:
Discovering this has opened another window to the discovery of how much we can actually do on our own that is actually REALLY EASY.  I have grown and rooted other house plants before, but never something I could actually eat.  I am in the process of exploring other things to grow inside.  Do you have any suggestions for me?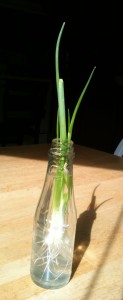 Can you see how crazy long those roots are growing??  This is after about 3 weeks!
The Ingredients:
The Instructions:
Optional: rubber band the green onion ends.
Immerse the onion ends in water.
Wait for growth, and change the water every couple of days.
Cut as you would normally and use in your favorite recipes, keeping the bulbs under water.
The Conclusion: It's so fun to watch something grow over time.  The kids love this, too!!  I can't believe how fast this grew.  Amazing!  If the onions lose a little flavor or become bitter, just buy a bunch and start the process again.  We enjoyed them on salads.
The onions can become slimy overtime, so make you change the water in a timely manner!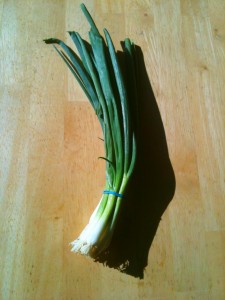 I learned from personal experience….
I just bought more this week to get some more starts going.  I have my long rooted onions in the pot and the freshly cut ones in the windowsill in a glass vase with water.  I'll give you an update and tell you if the potted onion is an epic failure or an extreme success or somewhere in between.
Update5/29/12  Go here to read about growing green onions in a pot along with getting four frugal garbage to garden tips.
We would love to hear from you!  Feel free to comment.  Get free e-mail updates by subscribing here.  Follow us on Facebook and Twitter. Thanks for visiting!
Sonja