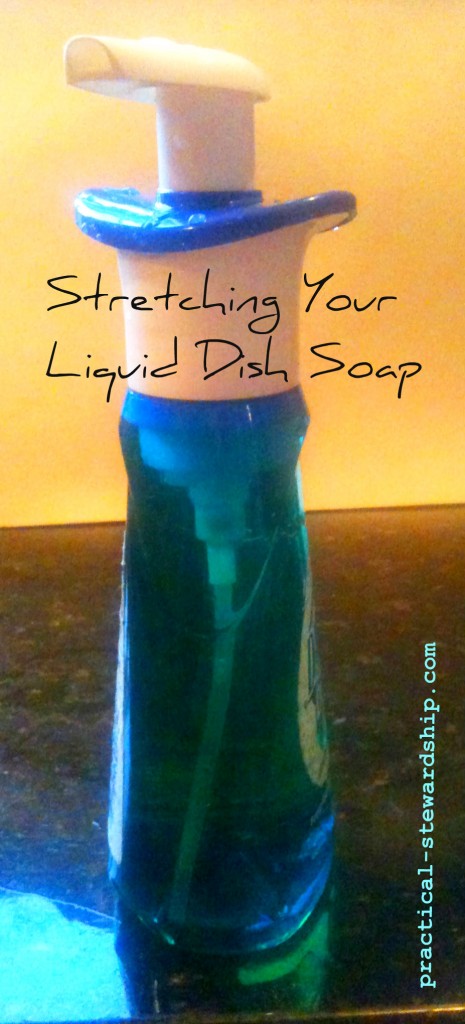 In shrinking your family grocery and cleaning supplies budget you may want to consider stretching your liquid dish soap.  This is so fast, and it saves so much money over time!
Have you noticed that your dish soap is so potent and is extremely sudsy and bubbly?  It can be highly diluted and still work great with lots of bubbles!  You can make your regular concentrated dish soap into foaming dish soap.
What I do is start with an empty container that will hold the liquid dish soap.
Then I buy a dish washing detergent with a foaming pumping.
I pour all of the detergent out into the empty container (which is now not empty anymore), except I leave an inch of detergent in the foaming pump container. 
I fill the rest of the bottle slowly with water, trying not to create bubbles.
Then put the top on, and shake to evenly distribute the soap.
With this method I can make the original soap last a year instead of one or two months. Then once the original soap is gone, I can use a non-foaming dish soap and refill the container about an inch again and the rest of the bottle with water.  Give yourself at least a half inch on the top to have room to shake.  When the soap has been too thin, I've just added a bit more concentrate dish soap to the mix.  If the soap is too thick, I use it thick until there is a little room to dilute it with water and shake.  All that to say, it turns out pretty well.
If I spend $2 on the soap (you can get it for less with a sale and coupon), and I would have bought it every two months, that's a $12 savings on dish soap alone.  I have used Dawn, Gain, Palmolive Clean and Clear (which is my favorite now, environmentally), and more.  All of them have worked for me so far!
My foaming pump lasted over two years (may be three), and JSarr told me last week, it was time to get a new one.  They can last a while!
I am planning on making my own dish detergent some day, like I've made my own dishwasher soap, including liquid, and now am using!
What are some other thrifty ideas you employ to save money for your family?  I love learning from you!!
Other posts you might like:
We would love to hear from you!  Feel free to comment.  Get free e-mail updates by subscribing here.  Follow us on Facebook and Twitter. Thanks for visiting!
Sonja