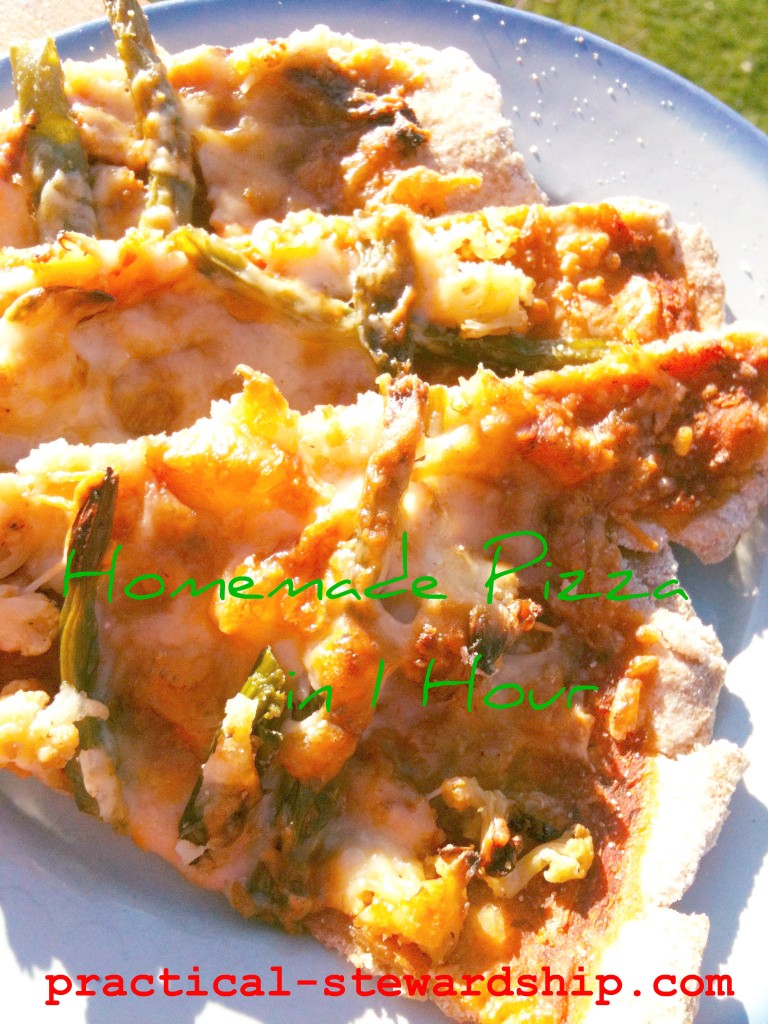 I found a recipe for a 4 ingredient pizza crust at the Heavenly Homemakers blog REALLY wanted to try it because it involved yogurt.  I did add a few steps that I thought would ease the process.  I love to try to find the best of the best.  I also love to find recipes that are easy without compromising quality, nutrition or taste.  This crust is the easiest I've ever made in my whole life, no joke, and it's so tasty!!
Homemade Pizza in less than an Hour

Ingredients
The Crust Ingredients (makes crust for at least 2 good sized pizzas & can be soaked-left on your counter overnight for better digestion):
3 1/2 cups whole wheat flour
1 t salt
1 cup plain yogurt
1 cup butter, melted (I use 3/4 cup butter)
Instructions
Preheat oven to 425 degrees (if using a baking stone, I insert it in the oven at this time).
Combine all crust ingredients into a ball.
Roll the dough on a floured surface. My Abbie girl assistant and I weren't concerned with a perfect circle. I think this is more how the Italians do it, anyway:)
Place the pizza dough on a floured pan or baking stone.
Pre-bake the dough only for about 3-5 minutes.
Take out the dough, and add your favorite toppings as suggested in the pizza ingredient ideas below (pizza sauce, meat, roasted veggies, cheese).
Bake until the cheese melts and browns a bit, about 12 minutes.
http://practical-stewardship.com/2012/05/09/homemade-pizza-in-less-than-an-hour/
The Pizza Ingredient Ideas:
When all was said and done, I couldn't believe that I started the process at 5pm in
the evening, and by 6pm, dinner was on the table, ready to be consumed.  Abbie helped me make mini pizzas for each of the kids, too.  The kids love getting their own pizza.  We all loved it!!  This is my new go to pizza crust.  I do still like the bubbly, yeasty Papa Murphy's and Papa John's crust, but this is great, especially for a thinner, crust, although Heavenly Homemakers suggests you can make it as thick as you want.
Have you tried the Roasted Vegetable Medley?
We would love to hear from you!  Feel free to comment.  Get free e-mail updates by subscribing here.  Follow us on Facebook and Twitter.  Thanks for visiting!
Sonja
Have you tried Homemade Fruit Leather in the Oven?