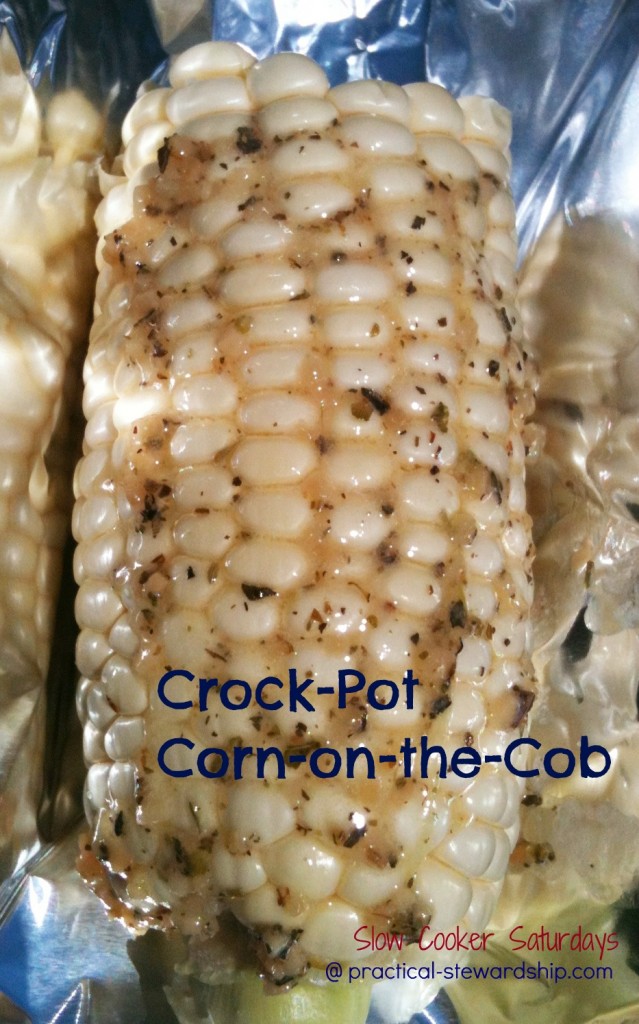 Looking for a potluck idea for Memorial Day or the 4th of July?  Corn on the cob in the slow cooker??  YES!! This is one of the easiest slow cooker recipes ever, like making "baked" potatoes in the crock-pot.  So easy!!  It doesn't even require water!  The moisture in the corn covered with the foil helps cook it.  I love that you don't have to hang over a boiling pot of hot water or that you aren't threaten to be scorched over a barbeque grill.  I let my husband do that! I love that you can just fix it, and forget it.  And the slow cooker is so forgiving, give or take a few hours, and you are still good to go.
I got a great helper in my Abbie-girl.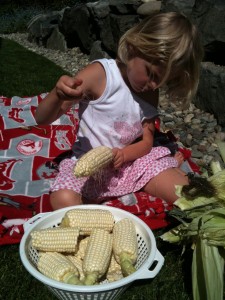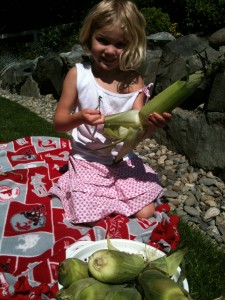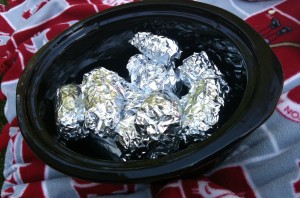 Gotta love the cougar blanket!  We were enjoying the sun working outside.
Crock-Pot Corn on the Cob
Ingredients
6 corn on the cob (or more or less. 6 fit nicely, broken in half in my 5.5 quart crock pot)
1/2 stick of butter (4 T-or more if needed), melted (try coconut oil for a dairy-free option)
1 T minced garlic
1 t Italian seasonings
Instructions
Shuck the corn. I rinsed mine to try to remove more of the silk strands.
Mix last three ingredients in a small bowl.
Place corn on foil.
Drizzle each cob with a spoonful of the buttery mixture.
Finish wrapping corn in foil and place in slow cooker.
Cook on low 4 hours or 2 hours on high.
Enjoy!
http://practical-stewardship.com/2012/05/26/crock-pot-corn-on-the-cob/
The Verdict: I admit that I am not a big corn on the cob fan. But put it together with some butter, Italian seasonings, and garlic, and what a combination!  And it's so easy!!
Have you made other crazy things in the crock-pot?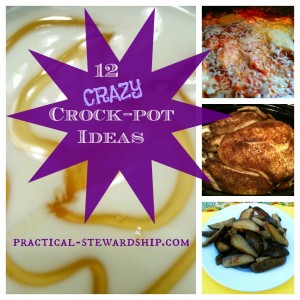 Try making your own barbecue sauce!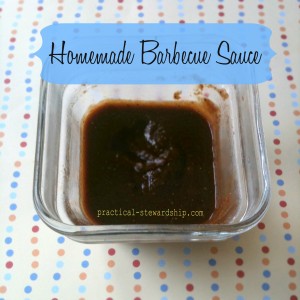 Go here for the complete list of recipes.
We would love to hear from you!  Get free e-mail updates by subscribing here.  Follow us on Pinterest, Facebook and Twitter. "Moreover, it is required of stewards that they be found faithful" (1 Corinthians 4:2 ESV). Thanks for visiting!
Sonja