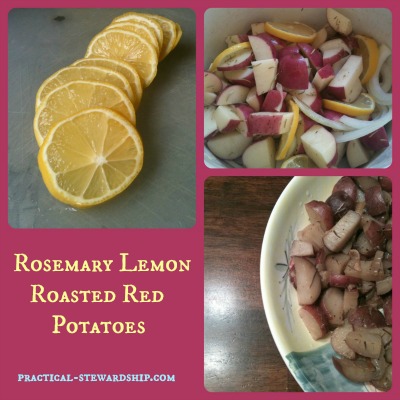 We often have a big bag of russet potatoes to wade through, so red potatoes are such a treat to us!  Roasted Red Potatoes are something you might find in a fancy restaurant, yet they are so easy to make!
And guess what?  You can roast vegetables in the crock-pot!  Yes, you can!  If you want your vegetables browned a bit, I think the key is to have only one layer of vegetables in the crock-pot so all of the vegetables get some kind of contact with the slow cooker.  So do not fill the crock-pot two-thirds of the way (which is normal for most slow-cooker cooking) with vegetables if you want them to turn out like oven-roasted vegetables. I have have loaded up the crock pot completely with vegetables, and you end up with soft veggies.  That's great if that's the end result  you want.  Also, don't use a lot of oil since the moisture seems to soften the veggies more rather than brown them.  I want my veggies a bit browned.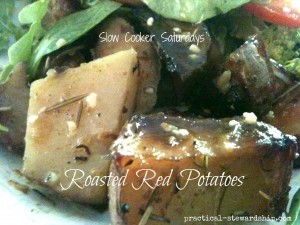 My Ellie girl (seven years old) is in LOVE with lemons (her favorite food now is lime.  It used to be grapefruit for six years; do I have a strange daughter?  I love it!).  I wanted to create a lemon roasted red potato that would delight her.  Rosemary seemed like the perfect match with the lemon!
For Oven Directions:
Place oiled and seasoned potatoes on a baking sheet.
Bake for 35 minutes at 450 degrees, stirring every 7 minutes or so.
The potatoes are done when the are soft and slightly browned.
The Verdict: These are such a great way to prepare the potatoes.  It's so easy because you can fix them and then forget them for a while.
Want 7 other slow cooker recipes for Thanksgiving?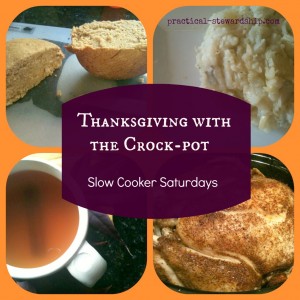 Have you tried…?
Go here for the complete list of recipes.
We would love to hear from you!  Feel free to comment.  Get free e-mail updates by subscribing here.  Follow us on Facebook and Twitter. "Moreover, it is required of stewards that they be found faithful." (1 Corinthians 4:2 ESV) Thanks for visiting!!
Sonja