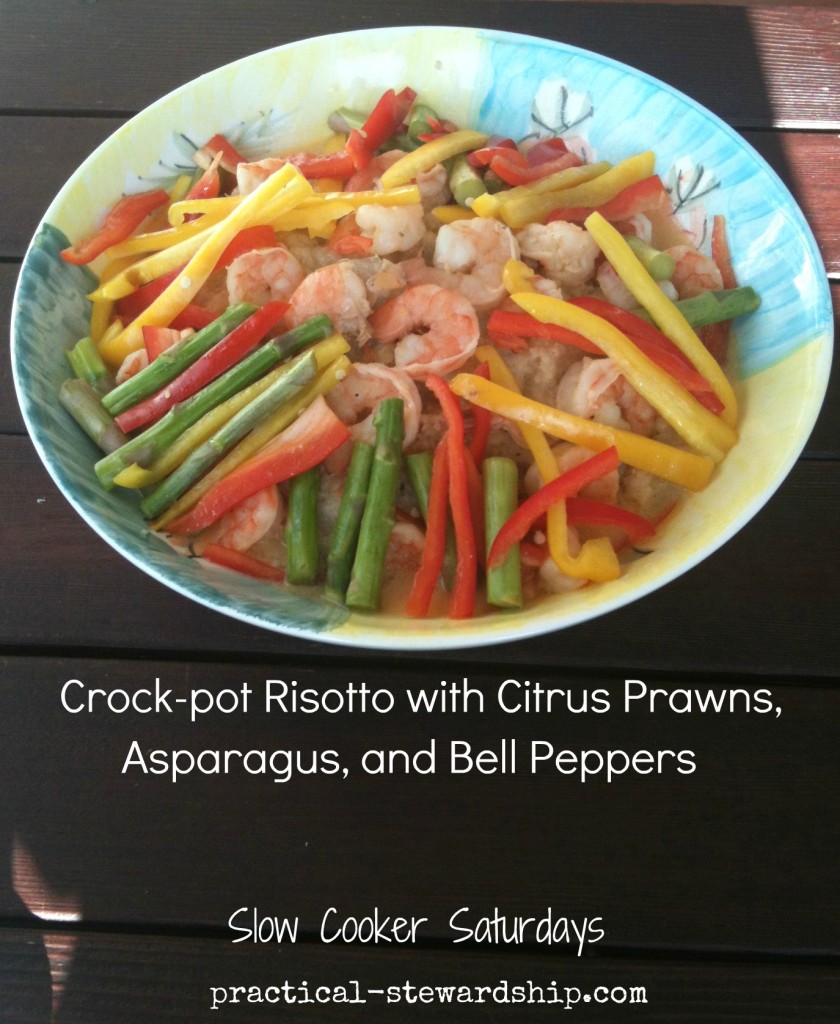 Slow Cooker Saturdays
I am so, so excited about this recipe.  I haven't been this excited about a recipe since I discovered cilantro lime pesto.  I am continually learning about food, and it is so fun, especially when I find ways to healthify recipes!
Risotto.  I was just introduced to risotto 6/14/12.  It was my __ birthday, and my family wanted to take me to Olive Garden; my kids LOVE the Olive Garden.  I was a bit concerned I wouldn't be able to find something I could eat that wouldn't make me regret my choice the next day, but I found something!  Fire-Grilled Citrus Shrimp & Risotto!  It was so great, and I enjoyed the leftovers the next day, too.
Then for our 13th anniversary in early July, my husband and I stayed in downtown Seattle a few nights, and I got a different risotto each night.  I had also had it at a potluck two days before we left.  Then we came home, and I made it for the first time, and had leftovers the next night.  So in six days, I had it five times in four different ways, all wonderful.
When I first made it, I did it the hard, long, traditional way where you hover over the stove, and stir, stir and stir some more.  Being in love with the crock-pot, I was wondering if a dish like this could be made it in.  The answer was a resounding YES!!  This recipe may cause some of my friends to think less of me because I am using the blessed crock-pot to create a traditionally stove-top made dish, but I'll call this efficient thinking and not being lazy!
Although this recipe is inspired by the Olive Garden Fire-Grilled Citrus Shrimp & Risotto, I can't say it is a copycat recipe.   I researched and found a few crock-pot risotto recipes and sauce recipes, and I cut, pasted & modified different ideas to create this new dish.  My biggest inspirations were A Year of Slow Cooking, and Martha Stewart.
The Verdict: I am in love with this recipe.  Plus it's such a time saver, using the crock-pot, since you don't have to stand over the hot stove continually stirring (or having my daughter do it:).  So I have found a more efficient, yet still, tasty way to have a risotto.
Go here for the complete list of recipes.
We would love to hear from you!  Get free e-mail updates by subscribing here.  Follow us on Pinterest, Facebook and Twitter. "Moreover, it is required of stewards that they be found faithful" (1 Corinthians 4:2 ESV). Thanks for visiting!
Sonja