Crock-pot Risotto
I am so, so excited about this recipe.  I haven't been this excited about a recipe since I discovered cilantro lime pesto.  I am continually learning about food, and it is so fun, especially when I find ways to healthify recipes!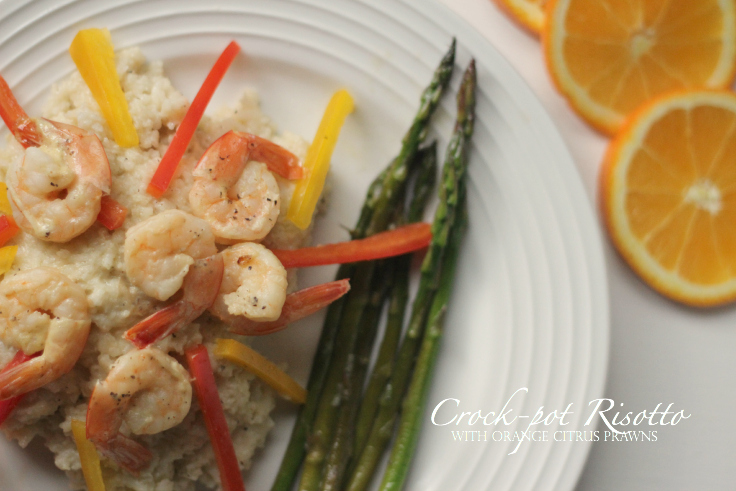 Risotto. I was introduced to risotto on my birthday. My family wanted to take me to Olive Garden for the celebration; my kids LOVE the Olive Garden, by the way. I was a bit concerned I wouldn't be able to find something I could eat that wouldn't make me regret my choice the next day, but I found something. Fire-Grilled Citrus Shrimp & Risotto. The risotto had an amazing combination of flavors. I even was able to keep myself from gorging so I could enjoy the leftovers the next day, too.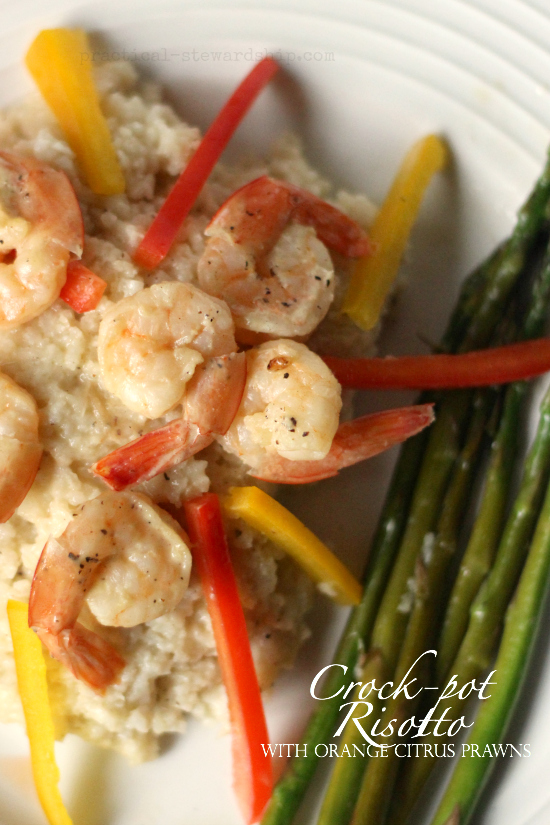 Then for our anniversary the following month, my husband and I stayed in downtown Seattle a few nights, and I got a different type of risotto each night. I had also had it at a potluck two days before we left. Then we came home, and I made it for the first time, and had leftovers the next night. So in six days, I had it five times in four different ways, all wonderful.
When I first made it, I did it the hard, long, traditional way where you hover over the stove, and stir, stir and stir some more. Being the crock-pot
lover that I am, I was wondering if a dish like this could be made slow cooker style. The answer was a resounding YES!! This recipe may cause some of my friends to think less of me because I am using the blessed crock-pot to create a traditionally stove-top-made dish, but I'll call this efficient thinking and not being lazy!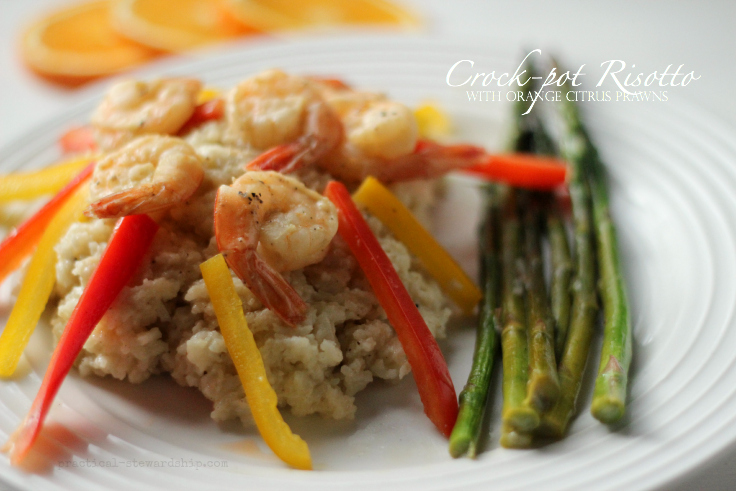 Although this recipe is inspired by the Olive Garden Fire-Grilled Citrus Shrimp & Risotto, I can't say it is a copycat recipe.  I researched and found a few crock-pot risotto recipes and sauce recipes, and I cut, pasted & modified different ideas to create this new dish. My biggest inspirations were A Year of Slow Cooking, and Martha Stewart.
The Verdict: I am in love with this recipe!! Plus it's such a time saver, using the crock-pot, since you don't have to stand over the hot stove continually stirring (or having my daughter do it:). So I have found a more efficient, yet still, tasty way to have a risotto. **Pics updated 4/15.
Crock-pot Risotto with Citrus Prawns, Asparagus, & Bell Pepper Recipe
Ingredients
1 1/4 cup uncooked Arborio rice
1/4 cup olive oil
1/4 cup white wine
3 3/4 cups chicken or vegetable broth
1 t dried onion powder
3 cloves chopped garlic
1 t sea salt
1/4 t black pepper
1/2-3/4 cup shredded Parmesan cheese (I used a Tilamook blend with Mozzarella and Parmesan)
1 lb. jumbo shrimp or prawns, deveined & peeled
1 bunch of asparagus
1 red bell pepper, thinly sliced
1 yellow bell pepper, thinly sliced
citrus dressing (recipe below)
Instructions
Grease the bottom of your slow cooker.
Place the first 8 ingredients into the slow cooker, and stir until just combined.
Cook on high for 2 1/2 hours or until the rice is tender, checking after two hours.
While the rice is cooking, make the citrus dressing from the recipe below.
Wrap all of the vegetables in foil, and place on top of the rice in the last 15 to 30 minutes depending how cooked or crisp you want them (you could also just saute the veggies with the shrimp in the next step).
On the stove top cook the shrimp in the orange dressing (you could also just throw them into the slow cooker with the rice, but I didn't do that this time).
When the rice is done, add the shredded Parmesan cheese, mixing it in well.
Dish out the rice and top with the orange shrimp and vegetables.
Enjoy!!
http://practical-stewardship.com/2012/08/04/crock-pot-risotto-with-citrus-prawns-asparagus-bell-pepper-recipe/
Go here for the complete list of recipes.
This post may contain affiliate links that cost you no more money, but support our blogging efforts. Thank you! 
Sharing at some of these great link parties.