Real food is AMAZING!  Real food is FUN!  Real food is healthy!
For the last six months I've been on a quest to make ice cream without an ice cream maker.  We have tried it in the Vitamix several times, using their recipes, but I am still not satisfied that we had found a great recipe yet.  It always turns out like ice milk for us rather than the ice cream they show in the Vitamix pictures.  We are not done yet, but in the mean time I found this recipe from Cupcakes & Kale, and modified it to be simpler and with almond butter instead of peanut butter.
If you can believe this, this recipe can be made completely dairy-free!  It never ceases to amaze me the recipes you can create using REAL FOOD!
This has got to be one of the easiest recipes in the world!  I love that this recipe looks like slightly melted ice cream (just how I like it), and it tastes like ice cream even though the base is frozen bananas.  Amazing!!
Chocolate Chip Almond Butter "Ice Cream" Recipe, Dairy Free
Ingredients
2 frozen bananas, peeled & chopped into 1/2'' portions prior to freezing
2 tbsp natural almond butter (or other nut butters)

optional 2-3 tsp almond milk or milk of choice to get the food processor going if needed

1/4 cup dark chocolate chips
Instructions
Place the bananas & almond butter in the food processor or high powered blender, and process until smooth.
Add milk as needed, and process until smooth, like soft serve ice cream.
Drizzle "ice cream" with chocolate chips, and stir them in by hand.
Eat as is, or freeze for 30-60 minutes so you can scoop it out like ice cream.
Enjoy!!
http://practical-stewardship.com/2012/08/15/chocolate-chip-almond-butter-ice-cream-recipe-dairy-free/
The Verdict: Of course the whole family loves this one!!  Just something to keep in mind, if you are using overripe frozen bananas, it will taste, well, overripe.  So freeze bananas that haven't turned yet.
Need another almond butter recipe?  Try 4 Ingredient Almond Butter Granola Bars!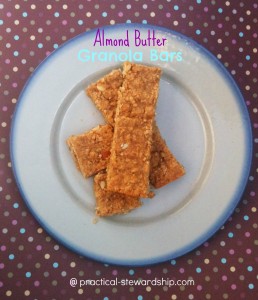 Go here for the complete list of recipes.
We would love to hear from you!  Get free e-mail updates by subscribing here.  Follow us on Pinterest, Facebook and Twitter. "Moreover, it is required of stewards that they be found faithful" (1 Corinthians 4:2 ESV). Thanks for visiting!
Sonja