This past summer we were at a Fourth of July lunch celebration, and I tried a salad with a lemony vinaigrette that my friend Susan had made.  The salad appeared to be an ordinary salad, but when I ate it, it was anything but ordinary.  The extraordinary lemony vinaigrette Susan served, made my taste buds dance.  It had just enough salt in combination with the lemon to create a scrumptious wave of flavor.  I had to get the recipe right away!  She told me the recipe orally and that night I tried to recreate it without any measurements and a flawed memory.  It was still good, but I eventually got the original written recipe and slightly adapted it.
Have you ever eaten kale before?  Had it raw? Cooked?  The first time I was introduced to kale, besides as a loverly garnish, may have been cooked in a soup my dad made a year or two ago (my memory is a bit fuzzy).  I bought it for the first time about a year ago to start eating raw in salads.  Kale is an amazing super food that helps fight cancer, is stocked with vitamins and is low in calories among many other amazing properties.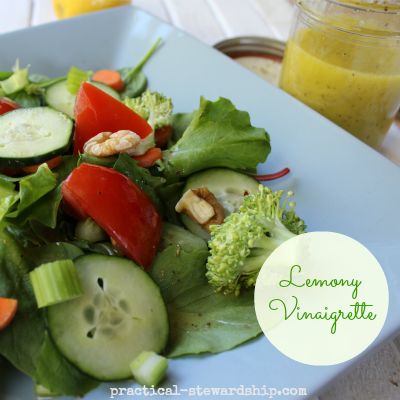 When we started our garden with the help of my friend Teresa in the spring, she realized that I wouldn't have enough space to plant my kale, so I gave her our seeds to plant at her house.  As kale has been in season the last couple of months we have had abundant opportunities to have it.  Besides having it raw in salads like this one featured, we have also sauteed it with other vegetables and even tried kale chips, which my family loved!
Ingredients
5 T olive oil (1/4 cup + 1 T)
2 T lemon juice
1 clove garlic
1 tsp salt
¼ t dry mustard
¼ celery seed
¼ t honey (the original recipe calls for sugar)
¼ t pepper
dash of cayenne pepper (increases metabolism, lower blood pressure and along with other beneficial properties)
Instructions
Combine all ingredients together in a jar and shake.
Refrigerate the remaining dressing.
http://practical-stewardship.com/2012/09/26/lemony-vinaigrette-recipe-with-a-kale-salad/
Ingredients
5 pieces of kale, ribs removed
1 head of broccoli, cut
1 carrot, sliced
1 tomato, sliced or diced
1 avocado, sliced
1/2 bell pepper, diced (color of your choice)
1/4 medium red onion, sliced
any veggies or fruit of your choice
1/4 cup walnuts to garnish
Instructions
Update 7/6/13**, rub/massage kale to help soften it a bit, as most kale has a durable texture.
Tear the kale into bite size pieces, placing into a salad bowl.
Combine the remaining vegetables in the salad bowl.
Top with lemony vinaigrette (recipe above), garnish with walnuts, and enjoy!
http://practical-stewardship.com/2012/09/26/lemony-vinaigrette-recipe-with-a-kale-salad/
The Verdict: The dressing makes this salad come alive!  I love to double, or triple the recipe.  This is my favorite dressing, and we always try to keep it on hand.
Go here for the complete list of recipes.