Have you ever tried Applebee's Oriental Chicken Salad?  The flavors are great, but I can't believe how many calories are in the salad!!  On their website they have a nutritional information sheet which states the Oriental Chicken Salad has
1380 calories,
1.5 grams of trans fats,
91 grams of carbs,
1413 milligrams of sodium, and
99 grams of fat (15 grams are saturated fat).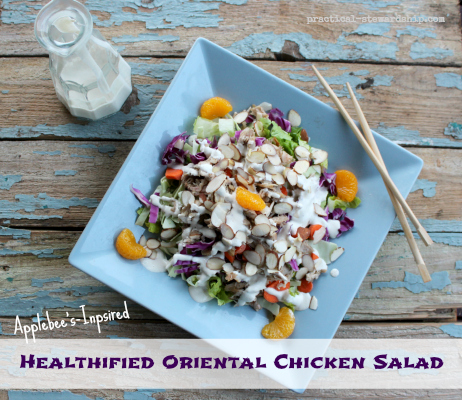 Yikes!!  Applebee's version of the salad might feed myself and my seven-year-old daughter.  I put the ingredients for my healthified version into a really great resource for counting calories,  Calorie Count Recipe Analysis, and it spit out this information:
Calories 774 (Calories from Fat 120)
Total Fat 13.3g
Saturated Fat  3.4g
Sodium  320mg
Total Carbohydrates  70.8g
Based on a 2000 calorie diet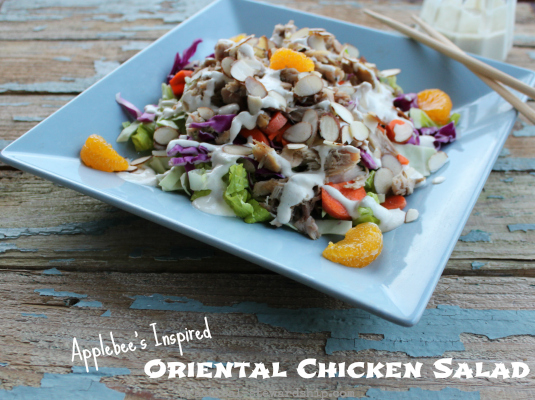 This recipe feeds my family of five (3 kids ages 7, 5, & 3).  So the calorie count is even less per individual.  The craziest thing to me is how much sodium the Applebee's version actually has, 1413mg verses 320mg.  They say when you eat out, your sodium intake is greatly increased.  Boy, is this ever true!
What is so fun and great about food is that there are many alternatives out there to get the same effect and flavor combinations without compromising the taste.  You won't feel cheated.  My recipe is adapted from Food.com.  I do use shredded chicken instead of breaded chicken, along with using yogurt instead of mayo in the dressing.  There are a variety of ways to healthify tastily.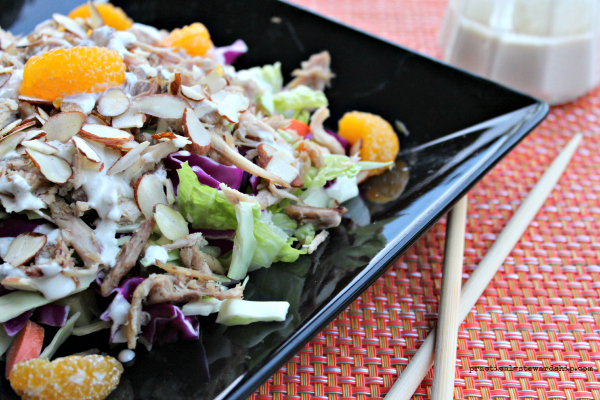 The Verdict: We love this recipe!  I love having this recipe in our arsenal.
THIS POST MAY CONTAIN AFFILIATE LINKS THAT COST YOU NO MORE MONEY, BUT SUPPORT OUR BLOGGING EFFORTS. THANK YOU!