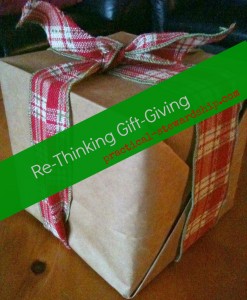 Do gifts have to be new (i.e., purchased specifically for the recipient) to be considered a gift?  Can gifts be homemade?  Used?
Someone was at my house and commented on how much he (I'll use the generic "he" for this example) liked our hand soap.  When I had bought the soap, I bought two or three bottles of them, all brand new.  When Christmastime or a birthday came for him (I can't remember because this was about a decade ago), I gave him one of the brand new soaps that I already had purchased before he told me he liked it.  His spouse knew all of this and thought I shouldn't have given the soap because I had originally bought it for myself.
In this scenario, I disagreed with the spouse because I figured, I am thinking of the receiver.  I knew that he would enjoy the soap, and I gave it to him.  My intent was pure, and my conscience is clear; I was thinking about the receiver.
In my humble opinion a gift doesn't have to be new.  I have received different gifts that have been used before, but had meaning from the giver.  They may have been old, fine jewelery that has been in the family for years, and now I get to enjoy it with my girls.  Or there have been times where people had fallen on hard times and given us used toys.  I had no problem with that because they were thinking of us, wanted to show us love, and gave us a gift in love.
When I was pregnant with Joshua (our last child), some friends threw me a baby shower.  For those who brought gifts the goal was to spend less than $10, and the gift could be used.  I did not know how much each person spent, and this was not my idea, but I loved the thought of people not spending a lot of money, especially on us.  I love people being wise stewards of their money.  I am not advocating hoarding your money or not being generous, either; please don't get me wrong.  I just don't want people to feel like they have to keep up with their neighbors.
So, what is a gift?  Dictionary.com defines a gift as…
"1. something given voluntarily without payment in return, as to show favor toward someone, honor an occasion, or make a gesture of assistance; present.
2. the act of giving.
3. something bestowed or acquired without any particular effort by the recipient or without its being earned: Those extra points he got in the game were a total gift."
I think as a society we need to stop thinking that we have to buy all gifts brand new at the mall.  We need a paradigm shift.  If you are being cheap just to be cheap, that's not good either.  At times we need to be sacrificial.
We do need to pray for the wisdom to know what to do/buy and when to do it, though.  In my favorite book of the Bible, we observe this about wisdom:
"If any of you lacks wisdom, let him ask God, who gives generously to all without reproach, and it will be given him. But let him ask in faith, with no doubting, for the one who doubts is like a wave of the sea that is driven and tossed by the wind. For that person must not suppose that he will receive anything from the Lord; he is a double-minded man, unstable in all his ways" (James 1:5-8).
If we are honoring someone by giving them a gift, isn't it really is the thought that counts?
So what do you think?  Do you give gifts at Christmas?  If so, why?  Do you care if you receive a used Christmas gift?
Have you read Re-thinking Gift-Giving: Part One, Kids & Gift-Giving?
We would love to hear from you!  Get free e-mail updates by subscribing here.  Follow us on Facebook and Twitter. "Moreover, it is required of stewards that they be found faithful" (1 Corinthians 4:2 ESV). Thanks for visiting!
Sonja
.