For my Abbie-girl's 6th birthday she wanted me to make her homemade Pop Tarts.  I was excited to do so since I haven't made them in months, although I only enjoyed the aesthetics of them this time.  This is definitely a recipe I don't keep on hand, but bake only periodically or save for special occasions.
It is funny to think, dare I admit this, that when Jonathan and I first got married in 1999, I started eating Pop Tarts as a part of my lunch when I was teaching high school choir.  One package has two Pop Tarts in it.  I ate one package of Pop Tarts or Sam's Choice Toaster Pastries a day for a couple of years, too.  The thought now makes me cringe, all the sugar, processed ingredients, empty calories, etc….  So for those of you who are transitioning from processed food to whole food eating, this is a much healthier alternative for you as you move to nourishing foods.  I don't recommend eating them everyday like I did, either:).
The great thing about this recipe is that if you are into soaking your grains, you can prepare this recipe the night before, and leave it on your counter overnight to help break down the phytic acid, which helps you digest the food more easily.  You do not have to soak the dough overnight, though.  You can prepare it right when you want to bake it, too.  It just won't be as nourishing.
This recipe is adapted from Heavenly Homemakers.
Below on the right hand side you can see how flaky the dough is if it refrigerated and overworked.  I am sorry I didn't get a better picture here and will try to replace it next time I make these.
The Verdict: I have worked with this dough a number of times.  If you want your dough to be easy to work with, don't do what we did this time, and prepare the dough only to immediately throw it in the fridge.  I should have just left it on the counter for an extended time, but I didn't even think about.   After we prepared the dough, my Abbie-girl worked half of it, and then we threw it in the fridge, only to render that half almost completely unusable.  We weren't able to use it for her classroom party, so I just make whole food sorbets (or Slurpees as one of the students called them, which I was happy to hear since they even had spinach in them!!  I am posting about those next week.)  I later did take the same dough and defrosted it for about a minute in the microwave, worked it, and was able to create these for her family birthday party.
The kids loved them!!!   I shared these with some friends a few days later, and my friend encouraged me to post this, so I hope you enjoy!
In fact, I didn't want to roll the extra scrap dough which had already been worked so much, so I made what I call Ugly Pies, because they are, well, ugly.   It's basically the pie crust scraps, with jelly poured on it, with a little glaze and sprinkles.  They taste exactly like the Homemade Pop Tart, just in a pie crust, and it's a quick and easy way to use the extra dough.
This four ingredient dough is the same that I have used to make Healthified Ham Hot Pockets,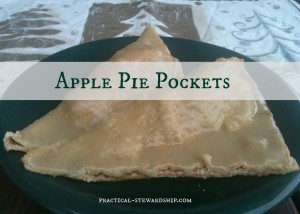 We would love to hear from you!  Get free e-mail updates by subscribing here.  Follow us on Pinterest, Facebook and Twitter. "Moreover, it is required of stewards that they be found faithful" (1 Corinthians 4:2 ESV). Thanks for visiting!
Sonja