Have you ever made your own homemade enchilada sauce?  It's really so easy!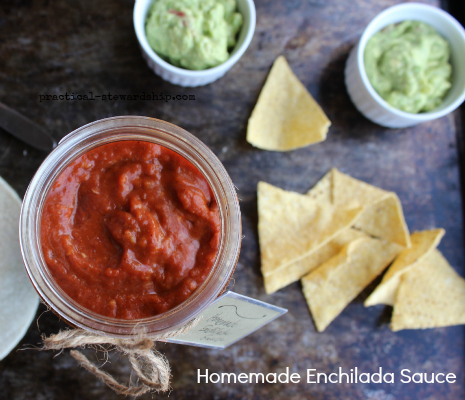 When I first got married in 1999, I really only prepared "food" that was out of packages and cans.  I was equipped to do almost nothing else.  I was proud of myself for buying my Fresh Express Salad every week because that was healthy.  And, yes, that is true.  The obligatory salad is good for you, but I had a long way to go to having my family eat healthy whole foods.  There were very few recipes I made from scratch.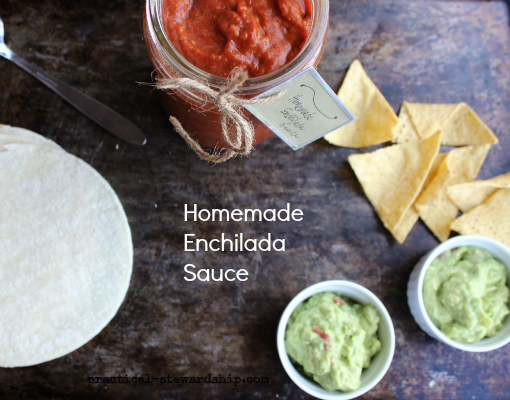 Now I know we don't have to buy all of our sauces from the store (and yes, I know there are valid times and different seasons in life where that is the best thing for your family).  But for the most part the Standard American Diet (SAD) needs to move away from processed foods, and we need to reclaim the lost art of from-scratch cooking.  It really doesn't take that much time to make your own sauces; it just takes getting on your feet, a few ingredients, and a recipe.  The more sauces you know how to make on your own, the more freedom you have in the kitchen.  And now with the Internet, information in abundant is at your fingertips.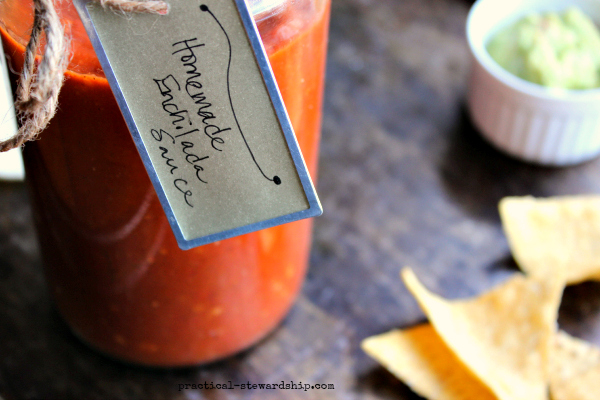 One of the sauces I haven't made myself up until recently was enchilada sauce.  Enchiladas are one of my most favorite dishes.  If I am out at a Mexican restaurant, I usually go for the enchiladas (lately I have had to order enchiladas or make them without the cheese since I am dairy-free, but they still taste great).  What makes the enchiladas scrumptious is the sauce, not the cheese, although the cheese enhances the flavor.  All that to say, I thought it was time to embark on making homemade enchilada sauce.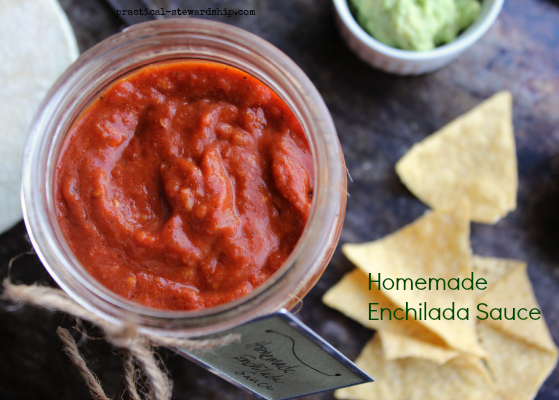 Homemade and Healthified Enchilada Sauce
Ingredients
1 T olive oil
2 T onion, finely diced
1 clove garlic, minced
1 28-oz. can diced tomatoes, undrained, or tomato sauce
1/2 cup chicken stock
2 T whole wheat flour, or gluten-free flour
1-2 T chili powder
1/2 t ground cumin
1/2 t salt
dash cayenne pepper
Instructions
Heat oil over medium-high heat in a large pan.
Saute onion and garlic until onion is translucent, approximately 3-5 minutes.
Stir in the remaining ingredients.
Bring to a boil, and then immediately turn down heat to simmer for approximately 10 minutes.
If desired, puree the sauce in a blender or food processor until smooth.
Makes approximately 3 cups.
Refrigerate enchilada sauce for up to a week, or freeze unused portion up to 6 months.
http://practical-stewardship.com/2013/02/04/homemade-and-healthified-enchilada-sauce-basic-enchilada-recipe/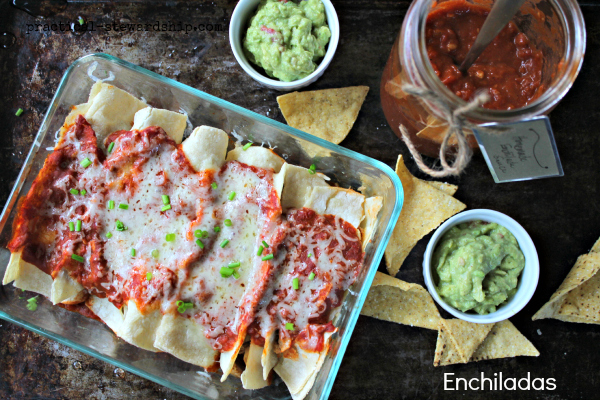 Ingredients
3-4 cups shredded chicken, or turkey
1/2 cup chicken broth
6 tortillas
1 cup or more enchilada sauce, divided
1/2 cup of shredded cheese

optional, green onions to garnish
Instructions
Mix chicken and broth in a bowl.
Spread 1/4 up of the enchilada sauce on the bottom of a casserole dish.
Place approximately 1/2 cup of the chicken mixture in the middle of each tortilla.
Wrap each tortilla as indicated below, and place seam side down in the casserole dish.
Pour remaining enchilada sauce on the tortillas.
Sprinkle shredded cheese on top of enchilada sauce.
Bake in a 350 degree oven for approximately 30 minutes, or until the edges of the tortillas turn a golden brown.
Cool for 15 minutes, and garnish with green onions.
Enjoy!
Store remaining enchiladas in the refrigerator for up to three days. Makes a great leftover lunch or dinner the next day.
http://practical-stewardship.com/2013/02/04/homemade-and-healthified-enchilada-sauce-basic-enchilada-recipe/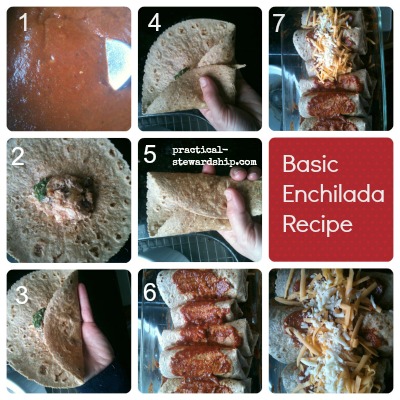 The Verdict:  The more you make at home, the faster and more efficient you will become, you know the ingredients that are going into your food, and it healthier for you.  I really love making my own enchilada sauce and adore the flavor of it.  Feel free to add more chili powder or cayenne pepper if that suits your pallet.
It is easy to add black beans, or re-fried beans, and different vegetables into the chicken mixture for the enchiladas.  We have really been enjoying the enchiladas!
As a side note, you can make the enchiladas without the tortillas by layering the enchilada sauce, topped with the chicken and add more enchilada sauce.
We love the enchilada sauce in Turkey/Chicken Enchilada Soup.  It's so good!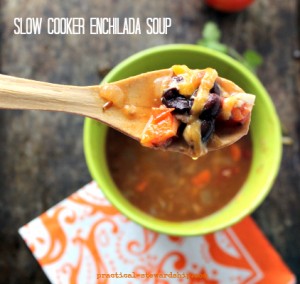 Have you tried making your own homemade enchilada casserole in the crock-pot or not?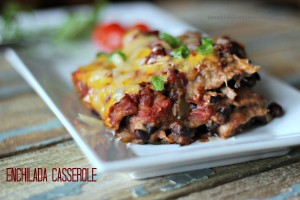 Have you ever crock-potted your rice?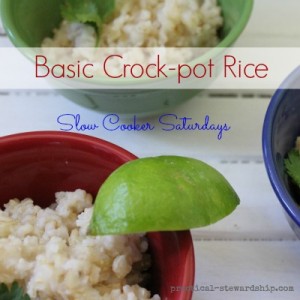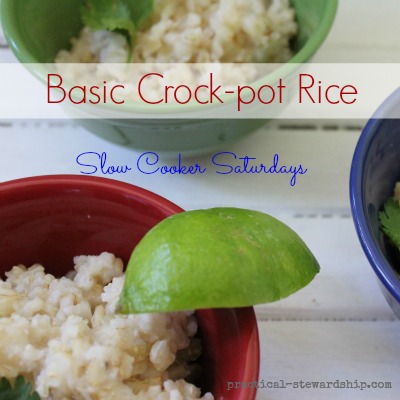 Go here for a complete list of recipes.