Thrifty Thinking: Know Your Grocery Target Prices
I have just updated my Costco Quarterly List featuring common natural & organic grocery prices.  I eliminated just a few items and added more, so I have almost 150 grocery items.  I didn't intend to add anymore food prices, but Costco adds different products all of the time, and either I was interested in some of these products or I thought you might like to know about them.  Notably our Costco in Marysville, Washington has added Organic Figs, Hemp Hearts, Gluten-Free Organic Pasta and Gluten-Free Organic Crackers.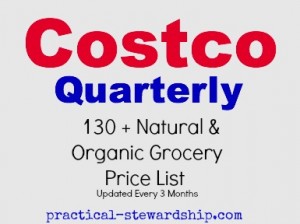 Since the is my second time updating the Costco Quarterly Natural & Organic Price List, I found it interesting the items that changed prices, especially when the prices went down.  I think I had to change about 30% of the prices (most of those included price increases though), so look closely at your favorite items.
In order to make it easier to access the most current updated Costco price list I am putting the price list on a "page".  This means that after I compile the information will write a post just like this one that directs you to the updated page.  In a way I am not excited to present the information this way, because I know it's nice to go one place and get the information and not have to click again to see the desired post.  I do think this helps direct you to the most current information, though.  That way when people land here in August, even though I am posting this in April, they will still find the most current price list, since I plan my next update for July.  Or if you pin this, you will still have easy access to the most current price list. I hope this all makes sense and isn't too annoying, so I thank you for your patience in advance.
This list was updated on Wednesday April, 17, 2013 at the Marysville, Washington Costco.  Hopefully this will give you at least an idea of what products and prices your Costco may have.  GO HERE TO SEE THE MOST UPDATED COSTCO PRICE UPDATE PAGE.
Go here to see what I pay for groceries and where.

Have you checked out our quarterly WinCo Bulk Prices Update?
You are invited to check out my 4 Tips for Saving Money on Groceries.
We would love to hear from you!  Get free e-mail updates by subscribing here.  Follow us on Pinterest, Facebook and Twitter.
"Moreover, it is required of stewards that they be found faithful" (1 Corinthians 4:2 ESV).
Thanks for visiting!
Sonja