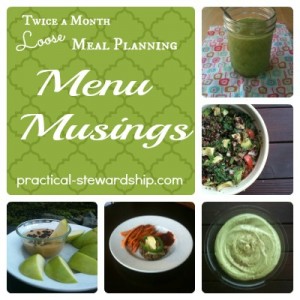 Thinking ahead saves time.  Thinking ahead saves money.  Thinking ahead saves energy.  These are all good reasons why I am enjoying sharing our Loose Meal Planning.  Life doesn't always allow me to think ahead as we travel along it's vast trails, twists and turns, but I at least try to think ahead most of the time.  The following recipes are all possibilities for these next couple of weeks as I aim to make the best of the resources that God has given me, yet remaining flexible to the unknown.
Scroll down and you will find the actual food in bold if you want to skip all of the musings.
Enhancing the Health of Processed Food
I was a consistent coupon-er for most of our marriage, well over ten years, and I even grew up using them.  I still use coupons now, but it might be one or two coupons a month, so at this point I don't think I can call myself a true coupon-er.  Anyway, all of that couponing helped me keep a well-stocked pantry.  The problem was, a lot of those foods were the wrong kind of food items to stock.  I had lots of cake packages, brownie packages, and overly-processed cereals, meals-in-a-box, salad dressings with unknown ingredients, and more.  We have either used up or given away most of the processed foods, but I still have some processed items left (mostly chicken noodle and tomato soups), as they have a long shelf life.
To be transparent with you in our transition to whole foods, I wanted to share a bit about making those processed foods a little healthier if you are insisting on eating them, like I did this week.
My son became sick Monday evening with chills and a little fever.  After Tuesday morning his symptoms were reduced to that of a cold, so for lunch I thought chicken noodle soup would be great.  I knew I had some cans in the pantry for a quick meal.  I am not saying you should eat food past its "best by" date, but my family has been known to do those kind of things once in a while.  If this tells you anything, the can expired in 2009, or was that 2007, oops!  No I think it was 2009.  Well, that's how much we eat or don't eat soup from cans.  Homemade soups are just so easy to make that I have virtually ignored the cans in our pantry, especially if you make your own "free" broth.
Since I was in a pinch, I grabbed a can of Campbell's Chicken Noodle Soup.  The kind I totally grew up eating multiple times a month (this includes tomato soup).  When I opened the can of soup, I couldn't fathom giving just that to my son.  I thought the soup needed a little green, so I sauteed some kale with quartered garlic cloves in grape seed oil.  Then I heated the soup in the same pan as the kale.  The favor was ABSOLUTELY AMAZING!   It inspired me to make my own homemade crock-pot chicken noodle soup for dinner that night with more of the sauteed kale and garlic cloves (I added the carrots, celery and onions to this mix so it would be cooked in time for dinner since I cooked the soup in the crock-pot).  So, so good!!  I also salted the homemade soup at the start of cooking since I am trying to add a bit more salt to my food because growing up, I have been almost anti-salt.  I am trying to be more balanced now since I know we need some salt in our lifestyle.
Why do I share this?  For one, I want to be transparent.  I don't want to act like the only things we eat are 100% homemade.  That might be 90% true.  Secondly, I want to show a way to transition into a whole foods diet lifestyle.  If you still have processed food and want to get rid of them, this might be a way to "healthify" them especially if you don't just want to throw away or give away the food.  This is a way to add real food to processed foods.  You can add an array of vegetables and spices to your soups and boxed pasta meals.
I think I am going to start freezing quart-sized portions of Chicken Noodle Soup so we don't have to use cans in a pinch.  But what do I do with my expired cans that even the food bank would throw away?  I've thrown away old packages of seasonings that have solidified, but a can of soup?  I am not at a point where I will just throw these old cans away.  Without going out to the pantry now, I think we might have 8 cans of soup left.  What would you do?

On a different note, if you live close to a WinCo Foods you may have received a coupon in the mail for $10 off when you spend $50 (I think it expires April 30).  Anyway, I was at WinCo yesterday stocking up on some bulk items (particularly their almonds and pecans) and was so pleased to see Bob's Red Mill Organic Coconut Flour for $2.98/lb.  That seems like a bargain for coconut flour!  I have always ignored recipes that call for coconut flour since I thought it was out of my league, especially after my failed attempt at making my own.  Now I will consider those coconut flour recipes again.
Since I was out and about yesterday, I called home to see if we need anything.  JSarr mention milk.  I didn't know what I'd find at WinCo, but I thought I'd take a look.  I was pleasantly surprised to see that now our Western Washington WinCo is selling Organic Milk.  I paid $5.38 for a gallon of organic whole milk.
If you are interested you can go here to see my newly updated WinCo Bulk Foods list.
Meal Ideas for the Next 2 Weeks:
BREAKFAST:
LUNCH:
DINNER:
SNACKS & DESSERT:
Do you menu plan?  What are you planning to make in the next couple of weeks?  I'd love to hear!!  See other menu plans here.
Do you have a Trader Joe's in your neighborhood?  If not and you want to place a location request, go here.  Their location request is super easy!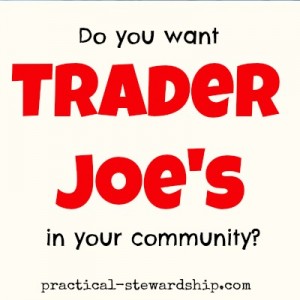 Do you need some other culinary inspiration?  Go here for the complete list of recipes.
We would love to hear from you!  Get free e-mail updates by subscribing here.  Follow us on Pinterest, Facebook and Twitter. "Moreover, it is required of stewards that they be found faithful" (1 Corinthians 4:2 ESV). Thanks for visiting!
Sonja