Want a whole foods, healthy, naturally sweetened, raw (except the chocolate chips), creation that tastes like a brownie?  Here is a delicious, and incredibly easy recipe to whip up and have as a portable snack.  These energy bars are even vegan.  The only thing I don't like about making them, is that two days later I have to make them again.  I finally got smart the last couple of times and made a double batch.  You can also omit the chocolate if you want a different flavor or can't have chocolate for whatever sad reason.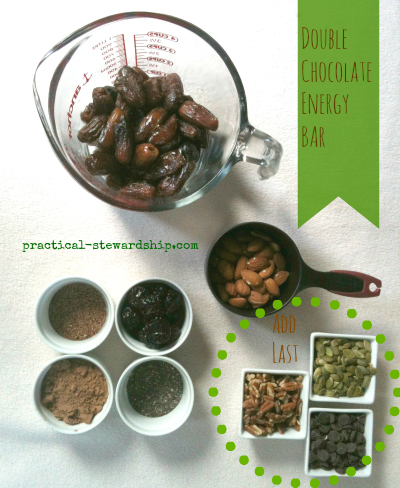 It is easy to get the kids involved in making these with some assistance. Mixing in the chocolate chips, pumpkin seeds, and pecans at the end is fun for them.  These energy bars are like a dessert to my kids, especially with the double chocolate infusion.  Sometimes I have these for dessert, too!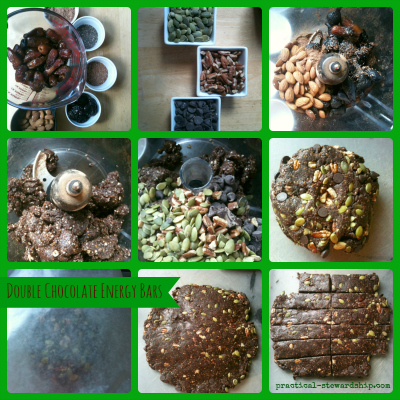 I have experimented with using raisins instead of the dates as the base of this chewy goodness.  A few times ago I didn't have enough dates for the recipe, but I had figs, so I made the energy bars with a combination of the two.  The combo was fantastic!
We got a Vitamix the first of last year, I gave away my food processor, and then "needed" a new one for my birthday 6 months later to make these snacks and our raw dairy-free cheesecakes with the gluten-free date crusts.  I recommend the Vitamix for everything else but dates.
Double Chocolate Energy Bars
Ingredients
2 1/4 cups dates, pitted (can use raisins, dried figs, or a combination)
1/2 raw almonds
1/4 cup cocoa powder
1/3 dried cherries, or blueberries or other favorite dried berries
1 t chia seeds
1 t flax seeds
1/4 dark chocolate chips
1/4 cup raw pumpkin seeds
1/4 raw pecans
Instructions
In a food processor mix dates, almonds, cocoa powder, dried berries, chia seeds, and flax seeds until it forms into a ball. It might take a few minutes.
Place the date ball mixture in a large bowl, and add the last three ingredients.
Mix all ingredients with your hands until thoroughly combined.
Place the date mixture on a cutting board with a piece of wax paper or parchment paper on top.
Use a rolling pin, side of a mug, or hands to flatten the mixture.
You can place the date mixture in an 8x8 pan lined with parchment paper, if desired.
Cut, enjoy, cover and refrigerate the leftovers if there are any:).
http://practical-stewardship.com/2013/05/20/double-chocolate-energy-bars-g-f-d-f-v/
The Verdict: Easy, fast, tasty, great!  Try them for yourself!
Have you tried a raw, dairy-free Chocolate Cheesecake?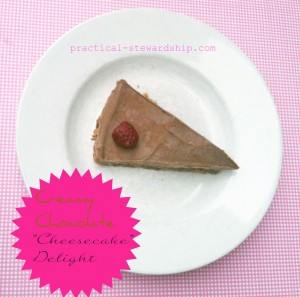 What about 3 Ingredient Lara Bar Balls?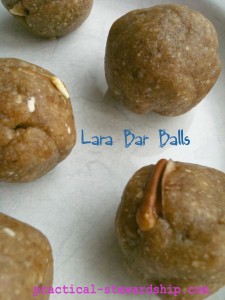 Go here for the complete list of recipes.
This post contains affiliate links.  We would love to hear from you!  Get free e-mail updates by subscribing here.  Follow us on Pinterest, Facebook and Twitter. "Moreover, it is required of stewards that they be found faithful" (1 Corinthians 4:2 ESV). Thanks for visiting!
Sonja