Do you struggle to read the Bible? Do you know it's important, but just getting the intake you crave is a challenge? Or perhaps you'd like to increase your appetite for Scripture? If you can identify with any of these challenges, you're in good company.
Scripture is easily available today – something for which we should be really thankful – and yet many of us don't enjoy a steady diet of Bible intake. Even some of the saintliest folks in church history have required accountability and encouragement from others in order to get regular intake of God's Word. For an example, we need not look beyond Oxford's Holy Club. In their daily devotions, these men asked an important question about the Bible: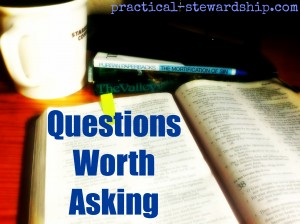 Do I give it time to speak to me every day?
First, most people answer this questions in the negative, and when they do, justification usually follows: I don't have the time. Or, I don't know where to start. Well, I'm not going to try to anticipate or eliminate every excuse along these lines today. But for the person who – like the Holy Club members – thinks this is an important issue, I'll offer some helps that I use to give the Bible time to speak to me every day.
Notice that I did not say that I read the Bible every day. I don't do that. I read it on average five days per week, but not usually on Fridays or Sundays, given my particular schedule. But even on days when I'm not reading, Scripture is still speaking to me. My previous intake impacts my thoughts; I may meditate on a passage when I'm driving; I may listen to a message on my iPhone while I'm mowing the lawn. This may sound to some like uber-piety, but it's really not; it's just a matter of small decisions that help me to make better use of my time. Want specifics? Here are some recommendations.
My favorite Bible reading plan is the Discipleship Journal plan. I wrote an entire post about it in December, so I won't repeat it all here. But one of the particularly nice parts of this plan is that it has 25 reading assignments per month, so I can skip a day or two of reading without being behind on my plan.
Streamed audio of the Bible is also a great way to go. I love it. Here are the two ways I get it for free, anytime I have Internet access or a wireless signal.
Most commonly, I use Bible Gateway, which has a gazillion translations, many of which are available in audio format. (The site is a great resource with study helps in its own right.) I LOVE IT! I listen to the ESV translation out loud, and it works wonderfully. I love to listen to the Bible while doing yoga stretches. It combines two of my favorite things.
When I'm out and about, or mowing the lawn or something, and I want to listen to Scripture, I use the Bible App from YouVersion on my iPhone. It's free, and it's also available for Android, Blackberry, Windows Phone, iPad, iPod, and a host of other platforms. It bogs down from time to time, but it's getting better, for sure.
Lately, I've been plodding through the Discipleship Journal plan, actually listening to parts rather than reading. Other times, I listen WHILE reading. This is especially helpful for parts of the Old Testament where it may be harder to stay focused (e.g., some arcane Levitical laws, dimensions of the tabernacle, genealogies, etc.). Someone reading it out loud while I follow along on the page keeps me moving. I'm just being real here.

So whether it's in the context of a scheduled devotional time or just downtime, hopefully these resources will be of some use.  I think that the Holy Club would appreciate many of the helps available to us today as we work to give the Bible time to speak to us every day, and I hope you find them helpful yourself.
Have you tried any of these resources yourself? We'd love to hear about your experiences.
Have you read…?
Our Favorite Bible Reading Plan
Questions Worth Asking #7: Living the Bible