One of the most gratifying feelings in the world comes when you're relaxing post-workout. You've made another stitch in your lifelong fitness tapestry and you can work or relax with a renewed satisfaction since you've exercised. Perhaps (hopefully!) you can relate.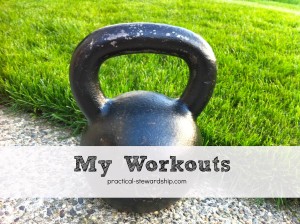 This satisfaction is even greater when you can know you're burning fat while stooped over your desk or reclining on the couch. "How's that work?" you ask? Good question.
Metabolic resistance training combines the anaerobic benefits of resistance work (e.g, weights…like kettlebells) with the aerobic benefits accompanying an elevated heart rate. So you get stronger while you get leaner. The result is an accelerated metabolism…for a series of hours after the workout.
Here's an example of what it looks like. You do a kettlebell complex (like the one listed below), and your heart starts to pound in your chest. You enjoy a short rest between sets and hit it again, experiencing short bursts of work, and a high demand on your heart and lungs as they're working overtime to get oxygenated blood to the limbs at work.
Once you catch your breath and your workout is complete, you're body doesn't return to a normal state (homeostasis) for a few to as many as 30 (or even more!) hours later, depending on the duration and the intensity of the exercise. Rather, your metabolism remains revved up and you're what some call a "fat-burning machine."
From a weight loss standpoint, this whoops up on steady state cardio for a number of reasons. For one, it's more interesting and varied. For another, the fat burning period is much longer than the workout, while the elevated energy burning brought on by running or biking lasts only as the workout itself.
Enough talk. You want a real-life example, right? Well, here's what I did yesterday:
5 rounds:
Double Clean and Press (53#) – 4 reps
Double Front Squat (53#) – 8 reps
Pull-ups – 6 reps
Rest 2 minutes
I'm not the fittest guy on the planet, but I've done workouts like this and I've done sprints, and there's no comparison: this is harder. But if you really want to crank up the intensity, shorten the rest. 60 seconds? 30 seconds? Rest as long as needed to keep performing perfect sets…but no longer. Don't compromise form or technique for sake of reps…EVER. Otherwise you're being stupid, inviting injury and compromising results.
So give this one a shot and tell us what you think.
Oh, and if you only have one kettlebell, that's okay. Just start on your weak side then move to the strong side, like this:
Clean and Press Left – 4 reps
Clean and Press Right – 4 reps
Front Squat Left – 8 reps
Front Squat Right – 8 reps
Pull-ups – 6 reps
Rest 2 minutes
Finally, in case you've forgotten what any of these movements look like, here are some video examples (from the Armor Building Complex and the Pull-up demo):
And the pull-ups: