In honor of Saint Patrick's Day comes a recipe for Crock-pot Corned Beef Brisket.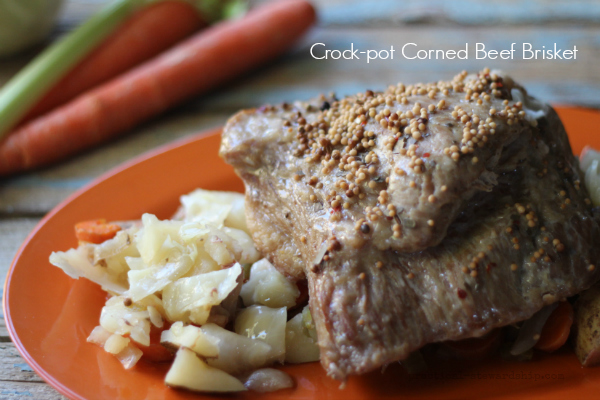 I can't believe how much Jonathan raved about this recipe. Gotta love it when your man is impressed! He asked if we could buy another beef brisket this week. We have a winner in his book. Hopefully you and your family will like it, too. Honestly, I am not a fan of the beer taste. It was fine to me, but he loved, loved, LOVED it. So if you like the taste of beer you will probably love this. You can also sub water or broth in place of the beer, too.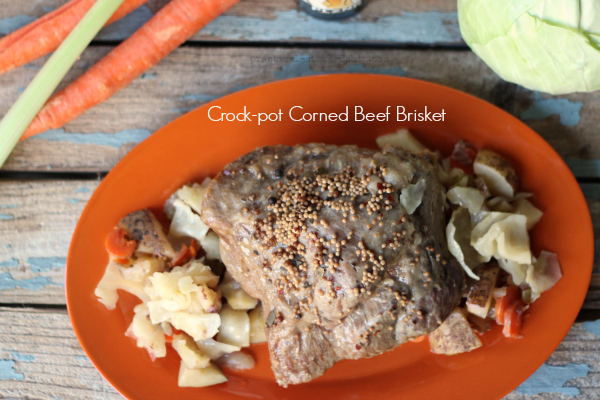 I brought this beef brisket to a potluck, and Jonathan said he saw someone go for fifths. Ha! I guess someone else loved it as much as he did, too.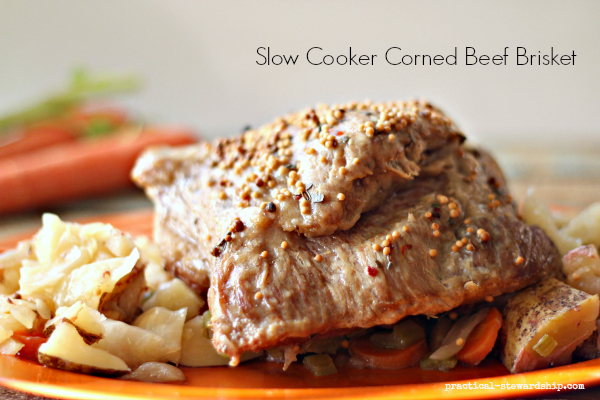 Using a crock-pot is the perfect way to cook a beef brisket because it's such a tough piece of meat. The slow cooking process allows the beef brisket to become tender over time.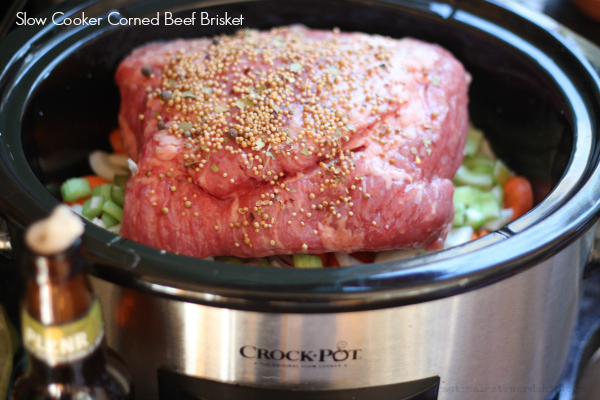 I buy organic vegetables, and scrub my potatoes and carrots well. Then I leave on the peels, saving a step.
If your brisket doesn't come with spices you can visit All Recipes.com or do an Internet search to make your own seasonings in a flash.
Crock-pot Corned Beef Brisket
Ingredients
1 beef brisket 3-4 pounds, including marinating brine
6 medium sized potatoes, cubed (I leave the skins on)
3 carrots, cut into coins
2 stalks of celery, diced
1 onion, diced
1/2 head of cabbage, cut into bite sized pieces
12 ounce beer, water or broth
brisket seasoning packet, or your own seasonings (**see notes above)
Instructions
Place potatoes, carrots, celery, and onion in the bottom of your slow cooker.
Put the beef brisket on top of your vegetables including the marinating juices (the brine) from the brisket package.
Pour the beer over the beef brisket.
Season meat.
Cover and cook on low for 8-10 hours.
In the last hour of cooking add cabbage, cover, and cook on high for 1 hour.
Remove brisket and let the brisket rest for 15 minutes.
Cut across the grain, serve, and enjoy!
http://practical-stewardship.com/2014/03/13/crock-pot-corned-beef-brisket/
What are you eating for Saint Patrick's Day?
Here is one of our favorite green desserts, No Bake Grasshopper Pie (D-f, G-f, V friendly).