Easy Granola Recipe
I have never thought about making my own cereal until recently.  It is amazing to think that almost everything we buy prepackaged, we can make ourselves.  I am finding I have to keep changing my paradigm, my thinking.  Things don't have to be the way they were just because I've always done them that way, like having packaged cereal almost every morning for more than 30 years.  We would have the Saturday morning pancakes, waffles, French toast, or scrambled eggs, but Sunday-Friday it was cereal.  To make your own food it just takes a little bit more time then just opening a package, whether it's making cookies, granola bars, or cakes, mashed potatoes, or pasta dishes.  The more you cook and bake, the more efficient and fluent you will get in the kitchen.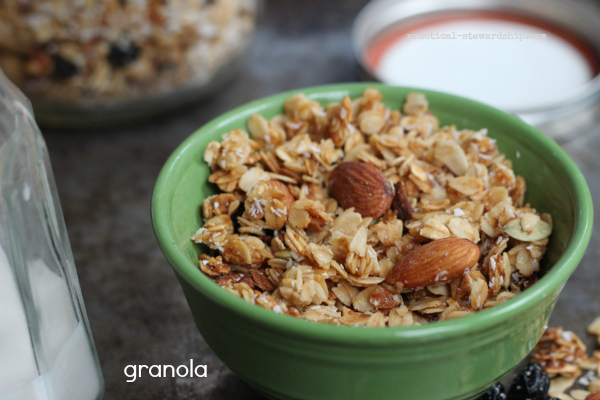 I got the inspiration to make a granola cereal.  There are so many granola recipes out there.  I combined ideas from different recipes to come up with this recipe.  Granola is so good as a cereal with milk in addition to being a great topping for yogurt or ice cream.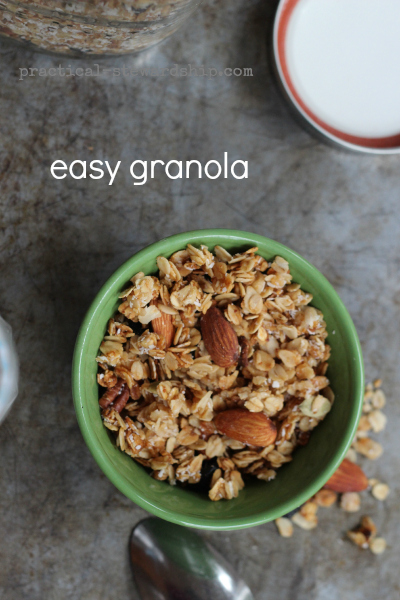 Update 6/1/13** The Verdict: If I used only five recipes in my life, this would be one of them.  Jonathan often tells me that this is the best cereal ever.  The kids love this recipe.  When I make this now, I make a quadruple batch, and use two crock-pots on high to make it, stirring every 15 minutes for an hour to an hour and a half.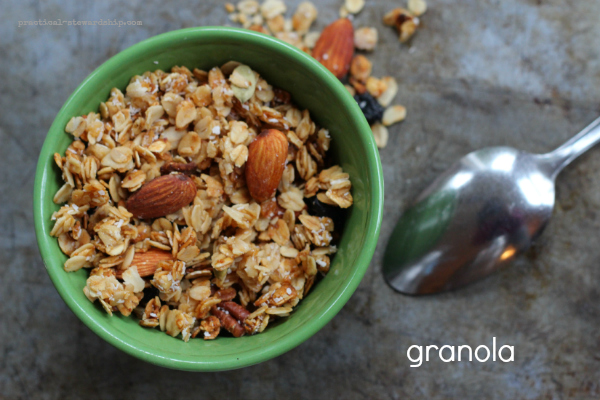 You can add different mix-ins to make different combinations of the granola.   We have used dried blueberries, dried cherries, pumpkin seeds, chia seeds, and more.  What are your favorite mix-ins?
We gave this granola as a gift to our kids' teachers and piano students for Christmas last year, and it was a hit.  Many of the people asked for the recipe.  I did a cost breakdown of granola as a gift if you are interested.
Update 1/18/12**: Butter works with this recipe.  It is a little heavier.  The coconut oil makes the recipe lighter.  I am no longer making this with the maple syrup. Alternatively, I have made this granola with 1/2 C honey, 1/2 cup coconut oil and no maple syrup.  I think I like the cranberries and coconut better unbaked, so now I added them after baking.
Easy Granola Recipe
Ingredients
4 C rolled oats
1 1/2 C chopped walnuts or pecans
1 C unsweetened large flake coconut
1 C dried cranberries (can leave out and add after baking if desired)
optional 3 T TriMix (1 T Wheat Germ, 1 T Wheat Bran, 1 T Oat Bran)
1/2 t salt
1/3 C honey (agave for vegan)
1/3 C coconut oil (could use butter)
1/3 C maple syrup (I used Trader Joe's Agave Maple Syrup Blend)
(or optionally for wet ingredients I use 1/2 C honey & 1/2 cup coconut oil: the important thing is to have 1 cup of wet ingredients whether you use the maple syrup or not)
Instructions
Preheat the oven to 300.
Combine all dry ingredients.
Combine honey,coconut oil and maple syrup, and heat until coconut oil is melted.
Stir wet ingredients into dry.
Bake for 45 minutes, stirring every 10 minutes or until golden brown.
Cool and store in an air tight container.
Other recipes you may enjoy: