2 or 3 Ingredient Chocolate Nut Clusters-a fast sweet treat sure to curb your chocolate cravings.
One day a couple of months ago I came home from a long day out and wanted some candy.  Specifically chocolate.  Chocolate and I almost always seem to find a way of connecting daily.
I wanted to create some kind of healthier chocolate nut candy since our family is nuts for nuts, so I melted some coconut oil with some chocolate chips and threw in some nuts.  Success!  I have no more need to buy conventional candy anymore, especially now that I make my own 3 ingredient peanut butter cups, too.  This recipe is healthier and more frugal than the conventional store bought candy.  Also, this candy will be as healthy as the chocolate chips are, so opt for dark chocolate and/or organic.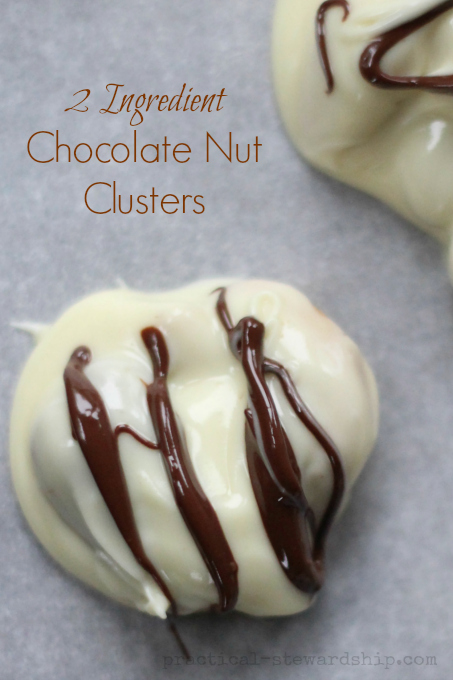 This recipe comes together so quickly!  If I haven't put anything together for dessert, this is my go to dessert so I can have a sweet treat for the evening.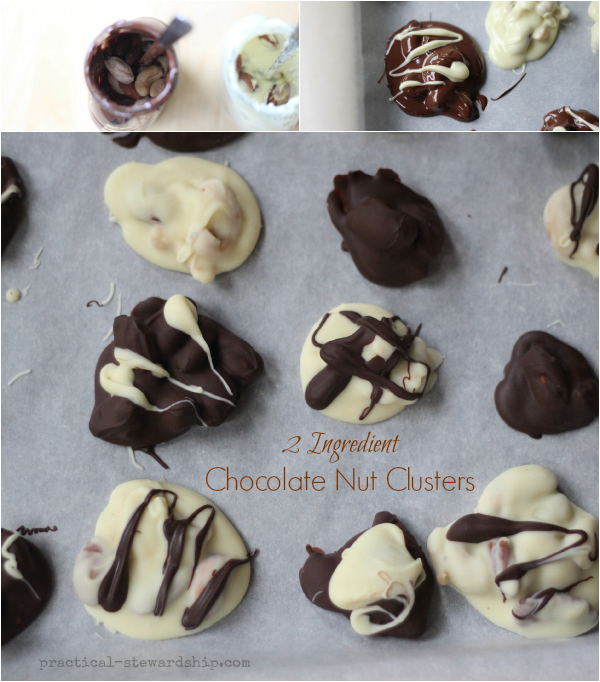 The Verdict: These are sensational!  The coconut oil makes the nut clusters melt in your fingers.  The coconut oil also makes the chocolates creamier, so I like to use the cupcake liners and eat them right off of the liners to keep cleaner fingers.  This recipe now rivals my 3 ingredient peanut butter cups as far a favorite desserts go.  We are all loving this recipe, and I try to keep our refrigerator stocked with them.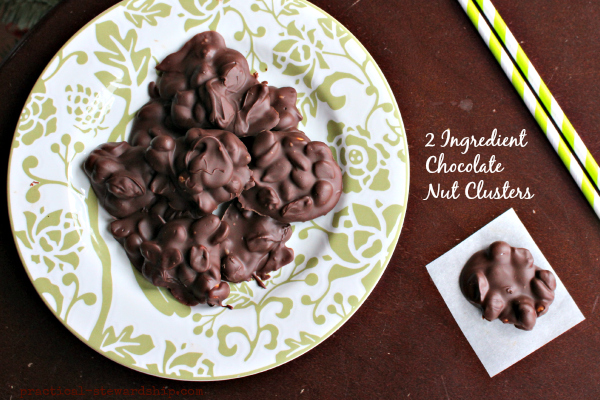 Honestly, I really want to give these out to some friends for Christmas gift.  If I use the coconut oil with them, I have to give them to people who have access to refrigeration quickly since they can soften quickly. Omitting the coconut oil allows for easier gift giving and for bringing to parties.  I made a batch without the coconut oil, and they were definitely portable and amazing tasting.  I just happen to like them with the coconut oil more since the oil makes the creamier and even healthier to eat.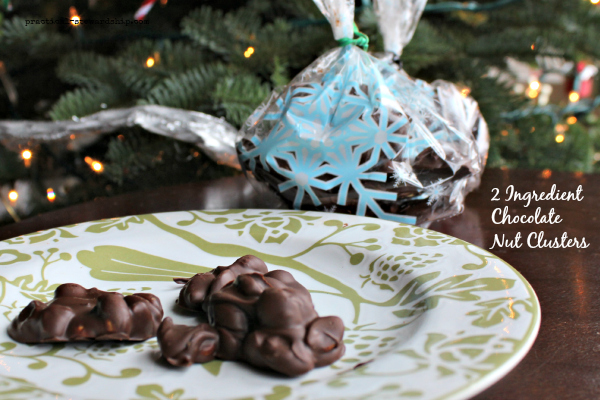 And samples from the Christmas batch of nut clusters.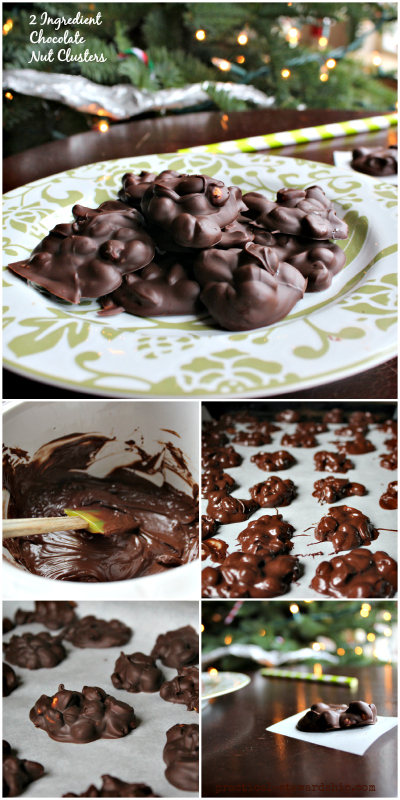 2 or 3 Ingredient Chocolate Nut Clusters
Ingredients
1 cup organic semi-sweet or dark chocolate chips (dairy-free for vegan)
Optional, 2 Tbs Coconut Oil
1 cup mixed nuts
Instructions
Melt the chocolate chips and coconut oil together, in a double broiler or microwave. If you microwave, stir every 30 seconds until the chocolate mixture is completely smooth.
Stir nuts in the chocolate mixture.
Spoon mixture onto an ungreased baking sheet, or parchment-lined baking sheet one tablespoon at a time. You can make the clusters as big as you want. Alternatively, you can use in cupcake liners. I like to use mini cupcake liners.
Place the chocolate clusters in the refrigerator (or freezer if you just can't wait) until hardened, about 30 minutes (15 minutes in the freezer).
Carefully pop the chocolate nut clusters off the baking sheet with a knife.
Store chocolates in an airtight container in the refrigerator for 2 weeks, or up to 6 months in the freezer, if they last that long.
Serve immediately from the refrigerator.
Have you tried making your own peanut butter cups the fast and healthy way?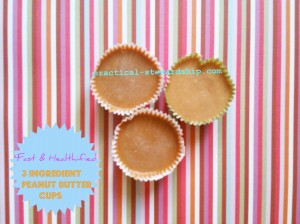 Go here for the complete list of recipes. Updated 5/14.
This post may contain affiliate links that cost you no more money, but support our blogging efforts. Thank you! 
Sharing at some of these great link parties.