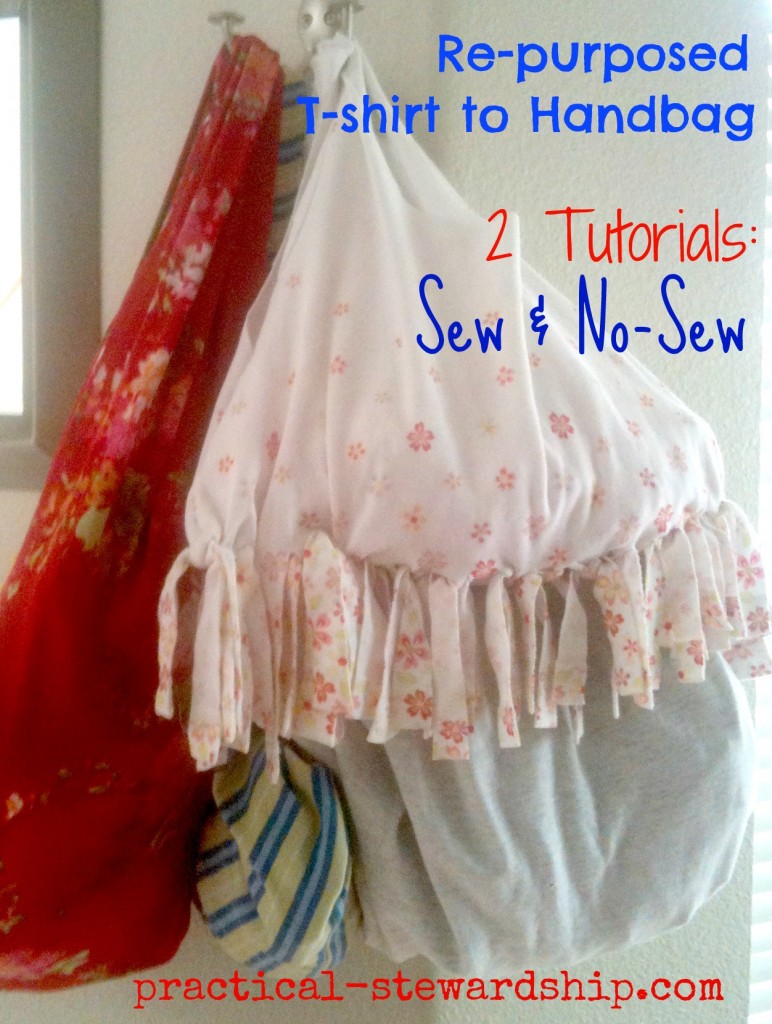 Thrifty Thinking
It's DIY Time. again, where every week I try to post something you can do yourself rather than buy, which is a money saver, and can be VERY REWARDING.  Some of these posts are crafts, sewing projects, homemade cleaners, homemade health aids, tutorials, and the like.
I always love discovering ways to reuse and re-purpose old clothes and items that might normally be thrown into a big garbage heap.  My friend Teresa handed me down this great sunny yellow shirt, which was was nice and brightened up my wardrobe.  I wore it for a year, but the armpits were a little too tight.  So when I was looking for a t-shirt to re-purpose, it was perfect!
I have found a few different ways to make a bag from a t-shirt.  I am giving you two tutorials, one is a sewing tutorial, and the other one involves no sewing at all!  I was inspired by first by a tutorial here at Saving for 6, that shows two different ways to sew them.  Then I got an e-mail from the Gap (with no web-site tutorial link) that showed how to make a no-sew bag.  I find it ironic that they were advertising NEW shirts that you can buy and make specifically for this project.  'Why not use an old t-shirt you already have?', I thought.
By the way large or extra large t-shirts will work the best, since they will give you the most room, and you can make the best long handles out of them.  I have also used a dress with a hole in the bottom of it that Ellie loved and wore ALL OF THE TIME.  So it's nice that she can still use it even though it had a hole in it, and she has outgrown it.  I have also made a bag out of a tank top, only cutting the bottom portion, since the original neckline worked well for the straps.
These bags are great for re-useable grocery bags or for toting toys and books.  You can use it as a purse.  The uses are endless.
Re-purposed t-shirt to bag Tutorial #1: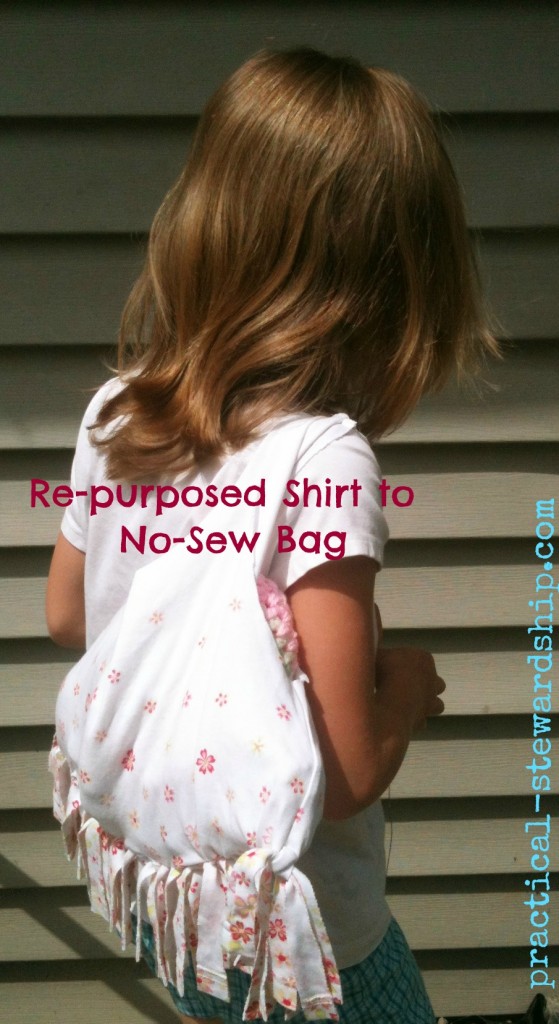 Re-purposed t-shirt to bag Tutorial #2-No-Sew:
Need another idea about what to do with a t-shirt:

We would love to hear from you!  Get free e-mail updates by subscribing here.  Follow us on Pinterest, Facebook and Twitter. "Moreover, it is required of stewards that they be found faithful" (1 Corinthians 4:2 ESV). Thanks for visiting!
Sonja
Have you read…?