Almond Flour Blueberry Muffins…a sweet healthy treat!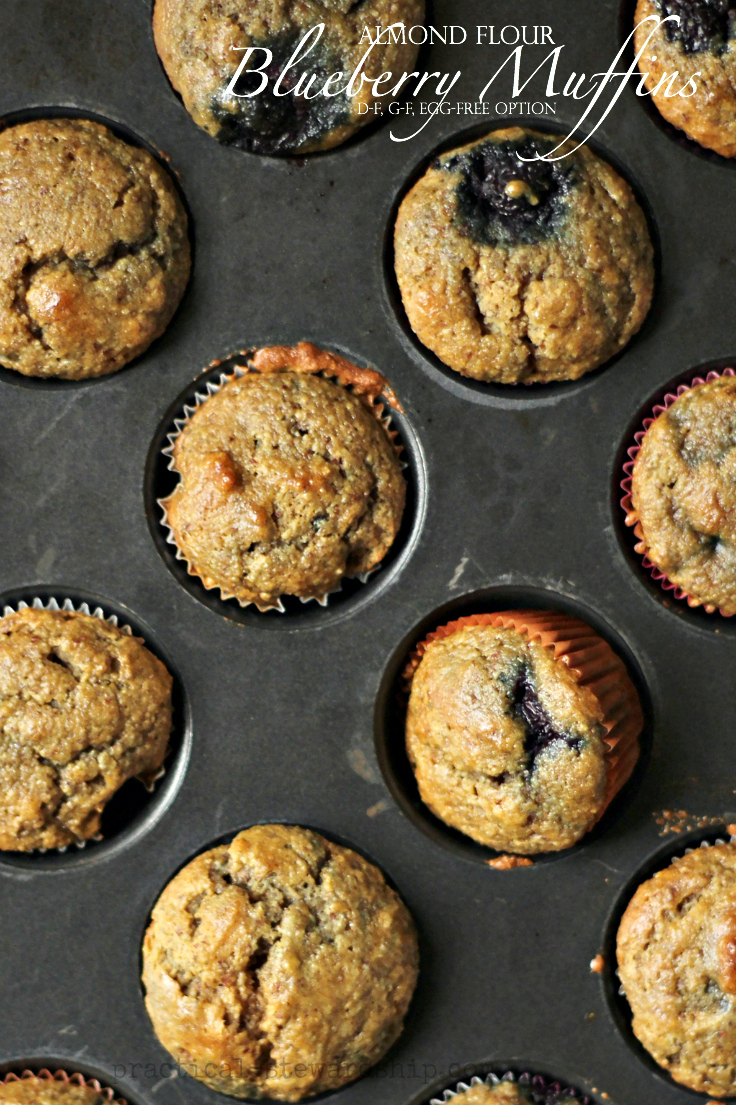 When you find out you have some kind of allergy, it can be very discouraging and it seems that EVERY food that you want to eat contains your body's nemesis. When I go to potlucks and the like, I often have to ask lots of questions, or just eat what I bring. I sometimes feel like I am annoying asking questions, and I don't want to be. I can personally eat gluten, but I know what it's like needing to avoid certain foods, since I need to be dairy-free and egg-free now.
More people have allergies and food sensitivities than know or care to admit. Many would do well to either reduce their intake of gluten or go completely gluten-free.  I had a great friend who recently found out that she needs to be gluten-free, and egg-free, and dairy-free, and, and, and….When you first find out you should avoid x, y, and z, you can come away from a doctor's appointment discouraged and feeling like there is nothing you can eat.  But wait!  When you start learning about food, you discover all kinds of different and amazing substitutions!  Real food is really amazing!!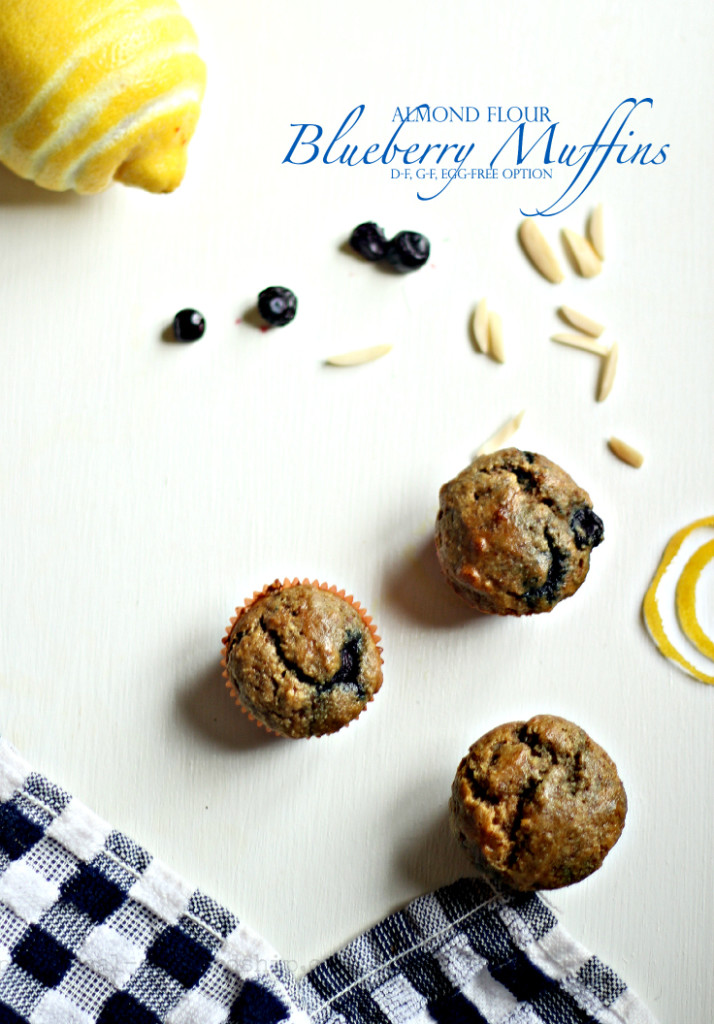 I have attempted to make almond flour several times.  I say attempt because I use my blender, and you can't go too long before you get almond butter, so my almond flour isn't that fine. The last time I made almond flour, Abbie (6 years old) and I tried to strain it with a fine mesh strainer. Too long and hard. And it was a big fat mess! We had the precious almond flour all over the floor. Not good!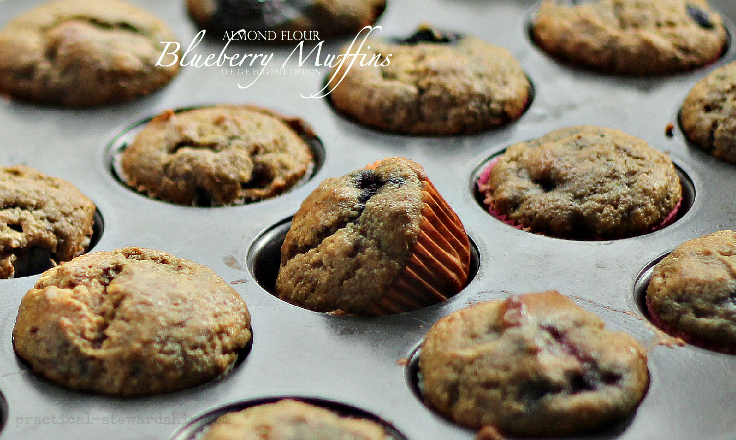 I finally gave in and bought some commercial almond flour just to make sure that if you try this recipe, I could vouch for having tried it with "real almond flour" and not just my homemade stuff. Now that I have used "real almond flour", though, I feel confident in using my homemade more frugal version since the outcome is virtually the same. Although using the commercial almond flour is sure more convenient and cleaner.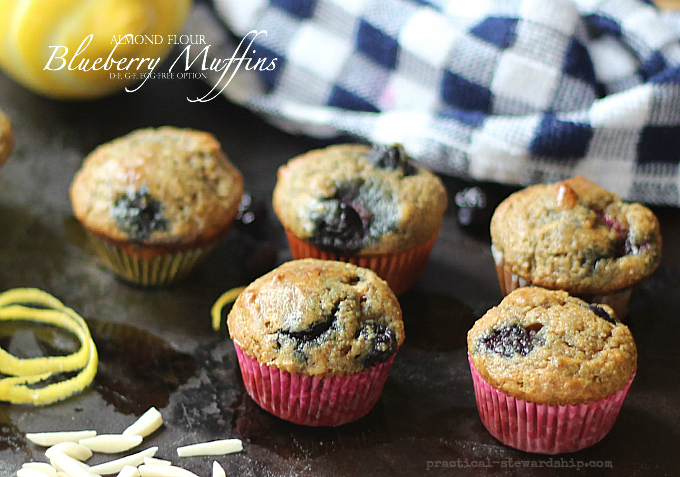 If you are looking for a gluten-free blueberry muffin recipe, this recipe is sure to hit the spot.  These blueberry muffins are a sweet treat, and they are even made without refined sugars.  This recipe is adapted from Cook Eat Paleo.
The Verdict: I've made several batches of these and find myself eating them for breakfast, lunch, as a snack and dessert (not all in the same day, though:).  We LOVE them!! I had to hide the last batch of blueberry muffins to make sure that I could get some pictures of them! Hope you enjoy, friends! Pictures updated 5/15.
Almond Flour Blueberry Muffins, Egg-Free, Dairy-Free, Gluten-Free
Ingredients
2 cups almond flour
1/2 teaspoon baking soda
1/8 teaspoon salt
3 "chia seed eggs" (3 Tablespoons chia seed with 9 Tablespoons water mixed), can sub chia seed with flax seed or use 3 actual eggs
1/4 cup honey
1 Tablespoon coconut oil, melted
1 Tablespoon lemon juice
1 teaspoon vanilla extract
1 cup organic blueberries, fresh or frozen
Instructions
Preheat oven to 325 degrees.
Line muffin tin or grease.
If you are making an egg substitution, prepare it now to give it a few minutes to become gel-like.
Place dry ingredients in large bowl, and stir to combine.
Place wet ingredients including the "egg" in medium bowl, and stir to combine.
Place wet ingredients in the dry ingredient bowl, and stir to combine, being careful to not over mix.
Fold in blueberries, being careful to not over mix.
Fill muffin cups 3/4 full.
Bake for 22-25 minutes, or until golden brown and a toothpick inserted comes out clean.
Cool, and enjoy!
Store in an airtight container for up to three days or freeze.
THIS POST MAY CONTAIN AFFILIATE LINKS THAT COST YOU NO MORE MONEY, BUT SUPPORT OUR BLOGGING EFFORTS. THANK YOU!