Paying Off College Debt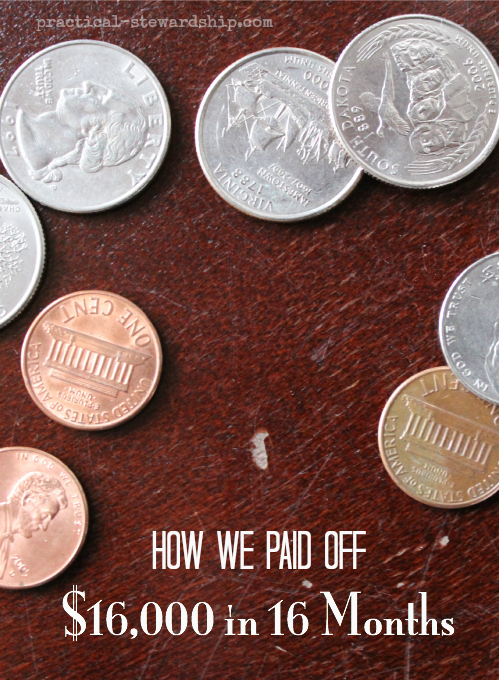 Are you carrying the weight and burden of debt?   Do you have thousands of dollars of debt?  Are you feeling so overwhelmed with debt you just ignore it?
When Jonathan and I married, I was fresh out of college, and he had 3 years of full-time schooling yet to accomplish (1 year as an undergrad and 2 in graduate school).  He brought over $38,000 in college debt to our marriage, which 0f course became OUR debt.  We had no credit card debt and we had no car payments.  I brought about $7000 into the marriage, and a month after we got married we paid $5000 cash for a 1994 Toyota Tercel that we still drive.  By the way, it's my secret hope that our oldest child, Ellie, will be able to drive this car in 10 more years. The only thing we owed was the college debt.
Our first year of marriage we lived in an apartment and started to tackle the college debt right away, paying $500 month, which was about double what we were required to pay per month at that time.  There were three student loans, and one we only owed $1000, so we tackled that right away.  We knew it was just for a season, but I was the primary "bread winner" as Jonathan was completing his undergraduate degree that year.  At that time Jonathan worked at Eagle (now Lowe's) full-time, earning a little over minimum wage.
After being married 11 months, we bought our first house.  It came with a $147,500 mortgage.  After this purchase, we no longer paid $500/month to the college debt.  We did pay an extra $100 to our mortgage, though (which will save you thousands of dollars if you do and for us would have cut our 30 year mortgage to a 22 year mortgage.  We'll talk about that at a later date.).  So we went to paying the minimum $117.96 and $114.53 to each of the remaining two student loans.
Fast forward eight years.  I was now a stay-at-home mom, teaching piano lessons at home about six or seven hours a week.  Jonathan was working full-time, and we would have been considered a close-to-median income family.  I wish it were socially-acceptable to share with you exactly what we make in order to encourage people on the road, but unfortunately, it's not.  On one college loan we had only paid the minimum, and on the other loan we were paying $319.05 monthly.
In the summer of 2008 we decided to get super aggressive about paying down the debt.  We had listened to the Dave Ramsey "The Total Money Makeover
" and grabbed onto the "debt snowball" concept.  This is where you first give money to the Lord (if you weren't already doing so; it's His anyway), build a $1000 emergency fund, and then take the smallest debt (regardless of interest rate) and work to pay it off.  Let's say it's a car payment of $219 per month.  Once you pay off the car, you throw that $219 in the direction of your next-smallest (now smallest) debt, and so on.  Every month.  Until you have zero debt, period. It's a pretty effective method, and very popular.
 
At this point, we had about $16,000 left to pay on the student loans.  We started paying the minimum to our mortgage, and we focused on the smallest of the two loans, which at that time was about $2500.  We started going after it aggressively.  I had accompanied for many weddings that summer, and we were able to pay $500 a month to it during the summer.  This got REALLY addicting.  Then during the school year I was getting paid weekly with lessons (even if people prepay for the month, I only pay myself as I earn it because I can't use money I haven't earned yet), and I started paying down the debt weekly sometimes.  I would put the money in an envelop.  Sometimes I would put $20, sometimes it was $2, and sometimes it was $200.  Any amount of money helped us chip away at the debt.  If money went into the envelope, it couldn't be touched.  Even if we thought we really needed it, we lived like it didn't exist.
A couple of months we were able to pay close to $2000 with tax returns, or some unexpected income.  Other months we had to pay the new minimum in our head of $500 because in that time span I had my baby boy and we had some medical expenses.  We ended up averaging a payment amount of about $1000 per month to the college debt.
The snowball was growing.  It was building more momentum.  It was sooo fun to see the numbers go down!!!  I am excited just thinking about this now!  Before we knew it, in 16 months, we had paid off $16,000!   We caught the fire and had the desire to get the weight of the debt off of our shoulders.  It was gone.
Now we still do have mortgage debt, so we are not debt-free.  Some would consider us debt-free because we only have mortgage payments left, but we don't think that way.  We owe money to someone, so we are not debt-free.  Some would consider college debt, good debt.  We don't agree.  That is money owed, so it is a debt, and we've got it in our sights….
So what did our spending and budgeting look like while we were trying to pay off student loan debt?  It looks very similar to how it does now.  To be clear, these are strategies that we use that may or may not work for other you; it depends on your situation.
We paint ourselves into a corner; we start off each month with $300 in our main checking account.  This is how we pay our gasoline and incidentals, gifts, clothes…whatever may come up.  The rest of Jonathan's income is designated to pay the bills, for savings and loans.  Our grocery money comes out of piano lessons, and if there's anything left over it goes to bills, loans, or for cash for Jonathan.  In our main checking account I really want to end up with about $50 at the end of the month so I only have to replenish $250, and then the $50 I didn't use would go to pay down the next bill.  There are times when we have almost no money in the checking account, and then we can't spend.
How do you get out from under ALL this debt, you may ask?  You do it dollar by dollar.  If you have bad financial habits, turn a 180 and don't look back.  If you think saving one dollar won't matter, you are wrong.  When you are buying, you have to ask yourself if you are buying things because they are a need or a want, and then you have to make sure that the need is really a need.  We encourage you to try to save some money and pay down your smallest debt first.  It can be so addicting because it is so freeing!!
We hope sharing this story can be an encouragement to someone.  Personal finances can be really tricky to discuss, but if you would like to share your story of tackling debt, we'd love to hear it.
If you missed Budgeting for 2012 Part 1, go here.  Go here for an encouraging anonymous getting-out-of-debt story.
Have you read…?
THIS POST MAY CONTAIN AFFILIATE LINKS THAT COST YOU NO MORE MONEY, BUT SUPPORT OUR BLOGGING EFFORTS. THANK YOU!   Updated 7/14.