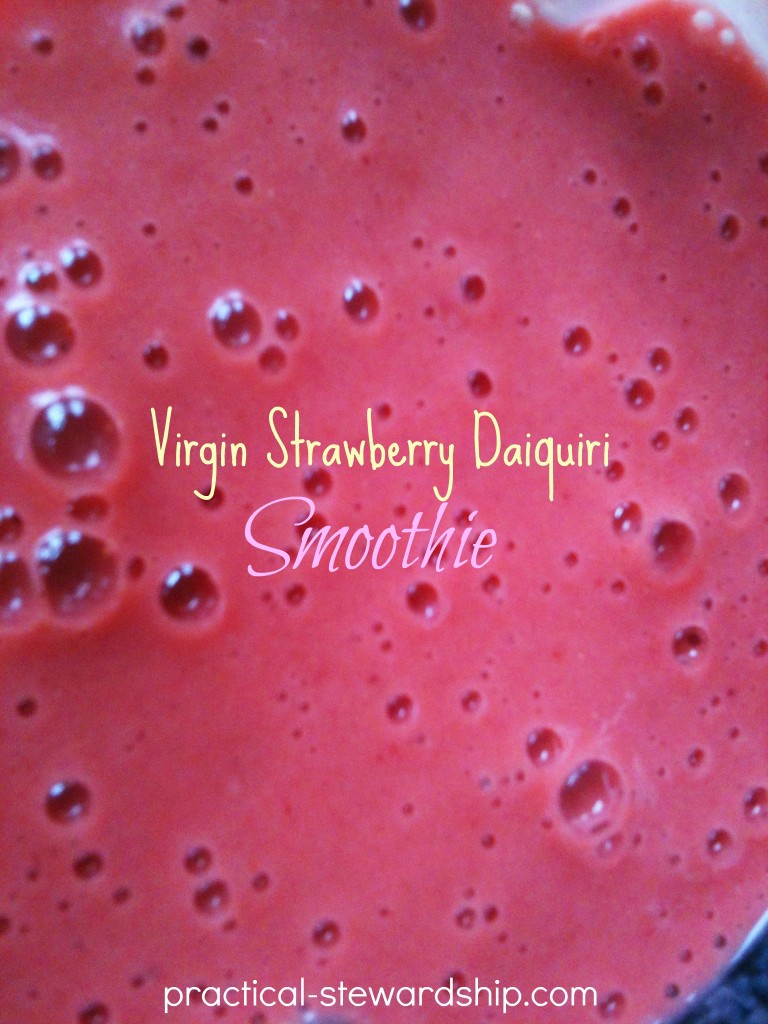 Typically with recipes, the less ingredients the better to me.  I am much more likely to try it.  There is something about smoothies though, that we just keep throwing fruits and vegetables into the Vitamix.  A lot of times I am trying to mask the taste of a vegetable.  Here is a smoothie that JSarr fabricated, that, for us, doesn't have many ingredients.  This is the smoothie JSarr keeps coming back to.  It's probably his favorite since we have purchased our Vitamix.
Virgin Strawberry Daiquiri Smoothie
Ingredients
3 oranges
2 cups frozen strawberries
1 large apple
1 banana
1 small tomato
1/4 cup plain yogurt, Greek is fine (try coconut yogurt or milk for vegan)
1 cup apple juice
1 T flaxseed oil, optional
Instructions
Blend all ingredients until thoroughly blended.
Serve immediately.
http://practical-stewardship.com/2012/04/09/virgin-strawberry-daiquiri-smoothie/
The Verdict: It's so smooth, and you can't tell there is a tomato.  My Ellie girl, who at times can be particular about her smoothies, is quoted as saying, " I LOVE THIS SMOOTHIE SO MUCH I WANT TO EAT IT EVERYDAY!"  'nough said.
Go here for the complete list of recipes.
Have you tried…?
or
What smoothie combinations do you enjoy the best? Check out other smoothie recipes here.
Want a code for a free shipping on a Vitamix?  Go here.
We would love to hear from you!  Feel free to comment.  Get free e-mail updates by subscribing here.  Follow us on Facebook and Twitter. "Moreover, it is required of stewards that they be found faithful" (1 Corinthians 4:2 ESV). Thanks for visiting!
Sonja