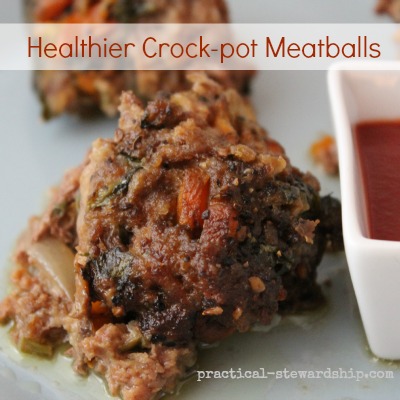 Once every three months or so I'll buy ground beef and think it's time to make some meatballs.  I love throwing in the different kinds of veggies we have, especially in our quest to make things more healthy.  Especially when I buy the big Costco container of fresh spinach, I see what different things I can throw it in so we can get rid of it before it goes bad.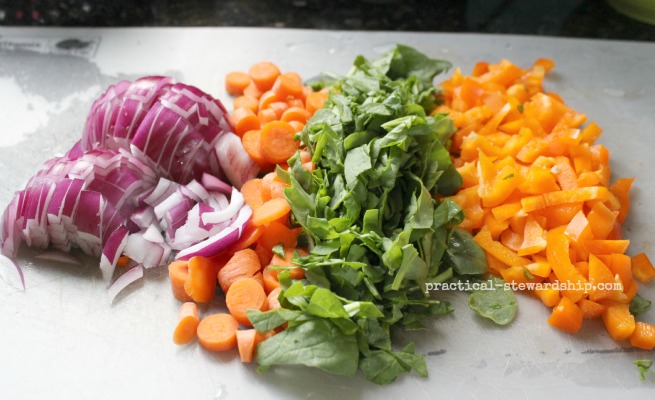 Also, if I have them, I will throw the leftover dregs of our nacho chips for the dry ingredient.  I hate to throw those things away when they are good food!
Healthier Crock-Pot Meatballs
Ingredients
2 lbs. ground beef (or turkey)
1/2 cup of old fashioned oats (other dry ingredient substitutes for oats: nacho chips, crackers, bread)
1 egg
1 medium onion, chopped
1/4 cup spinach, chopped
1/4 cup carrots, chopped
1/4 cup bell pepper color of choice, chopped
2 T Worcestershire Sauce
1 t garlic powder
1 t oregano
1 t pepper
1 t oat bran (opt.)
1 t wheat bran (opt.)
1 t wheat germ (opt.)
1/2 t ground mustard
dash of crushed peppers
dash of cayenne pepper
Ketchup or BBQ Sauce
Instructions
Combine all wet ingredients together.
Add dry ingredients to wet ingredients, and dig in with your hands to form 1-2 inch balls.
Arrange meatballs in the slow cooker on top of each other if needed.
Cover, and cook on high for 4.5-5 hours or on low for 6-8 hours. The longer you cook them, the more likely they are to fall apart, so watch carefully.
Oven Directions: Preheat oven to 350 degrees.  Place meatballs in a baking pan, and bake for 1/2 hour.
The Verdict: I love making meatballs and not meatloaf, because way more of the fat is able to drain.  Don't be overwhelmed by the amount of liquid in the slow cooker.  Just use tongs to carefully remove.  Enjoy!!
Sharing @ Fat Tuesday, OPAAT, Talent Show Tuesday, Meal Plan Monday, Homestead Barn Hop, Sew Darn Crafty, Sundae Scoop, SNS, Weekend Wrap-Up Party, SUYL, Fight Back Friday, Pennywise Platter Thursday, Simple Lives Thursday, 36th Ave. Party, Real Food Wednesday, Whole Food Wednesday, Frugal Days, Sustainable Ways, Wow Us Wednesday, Welcome Home, Works for Me Wednesday, Healthy 2day Wednesday.