Here is a very easy recipe you can put together in minutes, and is a lot like a Lara Bar.  This recipe is guilt-free and naturally sweetened with dates.  Dates are amazing because they are not only sweet, but they help bind food together.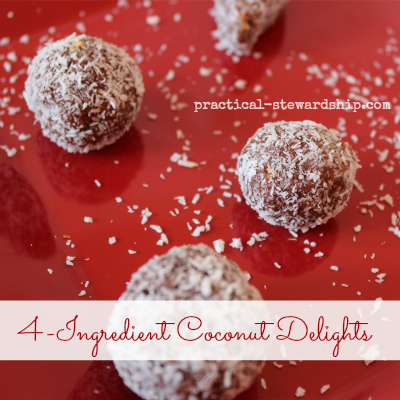 This tasty dessert, is no-bake, raw, vegan, and amazing!  This is the first time I've created a coconut dessert, and it's a great variation of the normal Lara Bar Balls I've made.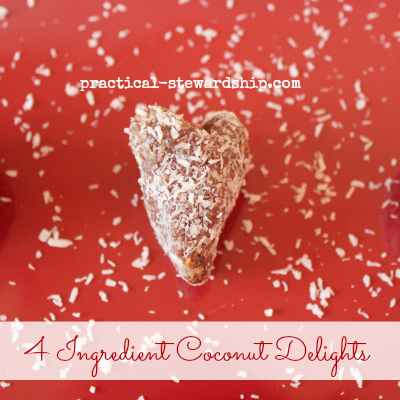 4 Ingredient Chocolate Coconut Delights
Ingredients
1 cup of dates
1/2 cup almonds (walnuts, cashews, and pecans will work too)
2 T cocoa powder
1/4 shredded unsweetened coconut
Instructions
Blend all ingredients in a food processor until the mixture forms one big ball. To have courser nuts, place nuts in the food processor after all the other ingredients have been combined.
Remove, and roll into 1 inch balls or form into hearts.
Optional: roll the balls in coconut to cover.
Enjoy, and refrigerate leftovers in an airtight container for up to a week!
The Verdict: My kids dig this recipe (along with me and my husband), and I especially love it because I have no guilt feeding this to them.
Go here for the complete list of recipes.