Want a different smoothie combination that strays from the tradition berry smoothie that might give you a little pucker?  Try Ellie's Lemon Lime Smoothie!

Our Ellie girl used to love smoothies.  Since we've been going crazy making them all of the time, she has become a bit less excited about them, so we asked her to come up with something.
Ellie has a sour-tooth.  Her favorite food is grapefruit, and she has a weakness for all things citrus, especially lemons and limes.  Thus, this creation was born!  Needless to say, she loved it!  The rest of the family liked it, too, but this one's probably Ellie's favorite!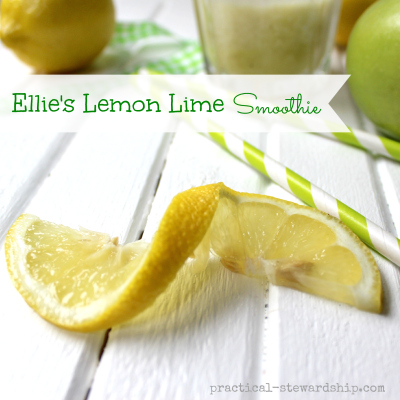 If this lemon lime smoothie ends up being too sour for you, just add another banana or two, or some more apples.  That's what I've done for the rest of the family, and it still had plenty of pucker for us.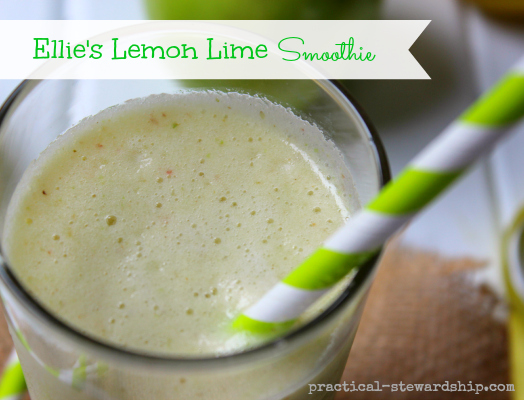 Ellie's Lemon Lime Smoothie Recipe

Yield 2 -14 ounce smoothies

Ingredients

1/2 cup water
1 apple
1 banana
1 lime, peeled
1 kiwi, peeled
1/2 pear
3 T of lemon juice or 1 whole lemon
1 T flaxseed oil, optional
handful of ice

Instructions

Blend all ingredients until smooth.
Serve immediately.

Nutrition Facts

Serving Size 14 ounces

Amount Per Serving

% Daily Value

* Percent Daily Values are based on a 2,000 calorie diet. Your daily values may be higher or lower depending on your calorie needs.
Go here for the complete list of recipes. What smoothie combinations do you enjoy the best? Check out other smoothie recipes here.
Want a code for a free shipping on a Vitamix?  Go here.  Contains an affiliate link.
Have you tried…?
Featured @ Healthy Vegan Friday!