Have you ever put carrots and mangoes together?  How about putting carrots and mangoes together in a smoothie?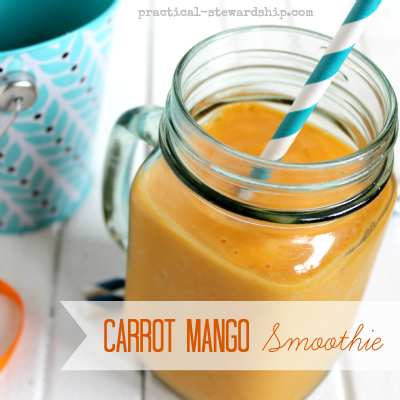 Since we got the Vitamix in January, we have bought a two 25 pound bag of carrots.  The first bag was much easier to go through then the one we have now.  Carrots are a great vegetable, but now that we aren't buying them in baby carrot form, I am putting them less on salads, so I need to get on it, especially since we don't have room to refrigerate them so they are in our garage and it's summer. I don't want a whole bunch of rotting carrots!!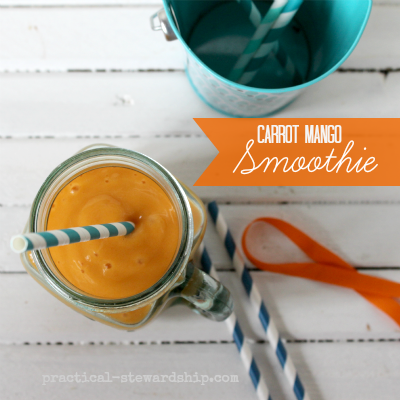 I figured I need to add carrots way more to smoothies, too.  They really don't change the flavor of smoothies, either, so they are a super easy addition.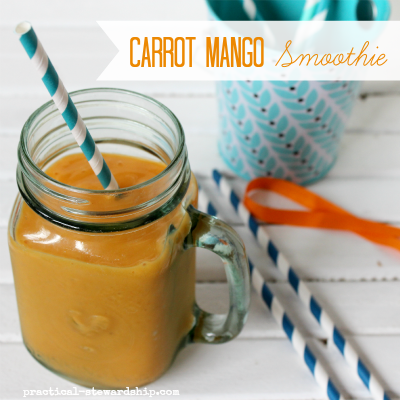 It's fun once in a while to make smoothies solely based on color.  Bananas blend well with all fruit and vegetable combinations and add the sweetness and creaminess I desire.  I was going orange with an orange theme today.
Carrot Mango Smoothie
Ingredients
2-3 carrots
1 mango
2 bananas
1 cup almond milk or water (you may want to add more liquid if the consistency is too thick)
Instructions
Blend all ingredients until thoroughly blended.
Serve immediately.
The Verdict:
This was a nice thick, tasty, and sweet smoothie.  The smoothie has such a great fresh taste.  I loved how creamy the texture becomes in the Vitamix. If you want it a little thinner, you could add more liquid.
We have made the carrot mango smoothie with both almond milk and water.  I don't know if I have a preference, as they are both great!
Go here for the complete list of recipes.
Have you tried…?
What smoothie combinations do you enjoy the best? Check out other smoothie recipes here.
Want a code for a free shipping on a Vitamix?  Go here.