I saw a picture of an enchilada on-line one day, and to me it looked like it was in a manicotti shell.  I was wrong, but that picture (and I don't know where it is now) inspired this creation.  I thought that I would try to fill manicotti with a less traditional filling.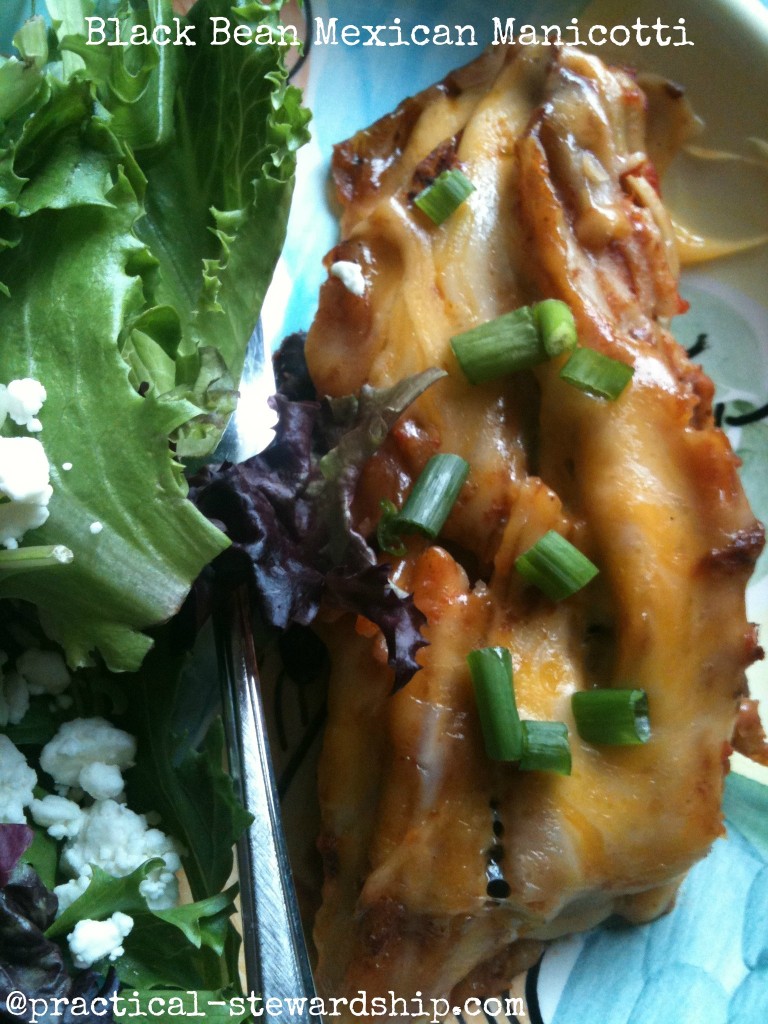 I ended up doubling the recipe, slow cooking one portion, and then filling a pan to bake later.   
The Recipe: Crock-Pot or Not Mexican Manicotti with Black Beans
The Filling Ingredients for the gallon size freezer bag:
Approximately 22 oz. black beans (about  1 & 1/2 cans).  You can replace some of the beans with shredded chicken, turkey, or the meat of your choice.
24 oz. spaghetti sauce, divided
small can of green chilis, optional
1/4 cup spinach, chopped
a handful of fresh cilantro, chopped
3 T minced garlic
1 T chili powder
1 t cumin
dash cayenne pepper
¼ teaspoon pepper
The Additional Ingredients:
8 oz. package of manicotti, uncooked
enchilada sauce to top generously
1/2 cup shredded cheddar cheese
green onions, chopped to garnish
The Directions:
Spread enough spaghetti sauce to cover the bottom of the slow cooker.
Place all filling ingredients in a gallon size freeze bag.
Squish and work the bag until thoroughly mixed.
Cut a small corner of the bag (I cut about 1/3″).
Pipe the cheese mixture into the uncooked manicotti shells (This was a little messy for me since the hole had to be big enough to let the black beans through, but small enough that lots of the other filling doesn't come through: I might try to spoon it in next time).
Place the manicotti into the slow cooker.
Generously cover the shells with enchilada sauce.  If any part of the shells isn't covered, it may not cook, since the pasta needs the moisture to soften it.
Continue laying the filled manicotti and pouring sauce until you run out.
Cook on high for 3 1/2-4 hours, or on low 6 hours.
Sprinkle cheese, and garnish with green onions.
Serve with a big ol' salad.
The Verdict: My whole family loved it, including my  2 1/2 year old son, who quickly gobbled up his portion and wanted more!
Have you tried…?
Go here for the complete list of recipes.
We would love to hear from you!  Feel free to comment.  Get free e-mail updates by subscribing here.  Follow us on Facebook and Twitter. "Moreover, it is required of stewards that they be found faithful" (1 Corinthians 4:2 ESV). Thanks for visiting!
Sonja