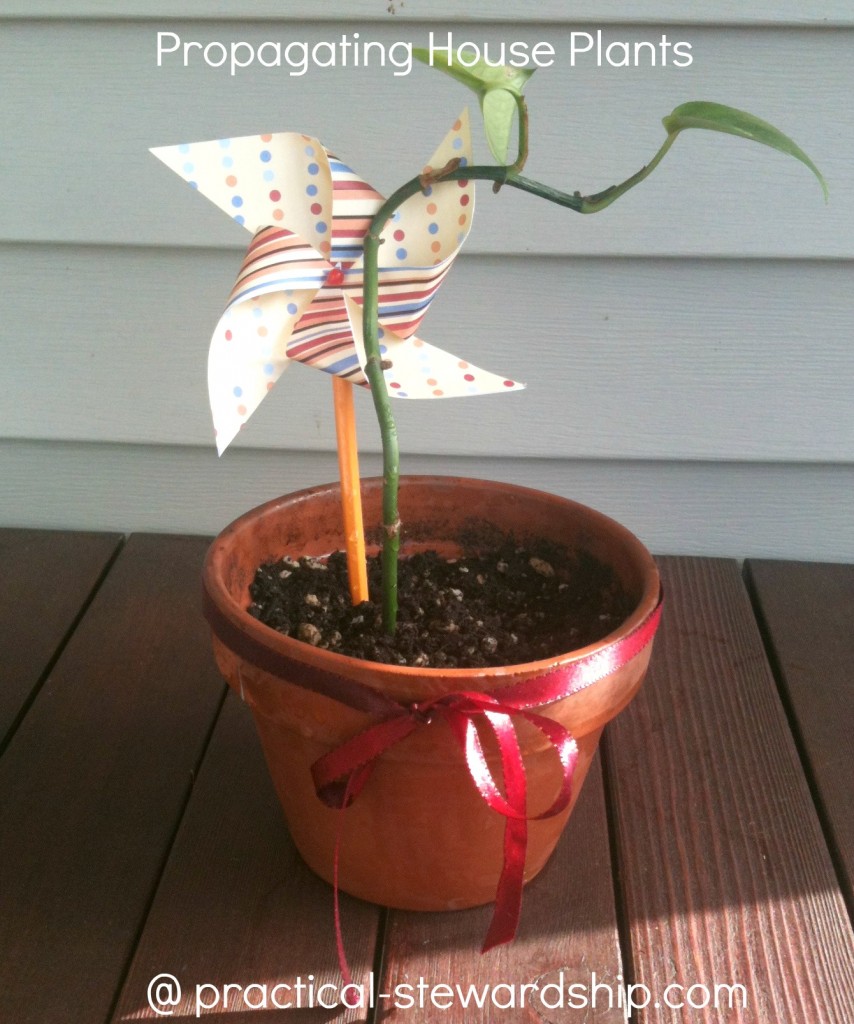 I used a pencil to prop the plant (although it didn't need it) since this is a gift for a teacher.
It's DIY FRI. again (except it's Saturday: Grandma and Papa are in town-yay!!), where every Friday I try to post something you can do yourself rather than buy, which is a money saver, and can be VERY REWARDING.  Some of these posts are crafts, sewing projects, homemade cleaners, homemade health aids, tutorials, and the like.
Since the fall I've been thinking about giving my girls' teachers a house plant for Teacher Appreciation Week.  No matter what the occasion is that you may give a house plant as a gift, this project is one where you have to think ahead to give your plant time to root and grow.  But when you do think ahead, it takes no time at all to put together, and it's easy and free if you have a pot or very inexpensive (I bought some nice 6 inch terra cotta pots for less than $1.50 each).  Terra cotta is easy to paint, too.  I've used acrylic paint and even left over paint for the house.
I think I was in high school when I received a gift of a potted houseplant.  The plant is about 18 years old now and still going strong.  I have propagated it many times over the last couple of decades.  A few years ago I got a different house plant with a more robust leaf that I have propagated for this project.
The Instructions:
Take a mother plant, and cut off a healthy looking stem so it is about 4-6 inches long with at least 3 nodes (the bumps that the leaves grow from).  It should have about 3 leaves.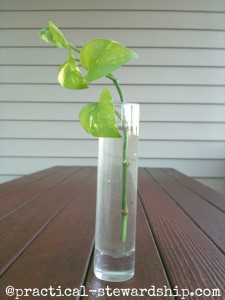 Place in water by a windowsill (not direct sunlight), and watch it grow.
My cuttings here have been in this vase for about six months.  I just haven't taken the time to pot them yet, even though they sprouted within a month of starting.  And I don't remember ever changing the water (oops)!  I do change it out for my green onions in my windowsill, though.
I am great at starting projects, and I usually need a deadline to finish.  So with Teacher Appreciate Week approaching I knew it was time to pot and gift.    The pictures below are all from the same plant, cut the same time, but four different stems.  The one on the right went CRAZY.  Funny thing is, the crazy root plant is the one plant that only have two leaves on it (I did choose it for the featured picture in this post, though).
It doesn't take long for the roots to start growing.  I usually cut three stems to start propagating so I have chance for greater success.  It seems at least two will grow, but usually all three are successful.  This time I had eight stems rooting at the same time, and it looks like two didn't really root, although they are still alive.
For my indoor house plants I have had much success without root-inducing hormones.  May be they would do better with a rooting hormone, but when possible, I like to make things frugal, and easy on us (this allows us to have our hands in many different kinds of things) as possible, so no rooting hormone for us now.  I have used it on other plants like roses with little success.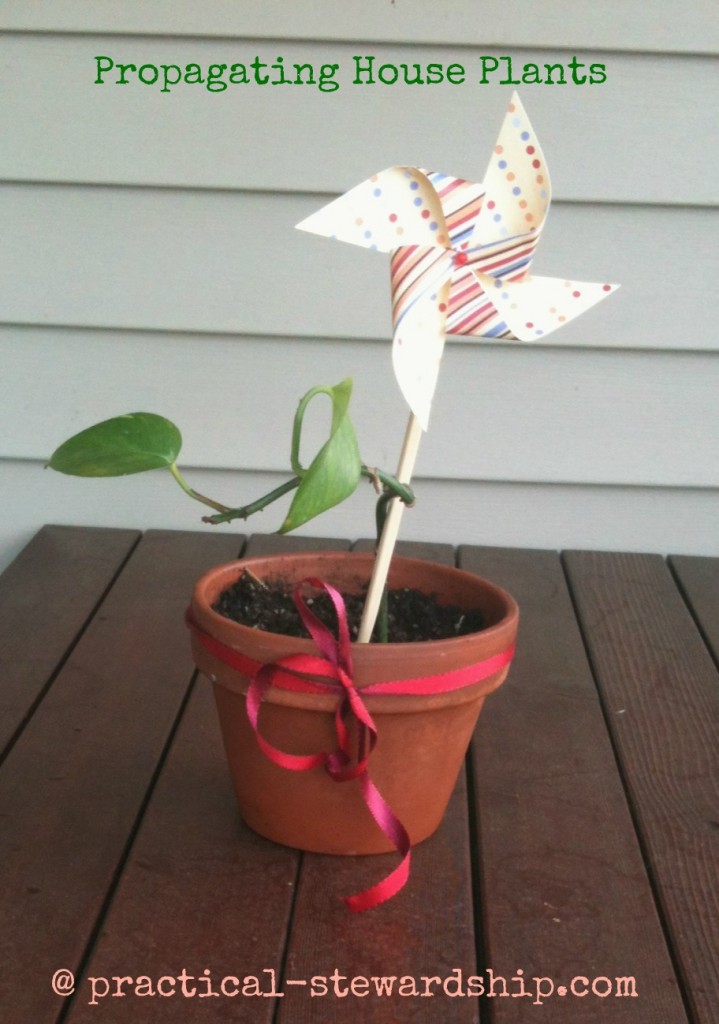 Can you think of upcoming celebrations where a potted plant would be a good gift?  Mother's Day, Grandparent's Day, a birthday or retirement celebration?
Have you read or tried…?
We would love to hear from you!  Feel free to comment.  Get free e-mail updates by subscribing here.  Follow us on Facebook and Twitter. Thanks for visiting!
Sonja