Homemade Astringent-only two ingredients!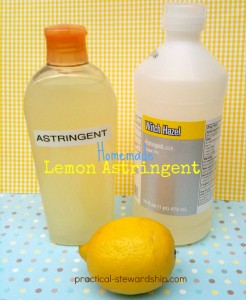 It's DIY Time again, where every week I try to post something you can do yourself rather than buy, which is a money saver, and can be VERY REWARDING.  Some of these posts are crafts, sewing projects, homemade cleaners, homemade health aids, tutorials, and the like.
As we finish off different commercial products in our house, I am researching to see if there are homemade alternatives that are healthier, greener, and/or more frugal.  A few months ago as I was finishing my commercial astringent, I knew it was time to research.  I love that this recipe I found has only two simple ingredients!  So many of the things you can make on your own are so fast and way cheaper.
The witch hazel is an inexpensive ingredient, as is lemon juice.  I used lemon juice out of a bottle, and I bought real whole lemons, squeezed them and made a different concoction.  I prefer the freshly squeezed lemons.
I reused my old astringent holder for this, so save your old bottles and containers as you finish them.
The Ingredients:
2 parts witch hazel
1 part lemon juice
The Instructions:
Mix and store in an airtight container for daily use.
Shake before using if needed.
I made this using the juice of a lemon for one batch, and the other batch I used store-bought lemon juice. I think I prefer using the juice of a lemon because it seems a bit stronger, tightening pores a bit more. You do have to strain it, though, so choose your battle. The commercial lemon juice mixes better with the witch hazel, giving the astringent an even look. I didn't strain my freshly juiced lemon astringent well, and I had to shake each time before using. Not a big deal. They both work about the same when you come down to it, so I really recommend either version.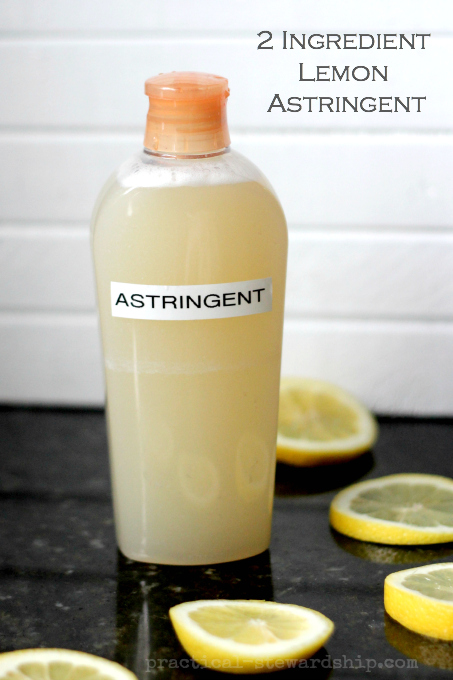 The Verdict: I use it morning and night and like how it is gentler than commercial astringents, but it still feels like it works, cleans and tightens pore.  It's a very nice balance.  I am done with store bought astringents! **Updated 7/14. I still use this everyday and love it two years later!
Have you made your own…?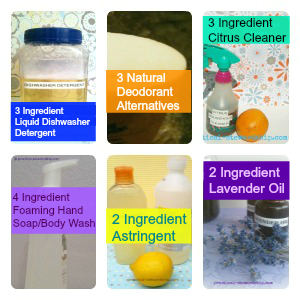 THIS POST MAY CONTAIN AFFILIATE LINKS THAT COST YOU NO MORE MONEY, BUT SUPPORT OUR BLOGGING EFFORTS. THANK YOU! 
Featured @
Herbs and Oils Hub