In my never-ending quest to integrate more greens and veggies in our lifestyle (not diet, since those usually aren't permanent), I am always on the quest to find different smoothie combinations that are delicious and mostly importantly, nutritious.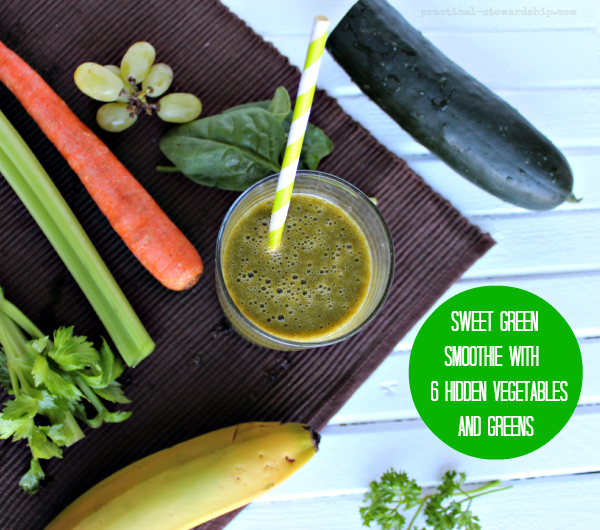 My dad was going out of town, and we were blessed with a bunch of fruits and veggies.  We had to use the grapes and bananas right away.  I love that this smoothie is only sweetened with the fruit and doesn't (in my opinion) need any extra sweetening to hide the veggies.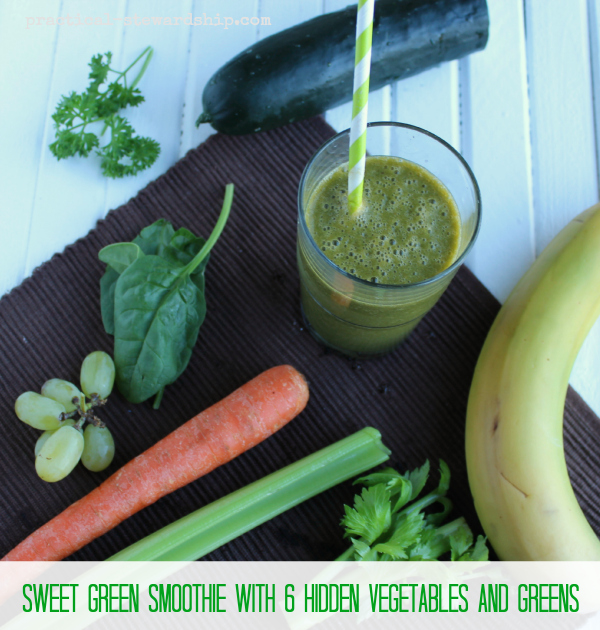 The Conclusion:
I really am amazed at how much you can consume veggies and not taste them.  We have had so much fun figuring out what we can do with whole foods.  Love it!!
Sweet Smoothie with Six Hidden Vegetables

Ingredients

1 cup water
generous handful of spinach
2 bananas
2 cups of grapes (we used green)
1 carrot
1 piece of kale, rib removed
2 sprigs of parsley
1/3 cucumber
1/3 rib of celery
1 T flaxseed oil, optional

Instructions

Blend all ingredients until smooth.
Serve immediately.
What smoothie combinations do you enjoy the best? Check out other smoothie recipes here.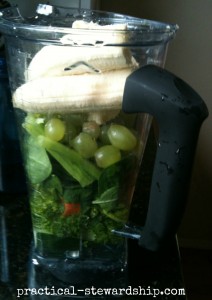 Want a code for a free shipping on a Vitamix?  Go here. Contains an affiliate link which costs you nothing more but supports our blogging efforts.  Thanks!!