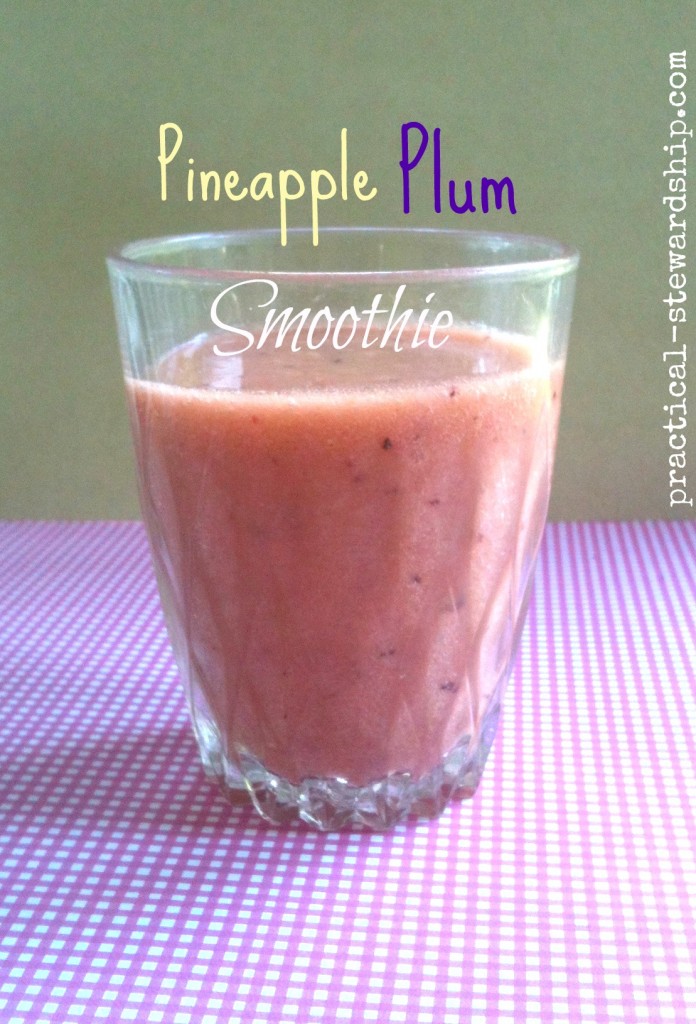 Here is another fruit that is coming into season: PLUMS!!  We all love plums in the Sarr household, and I thought it would be a great time to incorporate them into our smoothies.
The ones we had were organic and so sweet.  When we cut into them they bled purple they were so juicy and perfect.
Pineapple Plum Smoothie (with Some Veggies)
Ingredients
2 large plums
2 cups pineapple (we used frozen)
2 bananas
1 carrot
1 mango
1/4 cucumber
1/4 celery stalk
1 cup water (you may want to add more water if the consistency is too thick)
1 cup ice
Instructions
Blend all ingredients until thoroughly blended.
Serve immediately.
The Verdict:
This is a very fresh tasting smoothie!  I love getting all of the vitamins in one cup.  All the kids wanted more!  Really you can just make this smoothie with the pineapple, plums and water or ice, but since we are already at the Vitamix, may as well throw some nutrient dense foods in!
Go here for the complete list of recipes.
Have you tried…?
What smoothie combinations do you enjoy the best? Check out other smoothie recipes here.
Want a code for a free shipping on a Vitamix?  Go here.
We would love to hear from you!  Feel free to comment.  Get free e-mail updates by subscribing here.  Follow us on Facebook and Twitter. "Moreover, it is required of stewards that they be found faithful" (1 Corinthians 4:2 ESV). Thanks for visiting!
Sonja