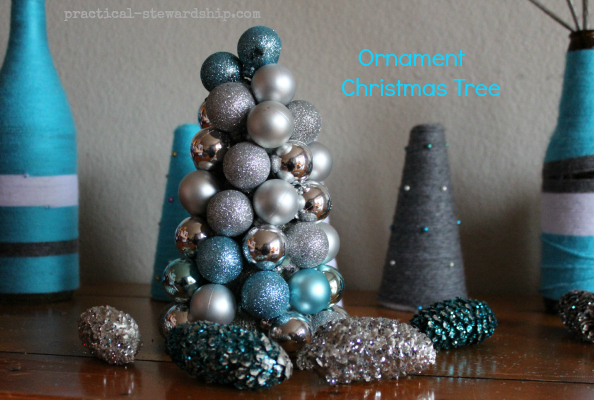 Here is a really quick Christmas Ornament Tree tutorial with fun and fast results, especially if you don't spray paint.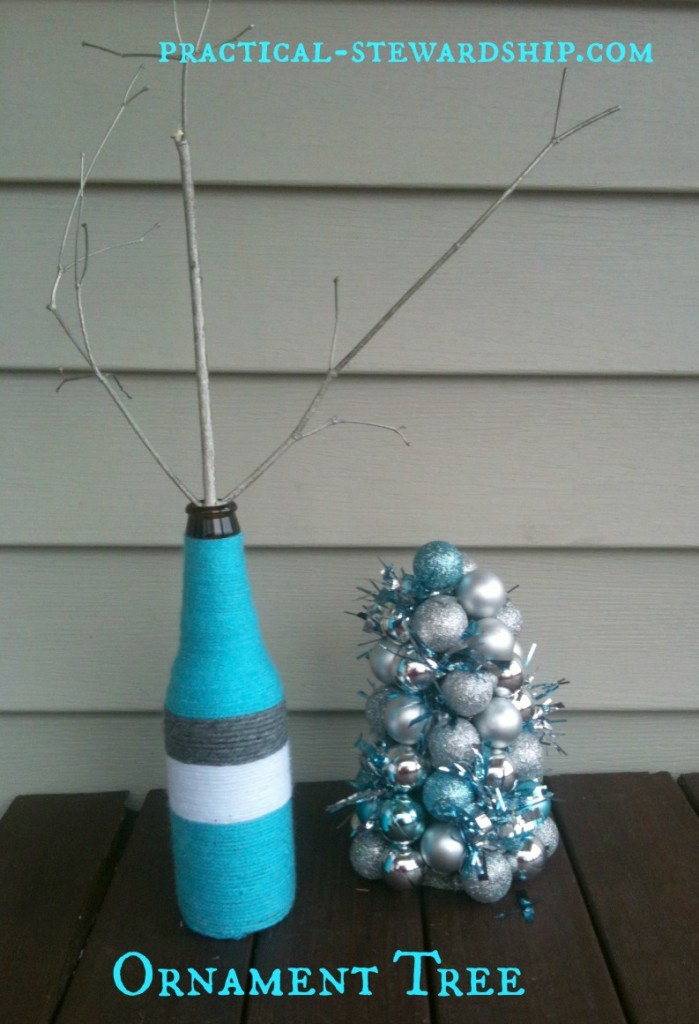 The first Christmas Ornament Tree I made didn't last because I just stuck the tops of the ornaments (without their loops that are designed to hold hooks that attach the ornament to a Christmas tree) in the foam without hot gluing the ornaments to the tree.  So when a pesky little hand (or actually an uncontrolled adult hand-you know who you are:) grabbed my delicate tree without asking, it busted.  Plus, the ornaments took out chunks of foam, rendering the foam tree completely useless.  So learn from my mistakes, and do it the right way the first time!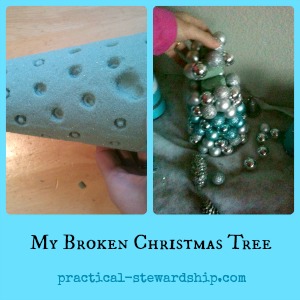 What You Will Need:
optional, spray paint: pick a color that is the same as one your ornaments.  I used silver since it's a light color, and it's the color of most of my ornaments.
cone Christmas tree (I used a floral foam cone the first time and a Styrofoam cone the second time; you could try re-purposing a cereal box into a cone)
small Christmas ornaments
hot glue gun
newspaper
optional, garland to stick in any holes
The Instructions:
Place newspaper on your work area.
Optional, spray paint the cone according to instructions on the paint can, and allow sufficient time for the paint to dry. This allows you to see a color in the holes the ornaments create (you can fill in the holes with garland if you don't want to spray paint.  I ended up spray painting and adding garland because I thought the tree needed a little something).
Warm up the glue gun.
Take the tops off of the Christmas ornaments.
Start at the bottom, and hot glue the Christmas ornaments to the cone, trying to hide the tops of the ornaments.  Be careful with the glue gun.  I burned myself two or three times.  I am not a huge fan of glue guns (that's why I didn't use it the first time), but I know when it is necessary to use them.

When you are done hot gluing the ornaments, pick off any "spider web" hot glue strings that may have gotten on some of the ornaments.
If you think you have holes that need filling, cut some garland about 1-2 inches, and stick in the holes.  You can glue the garland if you want.
Enjoy your Christmas Ornament Tree year after year!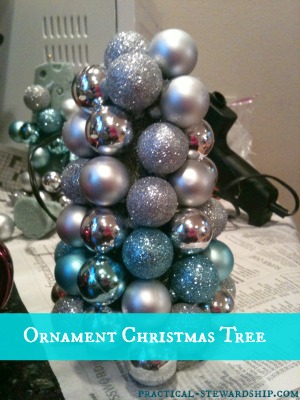 What crafts have you been making this Christmas Season? Have you ever glittered pine cones?