Cranberries and Caramelized Brussels Sprouts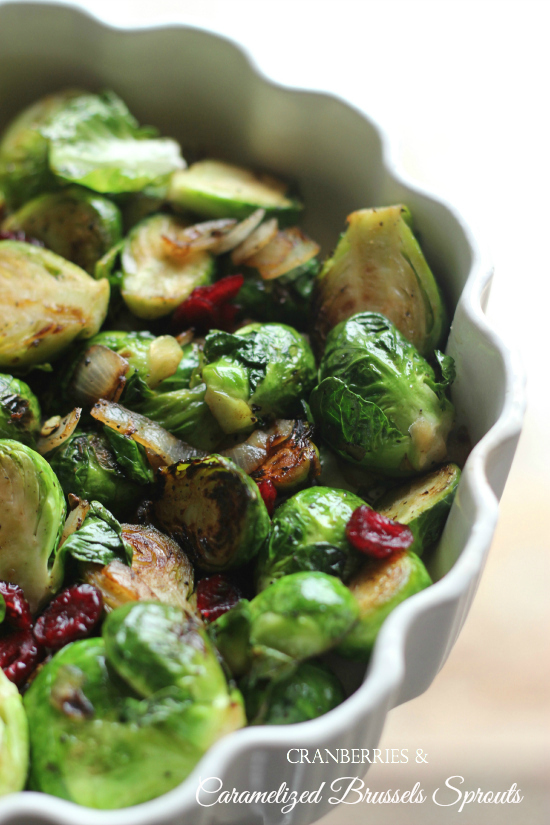 Okay, for all of you brussels sprouts haters, I think you need to try this before you say anything more. Not a word. And for those who have had caramelized brussels sprouts before, you'll know what I mean, right? This Thanksgiving I brought over a "brussels sprouts tree" or stalk to my in-laws' house. Well, it sure looked like a tree. We could've decorated that tree for Christmas and even added presents underneath it was so big. I digress.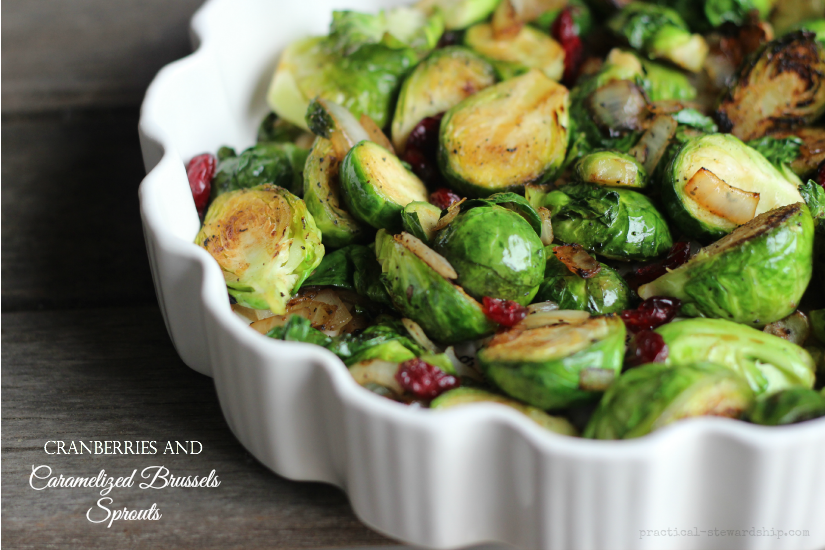 Anyway, I made this cranberries and caramelized brussels sprouts dish at Thanksgiving for the family. I always like to make sure there is something green at the table. All of you health nuts out there are nodding in agreement, aren't you? Guess what? This was the very first dish that was gone. Done. Out. Finished. No seconds. Can you believe it? Out of all that turkey, ham, gravy, mashed potatoes, sweet potatoes, cranberry orange sauce and the like, the caramelized brussels sprouts were gone first! You see, there is flavor in the brown (you know, that goodness at the bottom of the skillet or pot). Don't be afraid of the brown. Flavor in the brown I tell you! I made it for them again the next day. Same thing happened. Vanished….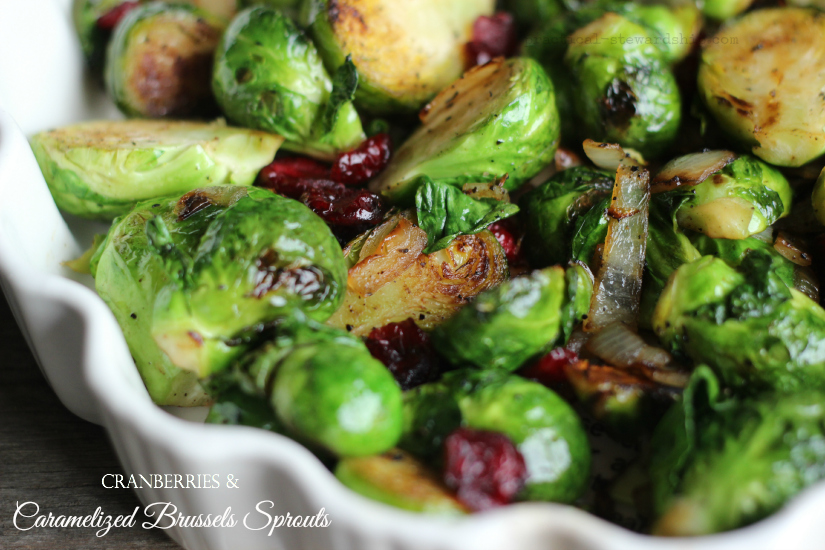 This is a super simple side dish that comes together in about 15 minutes. And you don't need to use the oven to make these caramelized babies. Of course, these brussels sprouts would be fabulous roasted, but because we can use our cast iron skillet
, we will! That skillet not only gives us a little more iron while freeing up the oven, but it also gives us more flavor!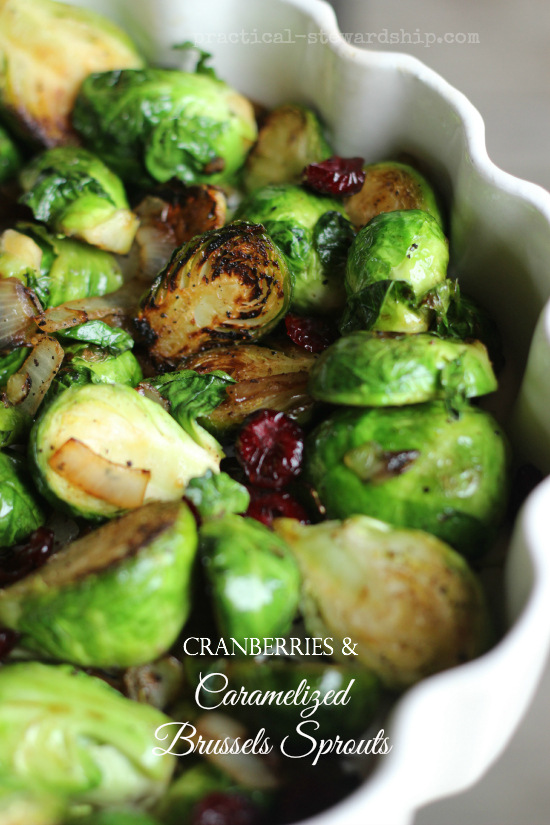 Doesn't this dish look so festive with the green and pops of red? Plus it's naturally vegan with the maple syrup.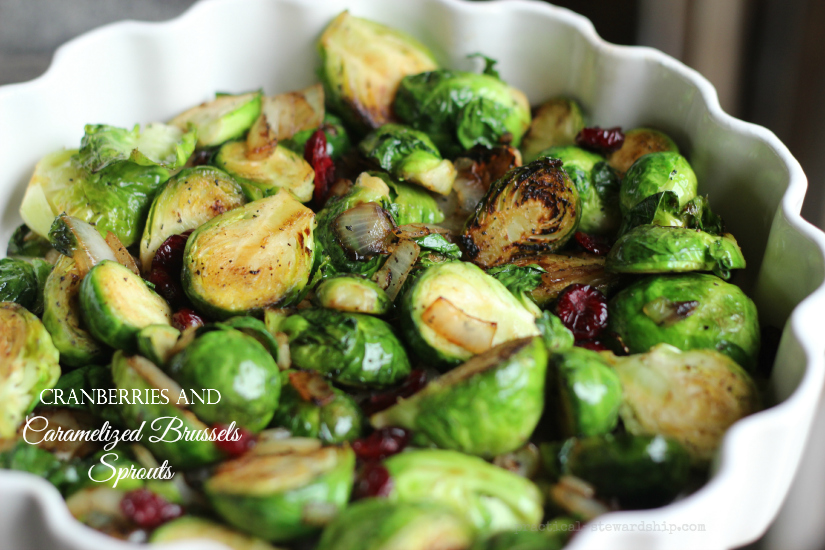 Whenever I make these, my Ellie girl stops what she's doing and asks, "Are you making brussels sprouts?" I smile, and answer, "Yes," to which she replies, "Good!" Enough said.
Cranberries and Caramelized Brussels Sprouts
Yield 1 pound of brussels sprouts
Ingredients
1 pound brussels sprouts
1/2 medium onion, chopped
2 TBS olive oil or avocado oil
salt and pepper to taste
1/3 cup dried or fresh cranberries
honey, or maple syrup optional
Instructions
Wash and cut off the ends of the brussels sprouts. Then cut the brussels sprouts in half.
Heat oil in a large skillet over medium heat.
After 2 minutes of heating, place onions in skillet to begin caramelizing.
Place brussels sprouts on flat side in the skillet.
Season with salt and pepper.
If you are using fresh cranberries, add them to the skillet now.
Cook until you see a beautiful dark brown color on the brussels sprouts. Then turn over onto rounded side, and cook until browned.
If you are using dried cranberries, add them to the skillet now.
Optional, drizzle with honey or maple syrup.
Serve hot and enjoy!
For a different variation try Lemon Caramelized Brussels Spouts with Cherries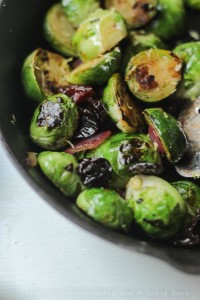 THIS POST MAY CONTAIN AFFILIATE LINKS THAT COST YOU NO MORE MONEY, BUT SUPPORT OUR BLOGGING EFFORTS. THANK YOU!