Double Chocolate Banana Breakfast Muffins, Dairy-free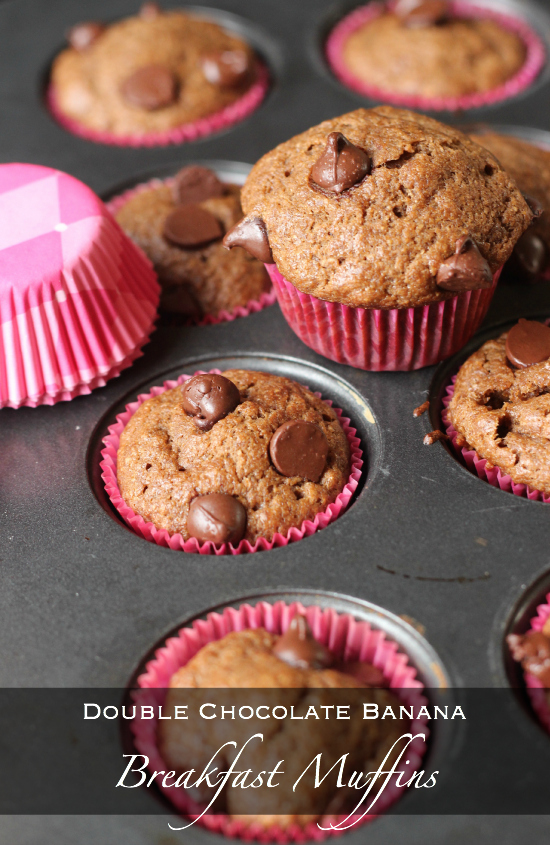 If I am going to have the word breakfast in the name of a recipe, it's my way of telling you that I've made it healthier in some way. That there is some kind of redeeming quality to the recipe. It means I feel better about serving these to the kiddos than I do about boxed cereal (even if it's organic).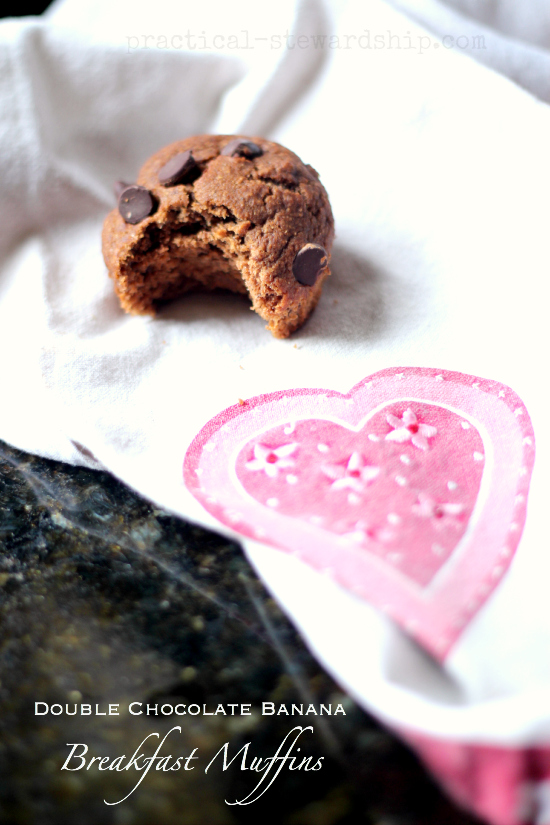 I love my family with food. That's one of the biggest ways I show the lovin', so I love making foods I know they love, and this recipe is one they gobble up. And the double chocolate love masks the whole wheat goodness of these muffins. And they are moist and buttery, but without the butter (oh the joys of coconut oil). We bring the egg and almond milk to room temperature to keep that coconut oil smooth (although if it solidifies a bit, no worries. And you can make them egg-free with a "chia" egg, but just know that the dough won't look as smooth as I've made them with and without eggs. They'll have the same great taste, though.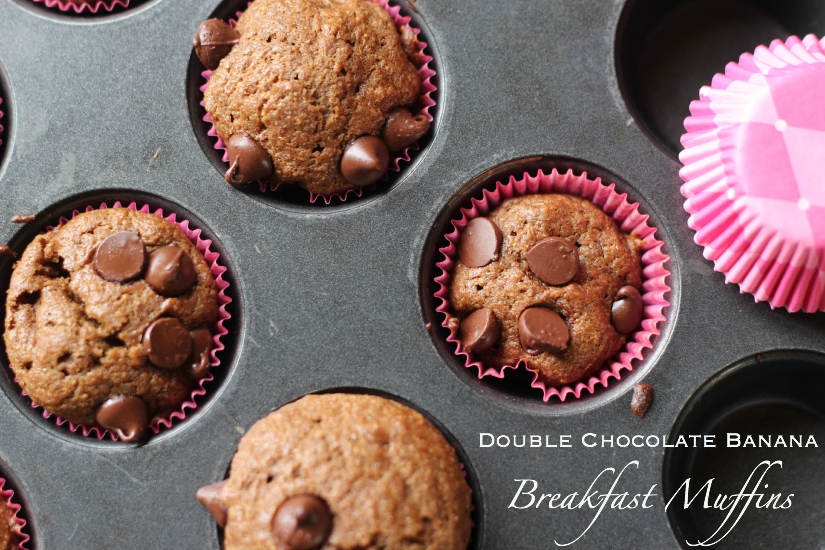 You don't need to limit yourself to these to just the morning time. These Double Chocolate Banana Breakfast Muffins feel like a dessert. In fact, they feel so much like dessert that I made these for Abbie's birthday school treat baked in ice cream cones like this and then again at home for her family party.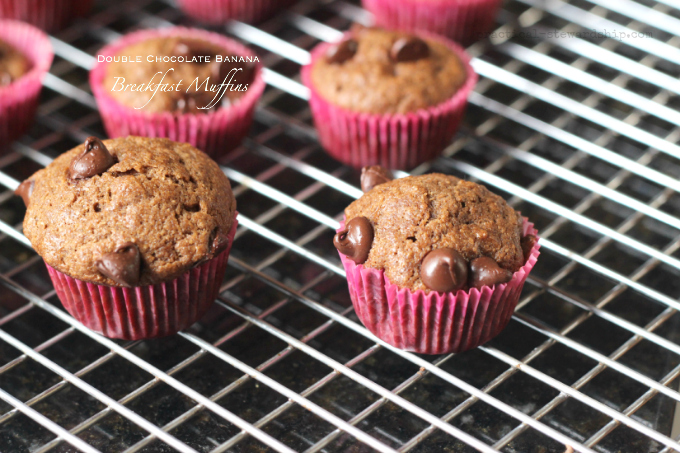 I usually make these in a standard muffin tin, but if you love mini muffins, get yourself a little mini muffin pan
. I've loved having my mini muffin tin over the years. Everything is better in smaller packages, don't you think? It makes everyone feel loved even more because they seem more personalized. Just pop them in your mouth, savor, and be on your merry way.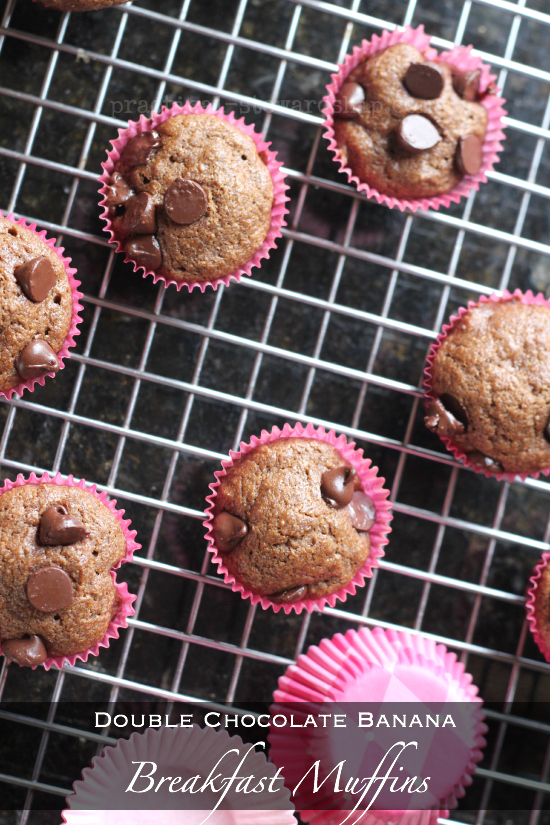 These Double Chocolate Banana Breakfast Muffins are inspired by Fork Knife Swoon.
Double Chocolate Banana Breakfast Muffins, DF
Yield 16 standard muffins
Ingredients
2 medium bananas (approximately 1 cup), over-ripe is best
1 tsp vanilla extract
1 egg or "chia" egg replacement (1 Tbsp chia seeds mixed with 3 Tbsp room temperature water)
1/2 cup coconut oil, melted
1/3 cup + 1 Tbsp unsweetened almond milk (or milk of choice)
2/3 cup coconut sugar, or granulated sugar of choice
3 Tbsp unsweetened cocoa powder
1/2 tsp sea salt
1 tsp baking soda
1 1/2 cups whole wheat flour
chocolate chips to sprinkle
Instructions
Preheat the oven to 375 degrees.
If you are using a "chia" egg replacement, mix the chia seed and room temperature water in a small bowl, and set aside to gel until needed.
In a large mixing bowl, mash the banana with a fork until mostly smooth.
Whisk the vanilla and egg with the banana until completely combined.
Stir in oil and milk to combine.
Add sugar and keep on stirring.
Incorporate the cocoa powder, and scrape sides of bowl down as needed.
Add salt and baking soda, and then carefully fold in flour, until combined.
Place paper muffin liners in the muffin tin, and fill with batter until about 3/4 full.
Sprinkle with the chocolate chips as desired.
Bake for approximately 15-17 minutes (if using a mini muffin tin, check muffins after 10-12 minutes), or until a toothpick inserted into the center of the muffins comes out clean.
Cool in the muffin tin for 5 minutes, and then move to a baking rack.
Serve, and enjoy!
Store leftovers in an airtight container.
GO HERE FOR THE COMPLETE LIST OF RECIPES. 
THIS POST MAY CONTAIN AFFILIATE LINKS THAT COST YOU NO MORE MONEY, BUT SUPPORT OUR BLOGGING EFFORTS. THANK YOU!