Have you ever had a Tuscan Vegetable Soup?  On a chilly overcast fall day when you've been outside for any length of time, there isn't anything better than getting warm inside and filling your belly with a delicious soup like this one.  One of the great things about this soup is that you probably have all of the ingredients in your refrigerator and pantry, yet this Tuscan Vegetable Soup is not the typical go-to soup like a chicken noodle soup (although our family LOVES chicken noodle soup).  This Tuscan soup is a unique soup full of different flavor.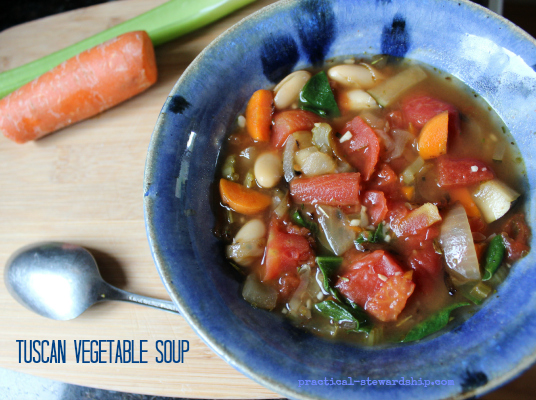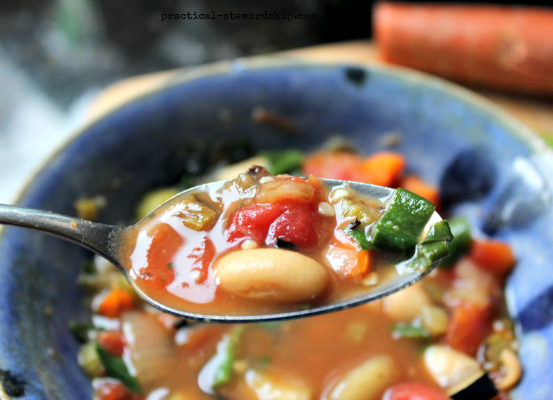 I found my inspiration for this recipe in the newspaper in the USA Weekend.  It looked so yummy and full of veggies, I had to try when I had my friend over.  When you entertain guests, are you the type of person that goes with a standard recipe that you know works or do you experiment and try a new recipe?  I often experiment!  I did modify it a bit, because I do have a hard time following directions at times:), and I thought it would transfer to the slow cooker well.  The first time I made it I forgot the smashed beans, zucchini and spinach, so I made sure to add all of those the next time and liked it both ways.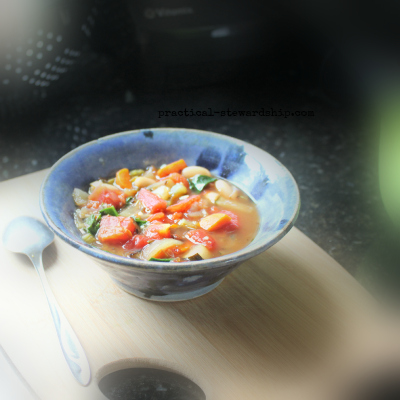 The smashed beans contributes to a nice thicker texture.  Look at that steam coming right out the soup in the picture below.  The spinach in these pictures hadn't had the time to wilt yet because we were so ready to eat it.  When making this recipe in the slow cooker you are going to extract a lot more flavor out of the vegetables if you sauté them first.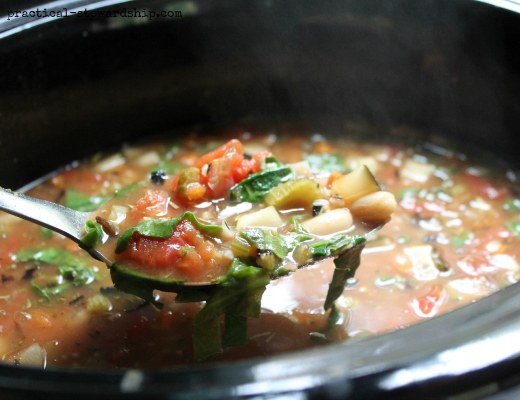 Tuscan Vegetable Soup
Ingredients
2-15.5 oz. cans of white beans like cannellini, divided
1 T olive oil
1/2 onion, diced
1 carrot, diced
2 celery stalks, diced
1 zucchini, diced
4 cloves of garlic, minced
1 t dried thyme
1/2 t dried sage
1-14 oz. can of diced tomatoes, low sodium with their juices
4 cups of broth
dash of cayenne pepper, or other flavorings as desired
1/2 t black pepper
salt to flavor
2 cups lightly packed spinach, chopped
_optional, 1/2 cup nutritional yeast (optional for dairy-free/vegan) or grated Parmesan cheese _
Instructions
Optional saute the diced vegetables in the olive oil for 5 minutes.
Put all ingredients into the slow cooker, minus the spinach, nutritional yeast/cheese and 1 can of beans.
Cook on low for 6-8 hours or on high for 4 hours.
Smash one can of beans (I put mine in the Vitamix until blended).
Add smashed beans and spinach the last 45 minutes.
Salt to taste, top with nutritional yeast/cheese and enjoy!
Optional Stove Top Directions:
Saute the diced vegetables in the olive oil for 5 minutes.
Add the other ingredients, minus the spinach and 1 can of beans.
Bring the pot to a boil.
Add the spinach and smashed beans, and cook for 3 minutes.
Salt to taste, and enjoy!
The Results:
Love it!  This is my new favorite soup.  The first times we had this, I had thirds, along with my Abbie girl, and everyone else had seconds.   I did want more beans, so I added an extra can to the recipe the next time I made it.  Also, make sure you give your crisp veggies enough time to soften.  I made it once with the crock-pot on high for 3 hours, and the veggies were not soft enough, although JSarr and my friend Carin said they really liked it with the crisper veggies.  If you are in a time crunch, you can microwave the veggies in water to soften.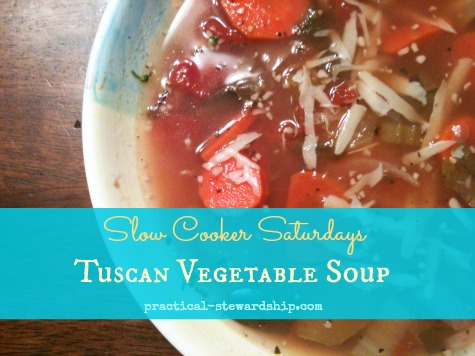 **Updated 10/13.
Go here for the complete list of recipes.