Crock-Pot Jumbo Shells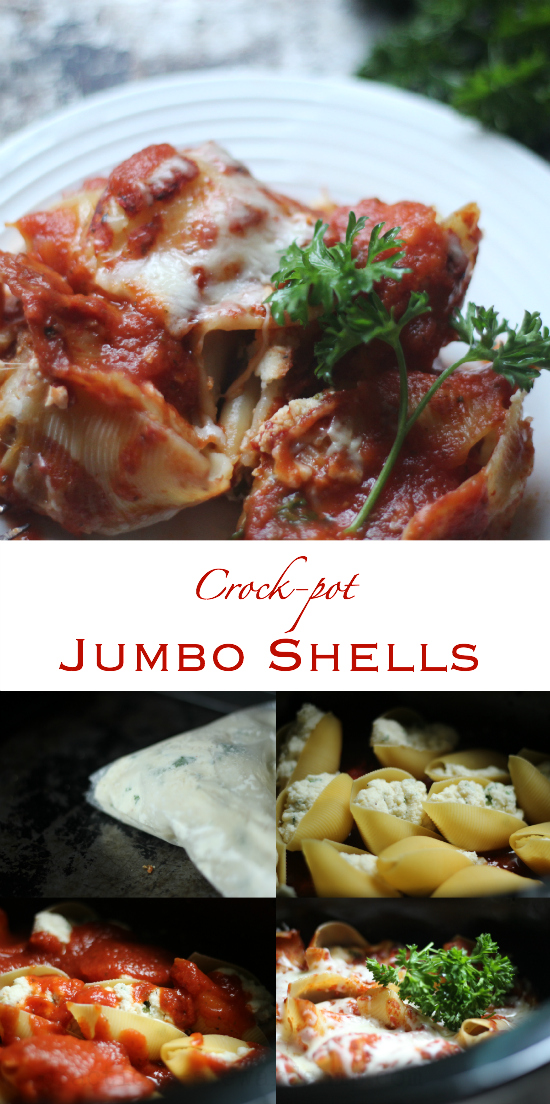 You can find a blog for almost anything these days. From how to teach yourself to play guitar, to how to make a bow, it's really amazing! This recipe is inspired by a manicotti recipe Mom on a Mission Sharing Christ Through Freezer Meals, posted. Who would have thought about sharing Christ through freezer meals? Awesome! And I think a couple of other things are genius that the Mom on a Mission, Jackie, did. She applied her cheese filling to the (in her case) manicotti (I am using jumbo shells) without cooking the manicotti first. Have you tried to fill up hot pasta before? Not fun! I love not cooking the pasta before filling it because it can be hot and dangerous trying to fill just-boiled pasta, AND it saves a BIG step.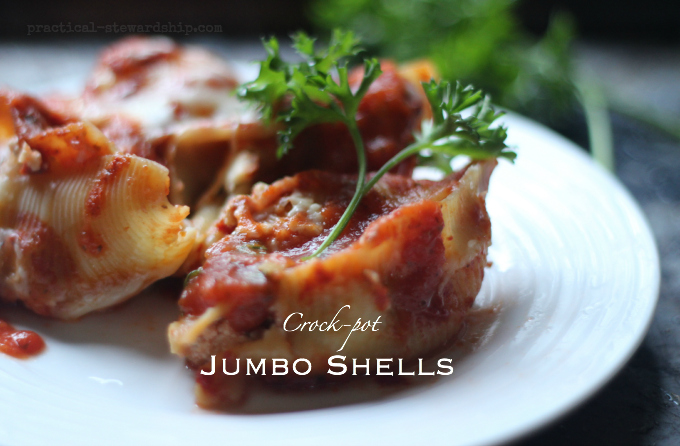 The other tool she used that I am now implementing is the gallon size freezer bag. She used it to pipe the cheese filling into the dried pasta. Genius!!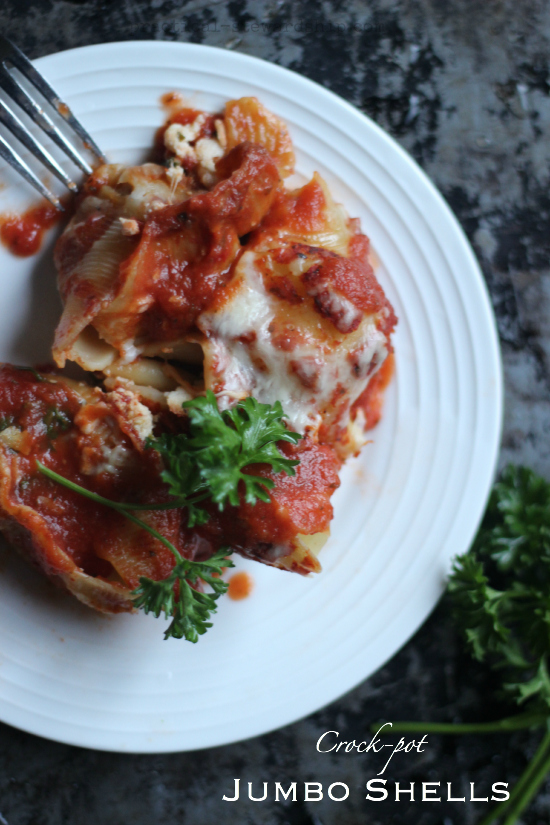 I adapted this recipe to the crock-pot
 and broke out the ricotta instead of cottage cheese because we think ricotta is simply superb. Then we added some healthification action with the veggies and spices and reducing the amount of cheese. We love cheese in the Sarr household, but I am just trying to use a little less these days.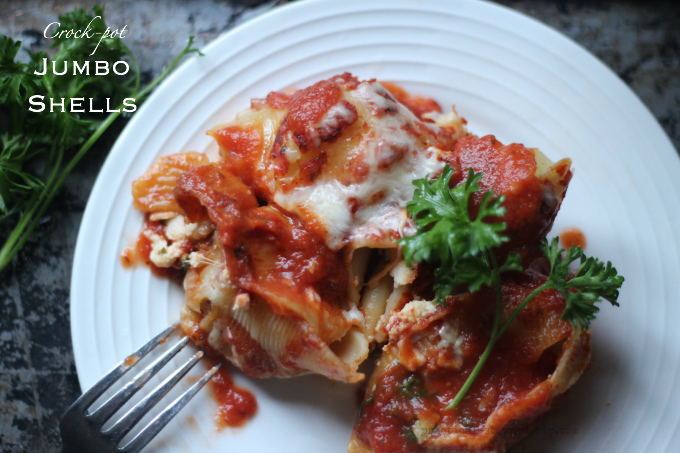 The Verdict:
This is very similar in taste to a meatless lasagna. The family loves this dish! This is a great dish to double, cooking one in the crock pot, and baking the other for later (just make sure you boil the shells if you plan to bake: see note below*), to freeze, or to give away. As I was cooking this the first time, I checked it after two hours, and the pasta that was exposed (not covered with the spaghetti sauce) didn't appear to be cooking, so I covered it with more sauce, and it worked to soften the shell. So be generous with the sauce. Make it saucy, saucy, saucy.
*A side note: I get so used to cooking pasta in the crock-pot that I don't boil them anymore. Last time I made these I put half of the uncooked filled jumbo shells in the crock-pot and then ran out of time. So I came back later in the hour before I was serving this, I filled up the uncooked shells and baked them. Oops!! It made for some unevenly cooked pasta. My kids still happily downed it though.
Unfortunately I still haven't been able to find 100% whole wheat jumbo shells or manicotti anywhere. Someday…
Crock-Pot Jumbo Shells
Ingredients
Ingredients for the gallon size freezer bag:
2 cups ricotta cheese
1 cup mozzarella cheese
1/4 cup spinach, chopped
1/4 cup broccoli, finely chopped
a few sprigs of fresh parsley, chopped
3 T minced garlic
dash cayenne pepper
¼ teaspoon pepper
The Additional Ingredients:
16 oz. jumbo shells
1/4 cup mozzarella cheese
24 oz. spaghetti sauce
Instructions
Spread enough spaghetti sauce to cover the bottom of the slow cooker.
Place all filling ingredients in a gallon size freeze bag.
Squish and work the bag until thoroughly mixed.
Cut a small corner of the bag (I cut about 1/3″).
Pipe the cheese mixture into the jumbo shells.
Place 1 layer of filled jumbo shells into the slow cooker.
Generously cover the shells with sauce. If any part of the shells isn't covered, it may not cook, since the pasta needs the moisture to soften it.
Continue laying the filled jumbo shells and pouring sauce until you run out.
Cook on high for 4 hours.
Sprinkle 1/4 cup of mozzarella on shells.
Serve with a big ol' salad.
Need other crock-pot ideas? Here is a list of over 80 recipes.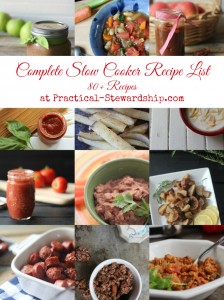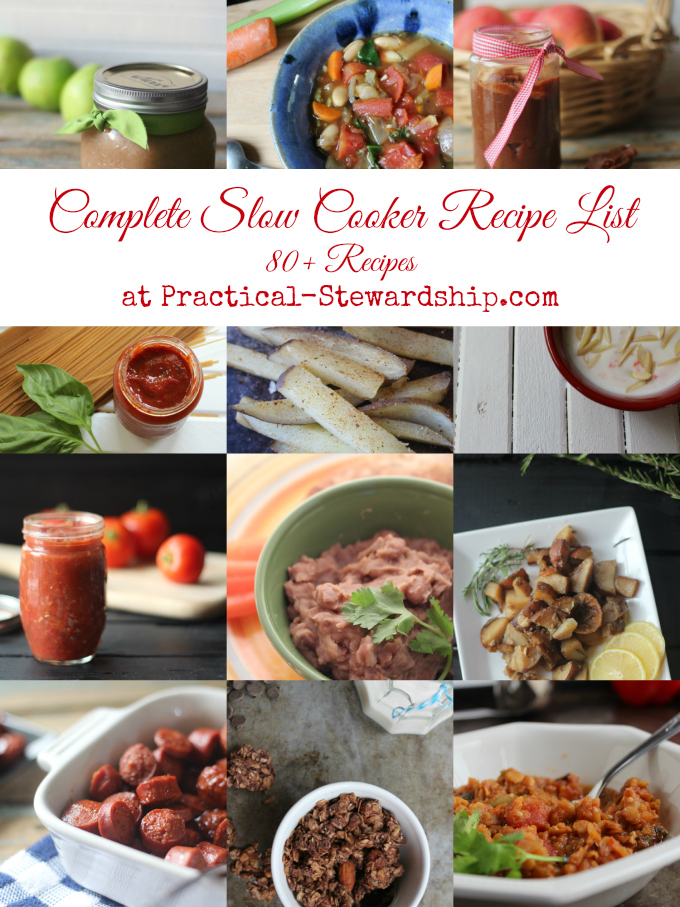 GO HERE FOR THE COMPLETE LIST OF RECIPES. 
THIS POST MAY CONTAIN AFFILIATE LINKS THAT COST YOU NO MORE MONEY, BUT SUPPORT OUR BLOGGING EFFORTS. THANK YOU!