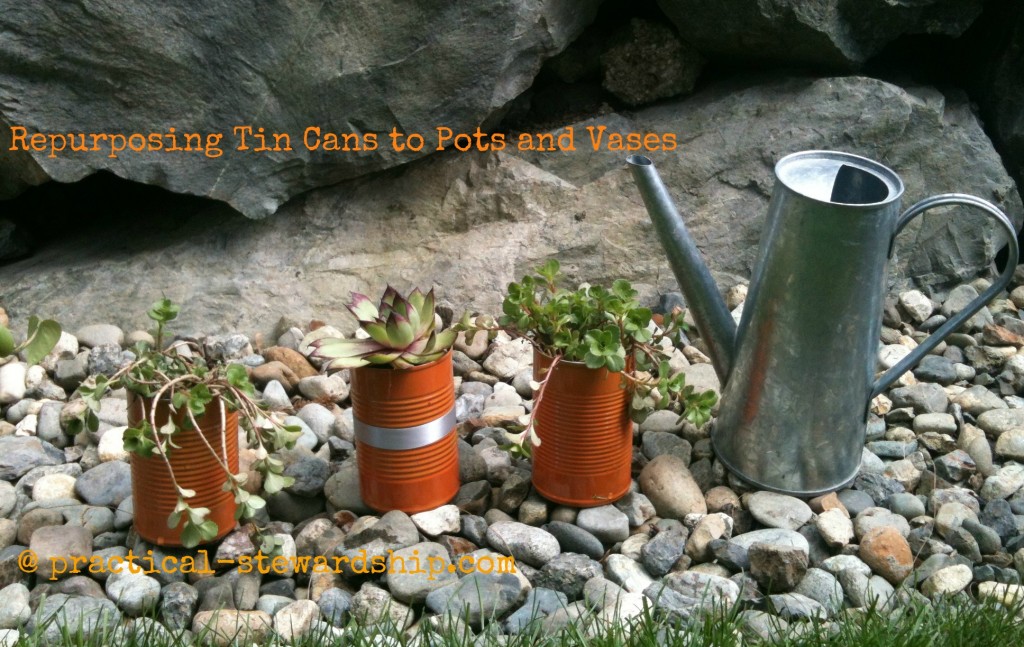 It's DIY FRI. , where every Friday I try to post something you can do yourself rather than buy, which is a money saver, and can be VERY REWARDING.  Some of these posts are crafts, sewing projects, homemade cleaners, homemade health aids, tutorials, and the like.
How fun it is to get creative with what most people would deem as garbage.  I can't tell you where I got this idea to spray paint, boring old tin cans except the Internet.  I saw it in a flash and it stayed in the recesses of my mind, so here it is lived out.  I thought they would make great gifts and decor, though.  I think they'll look even better when they chip a little with normal wear and tear.
This year I have given these as gifts for Teacher Appreciation Week and Mother's Day.  This is a super fast craft that you can easily get the kids involved (after the spray painting is done if they are young) with planting the plants, shoveling the dirt in the pot and picking out bows and the like. Just be ready for a big mess and lots of good memories!
I made some chili last weekend, and I thought I would use three of the cans for Teacher Appreciation Week, and then I thought of Mother's Day, and then I thought of Just Because Gifts, so I ended up spraying a whole pile of cans. My seven-year-old Ellie girl even needed a musical instrument this week, so I spray painted a can for her, and she used it as a guiro, my FAVORITE Latin percussion instrument.  She just repurposed a pencil to play the guiro.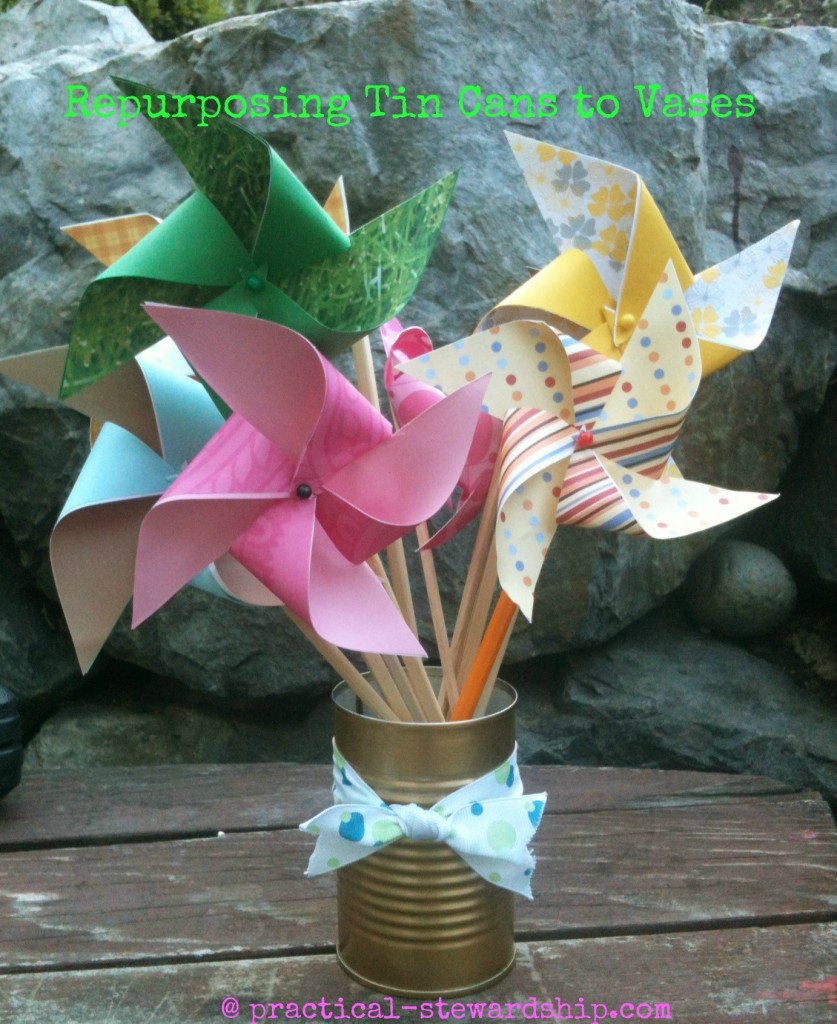 What You Will Need:
spray paint in fun colors (it has to be fun or it's not worth it)
newspaper
cleaned tin cans
hammer & nail or a drill (optional if you want to put holes on the bottom for watering plants)
hot glue gun and ribbon (optional if you want to decorate more)
The Instructions: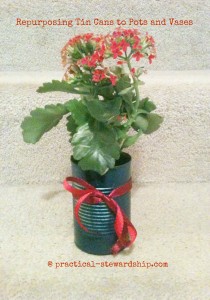 I am using the painted tin cans in and outdoors.  As far as plants go, I planted some house plants (go here to read about how to propagate house plants) and I took some perennials (plants that come back each year) including succulents like hens and chicks from outside, and planted them.
I typically use old margarine tops as trays for the pots to keep the water from leaking.  We don't eat margarine anymore, so we don't have any.  Do you have any ideas of things that can be re-purposed to use as trays?  I have also thought of using old rubbermaid lids and jar lids, but I don't want to break up a set.
*Update* 5/31/12 My husband has been eating more tuna these days, and as he was eating some I thought that the cans he was going to recycle from the tuna would make great trays.  The standard can fits inside the tuna can nicely!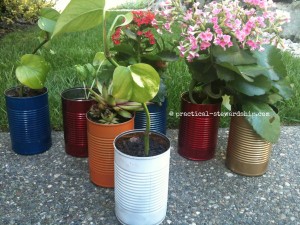 What could you re-purpose a painted tin can into?  What crafts are you working on?  We would love to hear from you!  Feel free to comment.  Get free e-mail updates by subscribing here.  Follow us on Facebook and Twitter.  Thanks for visiting!
Sonja