For a new smoothie combination we put together greens with pineapple and ginger along with some mango to make a Green Pineapple Ginger Smoothie.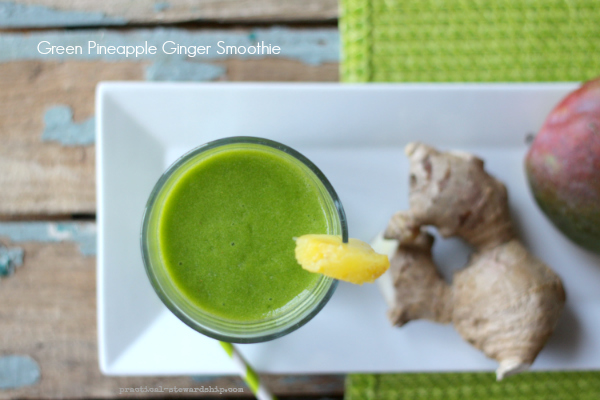 It's so fun to experiment with our Vitamix especially when new fruits and vegetables come into season!  We have had so much fun with mangoes and especially ginger.  Ginger is so fresh and livens up any drink or dish with scant use.  So here is something I came up with to use the pineapple and mango before they went South…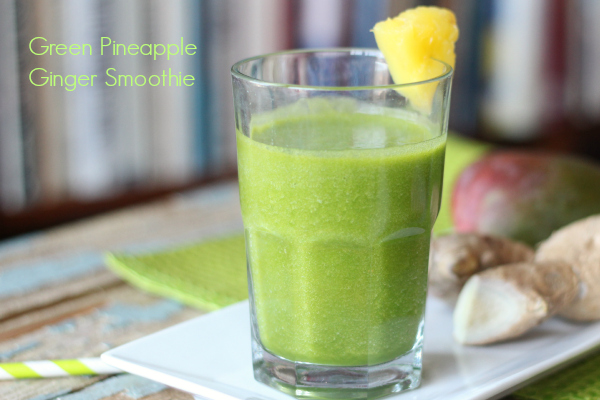 The Conclusion:
Abbie, our five year old said, "you've got to put this on the blog", it was so good.  I couldn't believe how creamy it was without bananas or some kind of milk.  Love it!!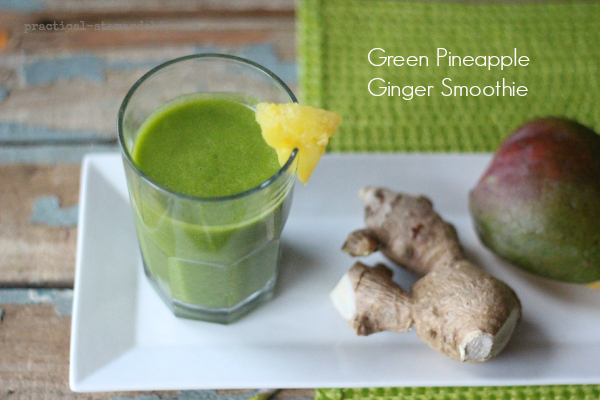 Green Pineapple Ginger Smoothie

Yield 2 -18 ounce smoothie

Ingredients

1 cup water
1/2 cup ice
generous handful of spinach
2 cups pineapple
1 mango
1/2 t fresh ginger, peeled
1 T flaxseed oil, optional

Instructions

Blend all ingredients until smooth.
Serve immediately.

Nutrition Facts

Serving Size 18 ounces

Amount Per Serving

% Daily Value

* Percent Daily Values are based on a 2,000 calorie diet. Your daily values may be higher or lower depending on your calorie needs.
Go here for the complete list of recipes. Want a code for a free shipping on a Vitamix?  Go here.
Pictures updated 2/14. This post contains affiliate links that don't cost you any more money yet, support our blog efforts, so thank you for your support!
Have you tried an Apple Ginger Smoothie? So good!