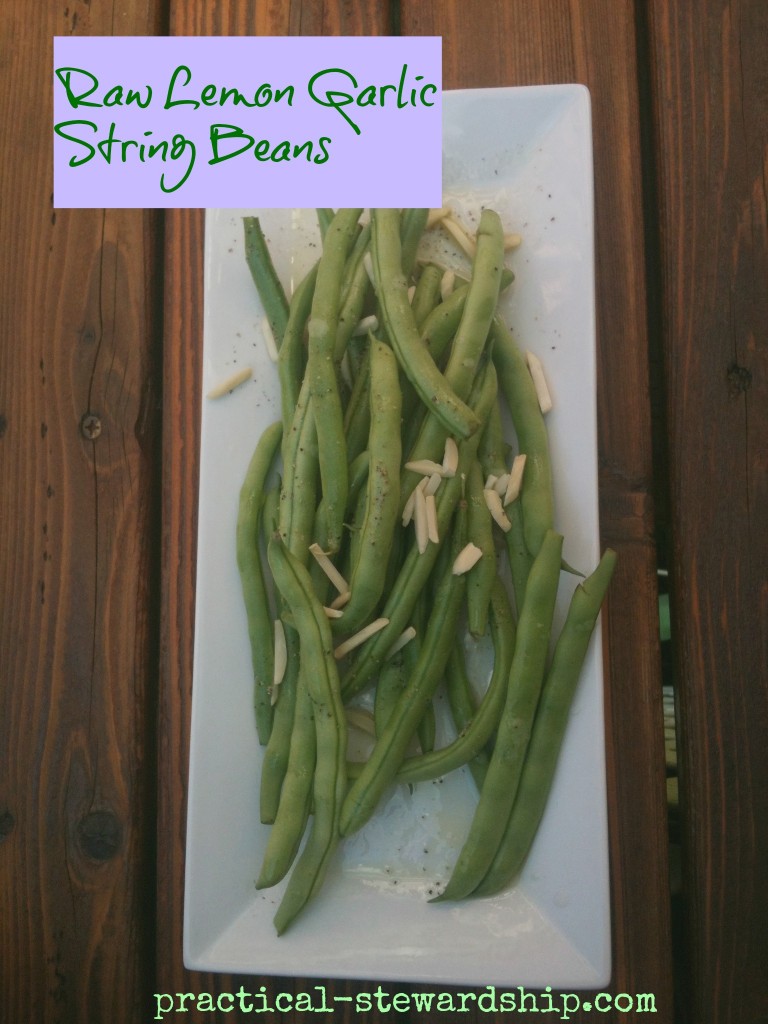 It is so fun to find ways to eat and use the end-of-the-summer harvest.  My friend had blessed us some string beans from her abundance.  We were off to a potluck, and I needed a super quick side.  I put this together in less than two minutes with some flavors we had around the kitchen!  Got to love that!
Raw Lemon Garlic String Beans Recipe
Ingredients
Generous Handful of String Beans
Drizzle of Extra Virgin Olive Oil
2 T Lemon Juice
dash of garlic powder
dash of pepper
dash of salt
slivered almonds to garnish
Instructions
Wash the string beans.
Place string beans on a serving platter or bowl.
Drizzle with olive oil.
Mix remaining four ingredients in a bowl, and then pour lemon mixture over the string beans.
Garnish with slivered almonds.
Enjoy your fresh, flavorful raw string beans!
The Verdict: This is my choice way of eating string beans!!  It's a way I can eat something I think normally tastes like dirt and actually enjoy it!!  Just being honest.  Even my kids eat it!
Go here for the complete list of recipes.
We would love to hear from you!  Feel free to comment.  Get free e-mail updates by subscribing here.  Follow us on Facebook and Twitter. "Moreover, it is required of stewards that they be found faithful" (1 Corinthians 4:2 ESV). Thanks for visiting!
Sonja