Homemade garden fresh salsa is one of the best late summer treats.  Of course you can make it any time of year, but when you have access to freshly picked tomatoes there is almost nothing better than raw salsa.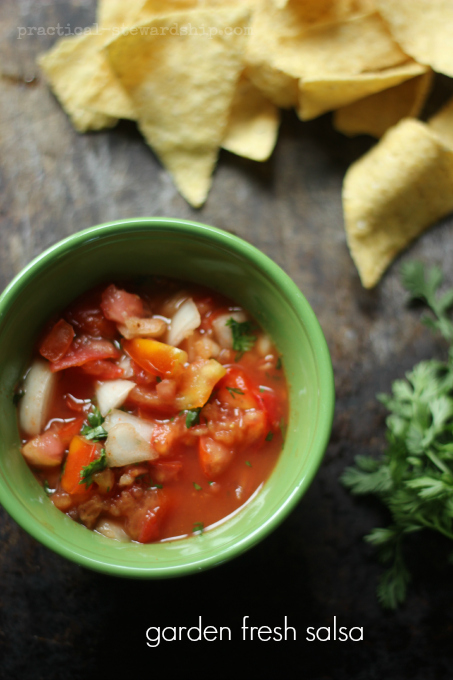 Look at the next picture below.  Isn't that one of the coolest tomatoes you have ever seen?  I love how homegrown vegetables are allowed to take on their own personalities.  We have had a few tomatoes with some unique dimples.  They are so fun!  And the kids LOVE to go out to the tomatoes to see if there is anything to pick each day.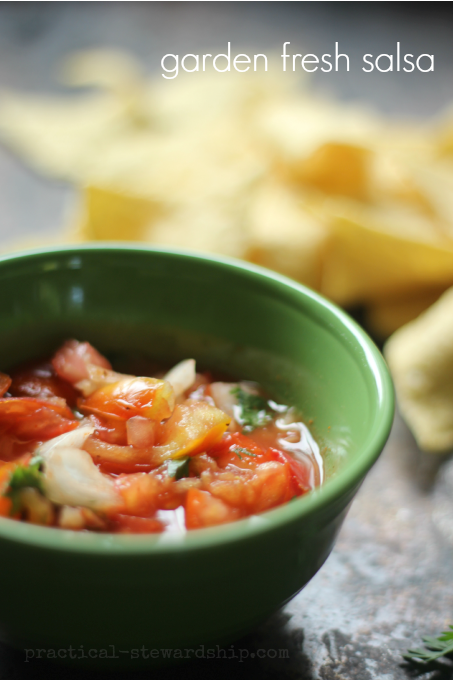 I have wanted to make salsa for two years ever since a friend of mine gifted me with some of the homemade variety.  My dad also has made a mean salsa for years.  For whatever reason, I had not made it yet until now.  This was the year to embark since the Lord has blessed us with an abundant crop of tomatoes.  God has been so kind in giving us this extended summer weather, and we are just loving it, along with the tomatoes!

Here is my raw salsa (salsa cruda) recipe.  You can add or subtract the ingredients to taste.  If you want to add a jalapeno chile, be my guest.  I won't join you, but maybe my husband will.  Don't like the bell pepper?  Omit it.  You can drain the tomatoes, too, if you don't want all the liquid.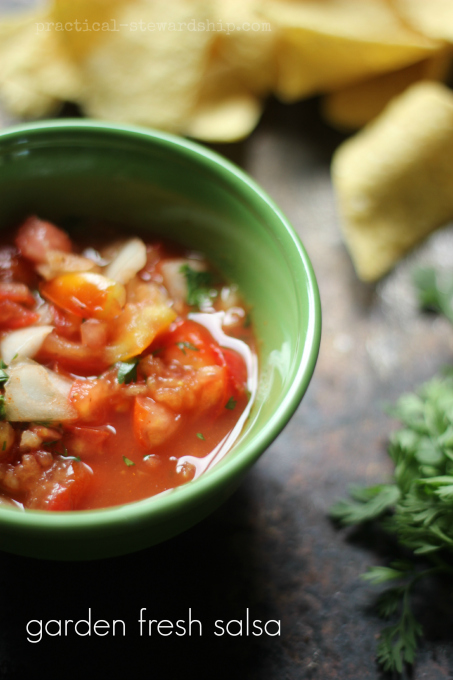 The Verdict: This is another one of those, 'why didn't I make it sooner' recipes.  It's really so easy to make, and you know exactly what is going into your food.  It's so easy!  And the great taste is so fresh. Pictures updated 8/14. A Note about the Recipe: If the onions are too strong for you the first day, just let it sit in the refrigerator overnight, and the onions will mellow as they soak in the juices from the tomatoes.
Homemade Salsa

Ingredients

1-1/2 pounds tomatoes, diced & drained (if desiring a drier salsa)
2/3 of a bell pepper, diced (I used 1/3 green and 1/3 red)
1/2 cup onion, diced
3 garlic cloves, minced
2 T lime juice (can substitute lemon juice)
1/4 cup cilantro leaves, chopped
1 t sea salt
dash of ground pepper
dash of cayenne pepper

Instructions

Chop the tomatoes as coarsely or as finely as desired.
Stir in remaining ingredients.
Serve with organic corn chips, eggs, or whatever your heart desires.
Have you made your own guacamole yet?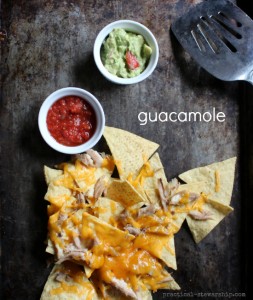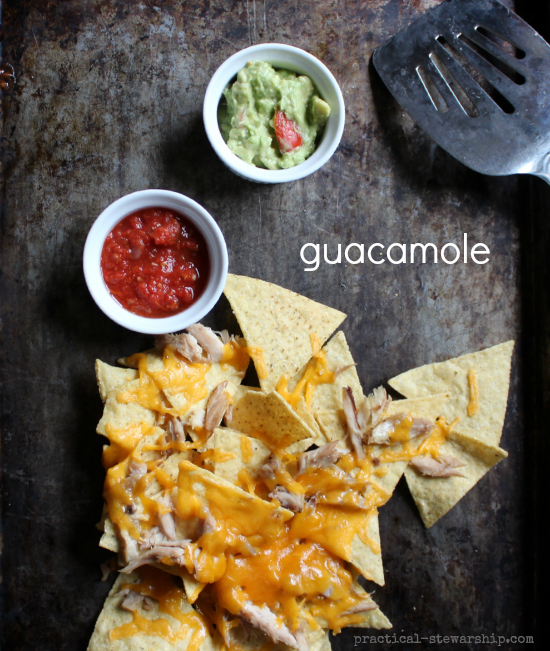 Have you tried hummus?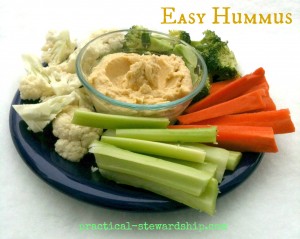 Have you made your own Taquitos?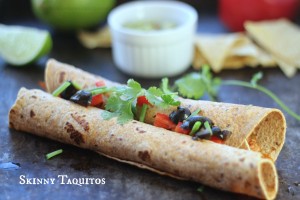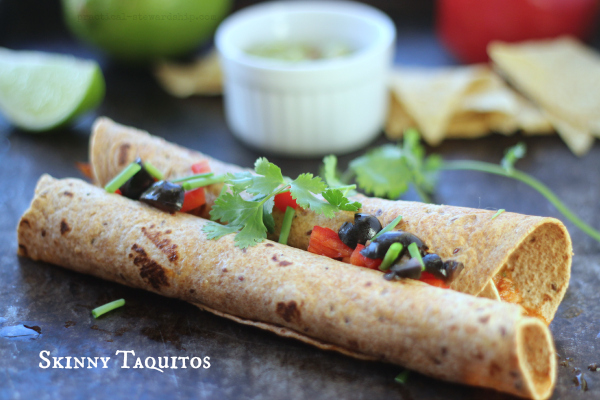 THIS POST MAY CONTAIN AFFILIATE LINKS THAT COST YOU NO MORE MONEY, BUT SUPPORT OUR BLOGGING EFFORTS. THANK YOU!