Chicken Taquitos have become a family favorite in the Sarr household. I love how taquitos come together really quickly with little planning. I always try to keep the ingredients on hand so we can make this in a moment's notice. **Pictures updated 3/14.
We are always on the lookout for new recipes to add to our rotation.  I don't have any kind of strict rotation of menus by any means (or loose rotation for that matter), but we do have certain recipes that we like to have every month or so.  My friend Teresa made this dish for a potluck my family attended, and it was amazing!  I definitely wanted this recipe, and Teresa graciously shared this and gave me permission to share it on our blog here.  The first week I had the recipe, I made it twice, once with shredded chicken and the other with ground beef.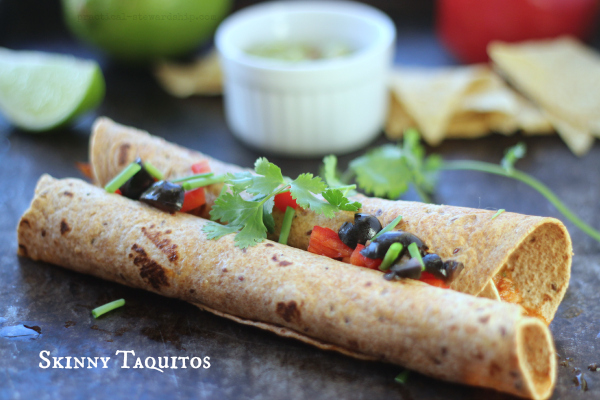 The first time I didn't totally try to healthify the recipe on purpose (I had already determined to use 100% whole wheat tortillas and more veggies).  I was planning on using the cream cheese that her recipe calls for, but I forgot to thaw my cream cheese, opting to add more salsa for moisture, and it worked!  Since I've never made these with the cream cheese, I just omitted it in the recipe I am sharing with you.  I also added some more veggies since we can.  Got to keep adding those veggies in our diet lifestyle!
The Verdict:
The is a recipe the entire family loved right off the bat.  There is a great satisfaction knowing that the family digs what you are doing, especially when it takes some time.  Part of the way we show our families love is by providing a good meal for them.  I love to serve my family this way!  I like to double the recipe, and give away or freeze the second portion.
I do prefer this in the oven, but the crock-pot does work.  Just make sure that you grease the sides of the crock-pot.  Carefully lift out the taquito.  The bottom ones will need the most help out of the crock pot.  Make sure you cover the bottom of the crock well enough for the tortillas to have enough moisture on the bottom.  I don't like to completely cover the tortilla with oil for the crock pot version because any part of the tortilla that isn't covered gets a bit crispy, and I like that.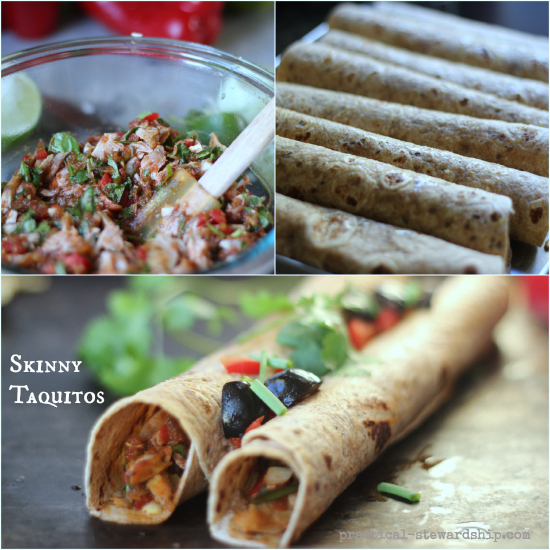 Crock-Pot or Not Chicken Taquitos Recipe
Ingredients
2 cups shredded chicken, shredded meat, or ground beef will work
1 cup plus, 1/4 cup salsa divided
1 cup shredded cheddar cheese (leave out for dairy-free)
1/4 cup bell pepper, chopped
1/4 cup spinach, finely chopped
2 green onions, chopped
3 T cilantro, chopped
1 T freshly squeezed lime juice
1 t thyme
1 t chili powder
1/2 t cumin
1/2 t onion powder or use 1/4 medium onion, minced fine
1/2 tsp garlic powder
dash cayenne pepper
approx. 8 whole wheat tortillas (I used burrito size)
Instructions
Mix all ingredients except the tortillas and 1/4 cup of the salsa.
Warm up tortillas to soften, if needed to roll without cracking.
Spoon on 3 T of the chicken mixture per tortilla.
Cover the bottom of the slow cooker with 1/4 cup of the salsa.
Roll up and place seam side down in the crock-pot.
Brush the tops of the taquitos with a small amount of oil.
Sprinkle the tops of the taquitos with a small amount of sea salt.
Cook in the slow-cooker on high for 2.5-4 hours, or on low 6-8 hours.
Optional, broil taquitos for a few minutes to crisp taquitos.
Optional Oven Directions:
Place filled taquitos seam side down on a greased baking sheet.
Bake in a preheated 425 degree oven for 15-20 minutes, until they turn a nice, golden brown.
Have you tried Crock-pot White Bean Chili?