Crock-pot Kale & Squash Soup~a great and flavorful way to use those garden fresh veggies.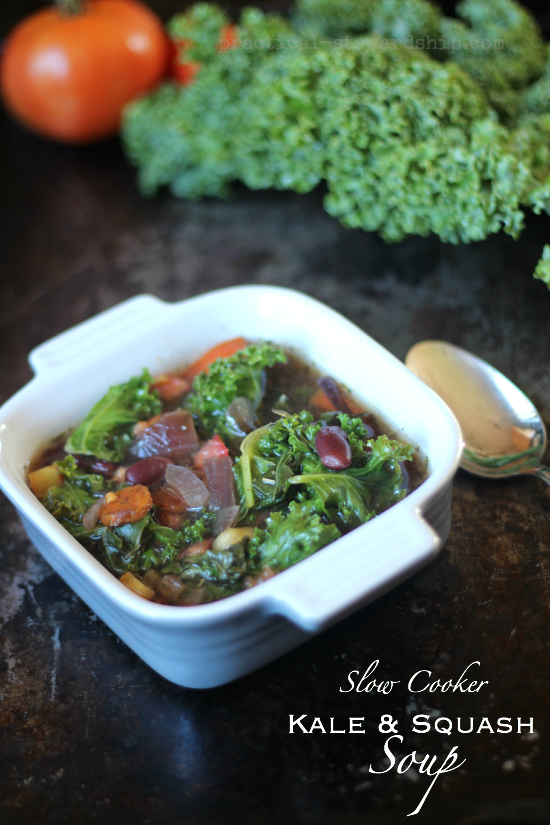 We keep getting bless with kale, so we've had many opportunities to eat it in different ways. Kale does really well in soups! We have also received some homegrown squash. We hate any good foods going to waste, so I decided to create a soup using the two vegetables as the theme, since the soup can prolong the life of a vegetable, and you can use a lot of whatever particular vegetable you have in soups.

**Post updated 10/14. Now to take your crock-pot
 cooking from drab to fab is to sauté the onions, celery, carrots, and garlic before throwing them in the slow cooker with a couple of tablespoons of oil like grape seed, avocado, or coconut oil. Sometimes I sauté the kale and squash, too, but it's not necessary. As you cook the kale overtime it becomes darker. If you want it to be greener and more raw-like, place the kale in the crock-pot during the last half hour of cooking. I cook the kale all day, but since I live in the Pacific Northwest in the fall, I took these pictures at the beginning of cooking right after sautéing the kale so I could use natural lighting.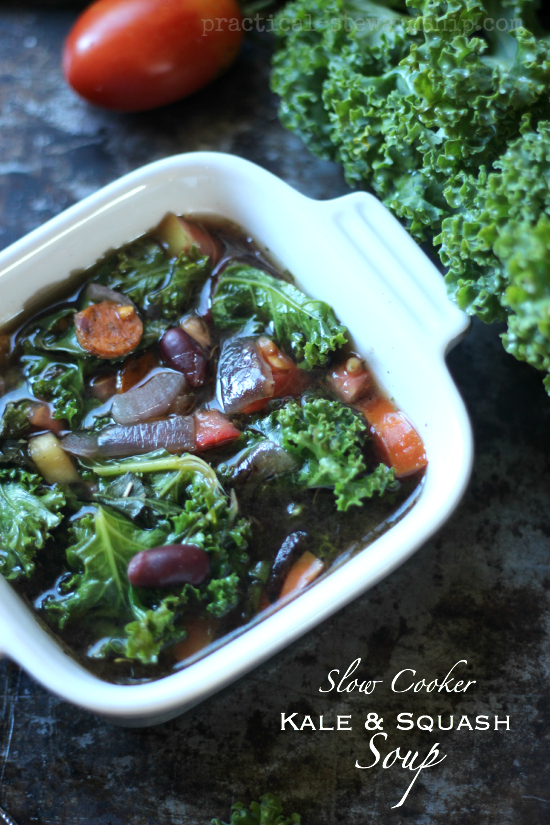 The Verdict: This is such a tasty soup, and this was a great way to incorporate different vegetables! I love how vegetable dense the soup is. We like to serve it with sourdough bread and a salad.  Yum!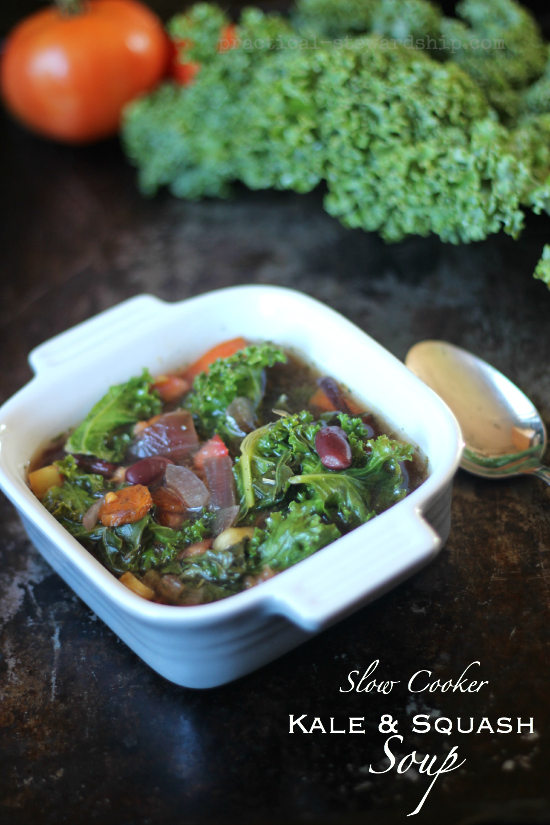 If the soup is too vegetable dense for your liking, add more broth or water, and then add additional seasonings to taste.
This is a naturally vegetarian or vegan recipe if you use vegetable broth, but you could easily add ground beef, turkey or sausage to this soup if you like.
Crock-pot Kale & Squash Soup
Ingredients
6 cups water, broth or a combination of the two (I used 3 cups of broth and 3 cups of water)
2-15 oz. cans of kidney beans, rinsed and well drained
15 oz. can diced tomatoes
15 oz. can of corn, use organic if possible
4 large kale leaves, torn, ribs removed
2 cups squash, diced
2 carrots, diced
2 celery stalks, diced
1 medium onion, finely chopped
1 leek, white part used, diced
3 garlic cloves, minced
1 T Italian seasoning
sea salt and pepper to taste
Instructions
Optional, on medium heat sauté carrots, celery, and onions with 2 T of oil (like grape seed, avocado or coconut oil) until softened, and then add the garlic for another minute. You can also sauté your kale and squash for more flavor at this point, too. See above **note to see how to keep your kale green.
Add all ingredients to the slow cooker except the Italian seasoning, salt and pepper.
Cover and cook for 4-5 hours on high or 7-8 hours on low until the vegetables are tender.
Place the Italian seasoning, salt and pepper in the last hour of cooking.
Top with cheese (if you aren't dairy-free like me or vegan) if desired, and enjoy!
THIS POST MAY CONTAIN AFFILIATE LINKS THAT COST YOU NO MORE MONEY, BUT SUPPORT OUR BLOGGING EFFORTS. THANK YOU!