It's DIY TIME , where I post something you can do yourself rather than buy, which is a money saver, and can be VERY REWARDING.  Some of these posts are crafts, sewing projects, homemade cleaners, homemade health aids, tutorials, and the like.
Have you started thinking about Christmas gifts yet?  When we get to October, I, at least, start thinking of gifts so the whole process doesn't get too overwhelming. We want to be able to enjoy the entire season of  Christmas and not freak out.  This clothes artwork might be a great Christmas gift.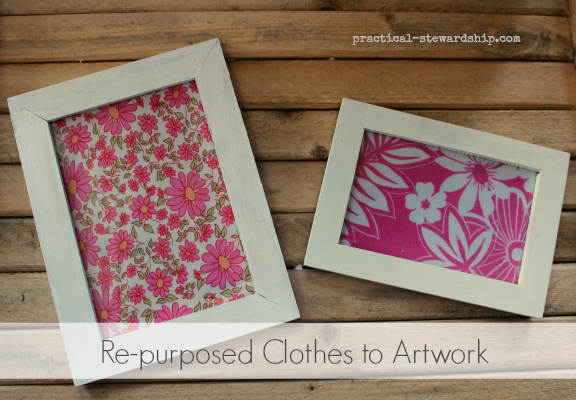 This is a really quick and easy craft that you could do with kids.  Depending on the age and abilities of the kids, you might have to help them with the cutting and just being around the glass.  This quick activity embarrassingly sat on my table for months before I tackled the 5-10 minute project.  Oh yes!  It's the kind of thing where once you do it, you can't believe you hadn't done it sooner, and you are so happy that you've done it, but you truly wonder what your problem has been the last few months.  Sometimes you just have to take the plunge into a new project.
Do you have any clothes that your kids wore that you loved so much and would hate to get rid of?  This project is the perfect project, then!  The pink Hawaiian print came from a dress that my girls wore all the time and loved.  The dress ended up with an oil stain, and couldn't be handed down, so it became the perfect candidate to become artwork.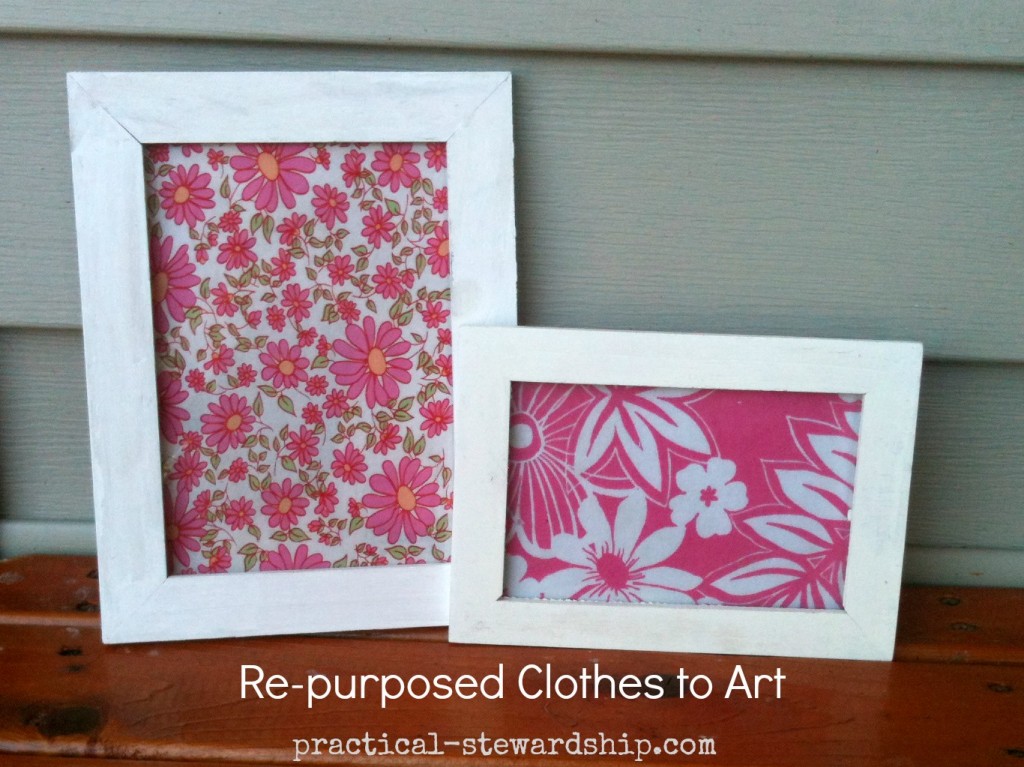 This is such a great frugal little gift because garbage (free stuff) is becoming artwork.  The only cost you might have is the frames if you buy them new.  I don't know what IKEA sells these frames at now, but I think it was under $1 each in a 3 pack a handful of years ago.
What You Will Need:
material/fabric (re-purposed or new)
frame
thick tape (can use duct or packaging tape; I don't know if masking tape would work)
I roughly cut my material leaving about 1/2" to 1" of the material around the glass so I can tape that part later.
How do you re-purpose old clothes?
Have you made…?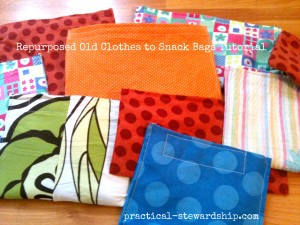 no sew bag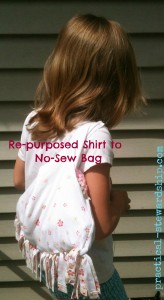 baby wipes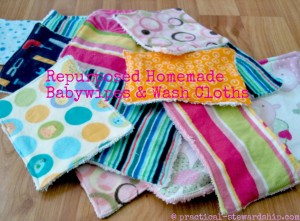 book markers