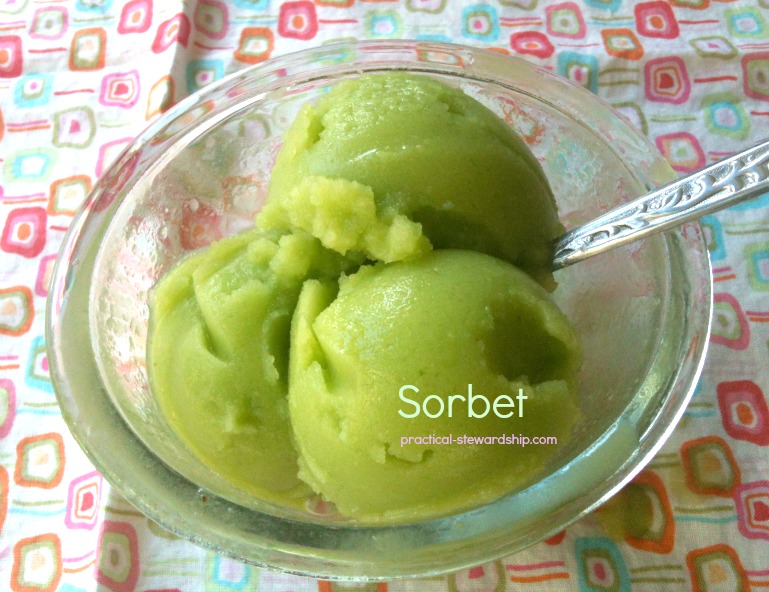 Since I stopped posting a different smoothie every week like I did last year, it's given me the freedom to make just one whole foods frozen treat over and over since Christmas.  I started making sorbets.  I make one of these almost every day, at least multiple times a week.  I still like smoothies; I am just adding a lot more ice to make them an icy treat.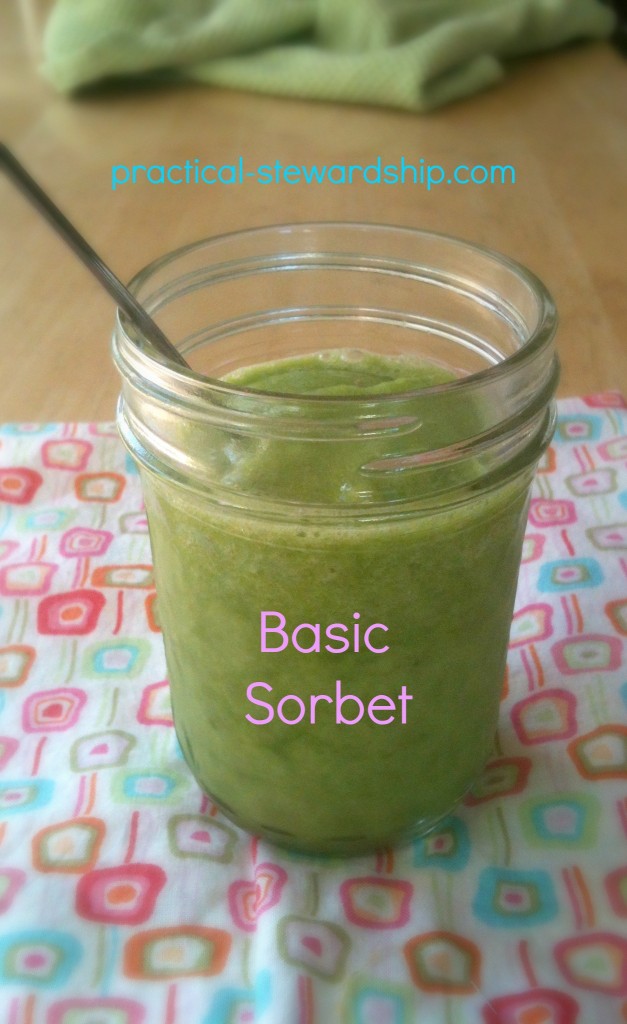 The kids, love, love, love them.  In fact the last couple of weeks my two girls started asking me if they can make them on their own.  I was so excited to be their assistant prepping and cutting the ingredients….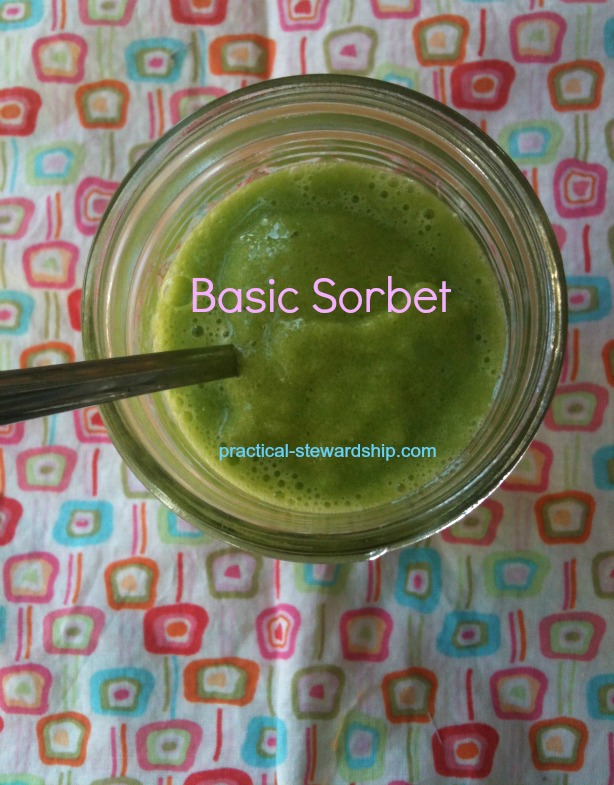 When my girls started making them, they asked me if we could make it for Abbie's school birthday treat.  I enthusiastically replied, "yes!"  We added frozen mixed berries to this basic recipe.  I got a kick out of the response of some of the students, in a good way.  One student went home and told her mom that Mrs. Sarr (I) brought Slurpees to school.  I was thinking, 'yeah, ones with spinach.'  Love it!!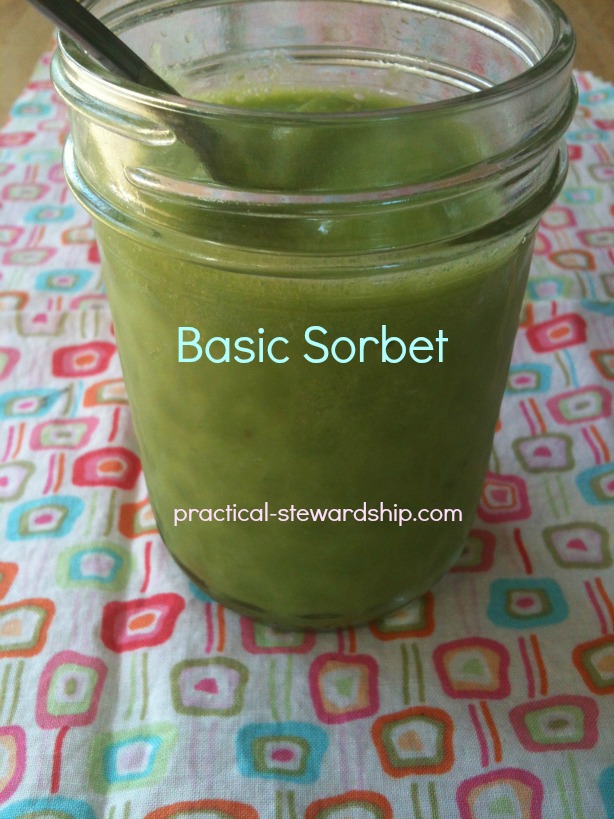 Basic Sorbet, or Whole Foods "Slurpee", G-F, D-F
Ingredients
1-3 handfuls of spinach
2 kale leaves ribs removed, if I have it on hand
2 oranges
2 pears (or 2 apples, or 1 cup of frozen pineapple)
1 lime or lemon
0-3 bananas
1/8 cup water (or more if needed to get the blender going)
1/8 cup almond milk (any milk will do-but adding milk technically doesn't make it a sorbet anymore)
lots if ice (2-3 cups of ice or more)
Instructions
Blend all ingredients and enjoy!
The Verdict:  It's best to use as much frozen fruit as possible if you want to make is scoop-able.
I like to taste and add more ice or more sweet fruit as needed.  I now omit the banana for my Ellie girl, take some sorbet out for her, and then add the bananas.  You can add more liquid if you want it thinner and more drinkable like a Slurpee, or if your blender needs more liquid to run.  I have a Vitamix, so I just use the tamper to push in the ice.
This is probably just me, but I think that drinking these over Christmas break helped me to gain no weight over the holidays.  In fact, I probably lost a pound, and no I wasn't sick.
Want a code for a free shipping on a Vitamix?  Go here.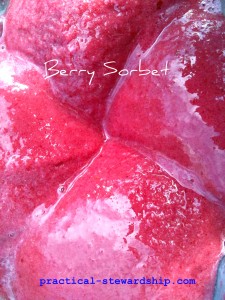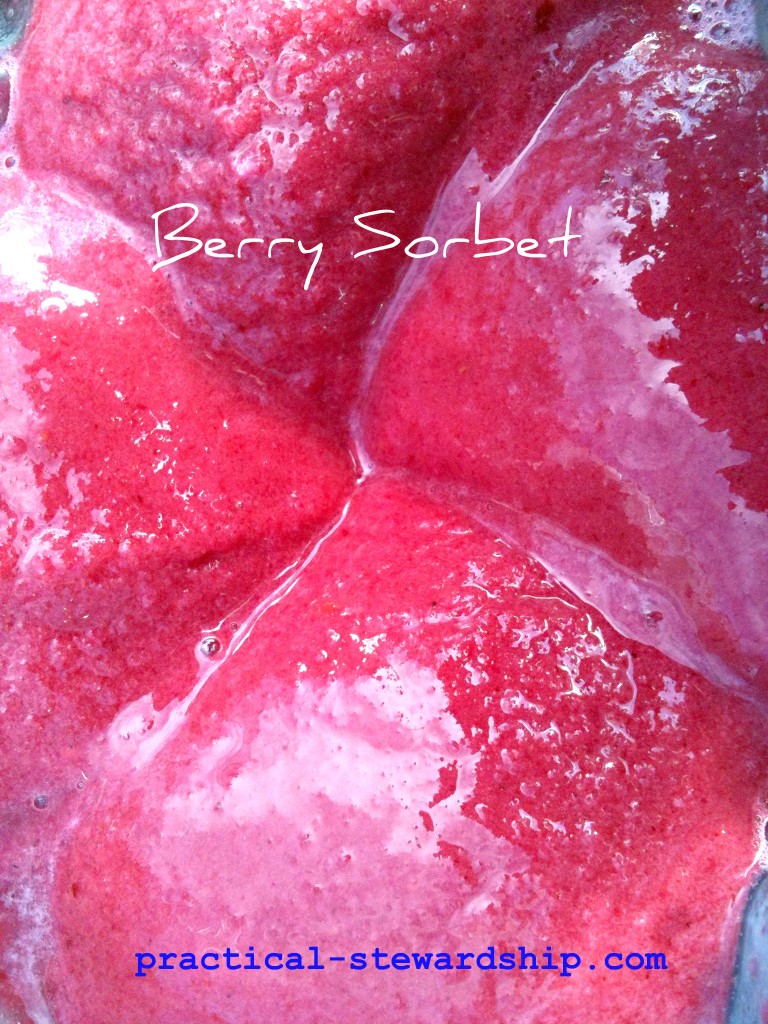 Go here for the complete list of recipes.
We would love to hear from you!  Get free e-mail updates by subscribing here.  Follow us on Pinterest, Facebook and Twitter. "Moreover, it is required of stewards that they be found faithful" (1 Corinthians 4:2 ESV). Thanks for visiting!
Sonja