As far as saving money goes, 2012 was a disappointing year for the Sarr family.   Though we were able to squirrel away some money, it was nowhere near what we had hoped.  But I can say that we have aimed to be wise stewards of the money with which the Lord has entrusted us, and that really is what is most important.
For me it is really helpful to have some kind of tangible goal to help save more money or get rid of debt.  When we were going after our college debt (you can read here how we paid off the $38,000-$16,000 of it in 16 months), it was addicting and fun to watch the numbers dwindle each week.  Now our only debt is the mortgage, and currently we aren't aggressively going after it because there is this thought in the back of our minds that we will be moving someday and should have liquid cash.  We have thought about buying about a half to a full acre to have some more room to grow food, run around, and most importantly to have easy access to a house (a house with WAY less stairs, as our current house has a whole flight of stairs to get into the first level and then more stairs to get up to the second level).
As is the case with most people, thrifty people prioritize their spending.  This year (besides our mortgage), our biggest investments have been private Christian education and whole foods.  Yes, whole foods.  We have spent much more on groceries in 2012 than we ever have before.
In the 2012 Bill and Melinda Gates Foundation Annual Letter, it is cited from World Bank 2009 that the United States, on average, spends less of a percentage of their household expenditures on food than other nations.  For instance, in 2009 the average household in the United States spent $32,051 on household items, and only 6% of that was for food.  To contrast in the same time period, the average household in Kenya spent $541 on household items, and 45% of that was for food.  Food really should take a greater percentage of our household budgets, so I need to continually remind myself that it is okay that I am spending more money on real, whole foods, especially as I am voting for good foods with my money.
All that to say I still do think that our grocery budget is where we have the most flex in the United States.  I was afraid we had spent a lot more per week in 2012 (since buying more organic foods is costly), but I was pleasantly surprised to see that it had not gone up as dramatically as I had thought.  Part of that, I know, is from preparing more foods from scratch like granola cereal, yogurt, and broths, and then also buying fewer prepackaged foods like cookies and baking mixes since we are making our own homemade desserts along with waffles and pancakes.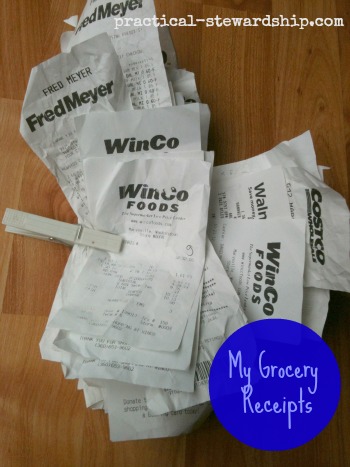 On a Google spreadsheet I tracked all of our grocery receipts for 10 weeks starting September 2012 and ending in November 2012.  I approach every fall time a bit hesitantly knowing I am going to find out the reality of our grocery spending, as I was thinking it would be about $125/week which is way more than before as you can read below.  Because I typically pay cash for groceries, it's the only category of our budget about which I really can't tell you how we are doing…at least until I do this exercise yearly. (I have money going in and out of my wallet weekly with piano lessons and groceries.)  Yes, I do have an idea of what we spend on groceries (and I do keep track of my piano income), but to actually see the numbers is always humbling, and it is just plain eye-opening each year I do it.
Here is how much I spent each week on groceries this fall of 2012 for our family of five…with two adults, a 7 year old, a 5 year old and a 3 year old:
Week 1    $110.16
Week 2    $90.01
Week 3    $68.35
Week 4    $89.72
Week 5    $121.15
Week 6    $96.54
Week 7    $158.20
Week 8    $170.01
Week 9    $59.06
Week 10    $112.92
This average is $107.61/week on groceries.  If I treat this as I learned in school throwing out the smallest number and largest number, the average we spend on groceries becomes $105.88/week.
For a quick reference, here is what I averaged spending for groceries per week for the last 6 years, and then what I averaged spending for four weeks.
2007: $ 42/week              =$168 for 4 weeks
2008: $55/week               =$220 for 4 weeks
2009: approx. $67/week=$268 for 4 weeks
2010: $ 74.89/week         =$299.56 for 4 weeks
2012 $105.88/week         =$423.52 for 4 weeks
You can see the change from 2011 to 2012 has definitely been the greatest.   There are a few reasons I can site as to why we are spending more money on groceries.
We are feeding growing and bigger kids now.
Food prices continue to rise.
We are buying almost exclusively whole foods.
We are buying more organic food.
Wise people are willing to look, evaluate and make changes if needed.  So in aiming to be wise, here are some changes for this new year:
I will be using more dried beans and lentils.  I started doing it last year, but really only ended up doing it a few times.  I want to be more regular with cooking beans, especially black beans, since we use them so often, they are frugal, and provide a great, filling source of protein.
I will continue to buy more organic items as we feel like this is good stewardship of our resources.  Oftentimes if I add a new organic item to our grocery list, it is hard to go back to the conventional one.  For instance every time now when I buy conventional strawberries I am disappointed.  I believe that organic strawberries actually taste better than the conventional counterpart and hesitate buying conventional.  Plus, I do see organic prices going down, which is really exciting!  Voting with our dollars is counting!!
I count health and beauty aids in our grocery bill, so to cut this bill even more and to get rid of the fifty different chemicals in each of these products I am currently looking into making our own facial scrubs and toothpastes, along with exploring shampoo and conditioner options.  I have only made a facial scrub at this time, but I am very interested in all the rest.
I am bringing back more steel cut oats to our menu.  Steel cut oats are such a frugal and healthy way to nourish ourselves in the morning.  I have made them once last week, and once this week, and they last two or three days.  For pennies I can feed the family breakfast.
I am sure there are other changes I will be employing, and/or can't think of now, but those were just a few.
Do you know much do you spend on groceries per week?  Do you know the things on which you are spending your money?  Do you have a general idea, or do you REALLY know?  Do you track your pennies?  How do you track your budgets?
You can go here to read about my 2011 grocery budget synopsis.
We would love to hear from you!  Get free e-mail updates by subscribing here.  Follow us on Pinterest, Facebook and Twitter. "Moreover, it is required of stewards that they be found faithful" (1 Corinthians 4:2 ESV). Thanks for visiting!
Sonja