I have been on a sauce and dips kick if you haven't noticed lately.  The more sauces, dressings, and dips you can make yourself, the more free you are in the kitchen.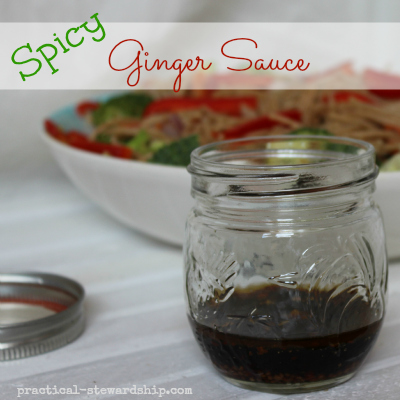 Making your own sauces, dressing, and dips opens a world of flavors.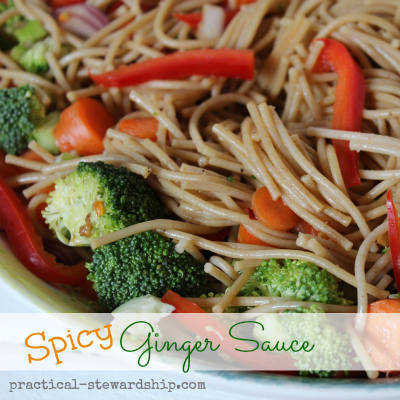 It also is typically way more frugal to make your own sauces, and it's definitely more healthy than store bought versions since you have more control as to what is going in your food!
Want to tantalize your taste buds?
We were at a friends house last year, and as a side they served us a Spicy Noodle Salad.  It was amazing!!  Donna-Lynn gracious shared the recipe with us and I made a few adaptions.
This can be used as a main dish or as a side dish with lunch or dinner.  We definitely use it as a main dish.  You can serve it over raw or sauteed vegetables, whole wheat noodles, quinoa, rice, cubed or shredded chicken, shrimp, and the list goes on.  This recipe makes approximately 1 1/2 cups of sauce.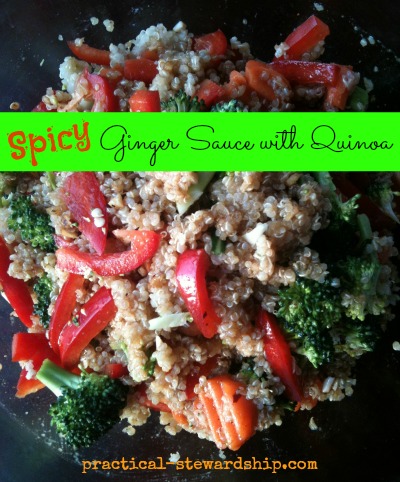 Spicy Ginger Sauce Recipe
Yield 1 1/2 cups of Sauce
Ingredients
1/3 cup of soy sauce or liquid aminos (Bragg' s Brand is non-GMO & is Gluten-free)
1/4 cup apple cider vinegar (can use white wine vinegar)
1/4 cup organic olive oil
2 T honey (or 2 T evaporated cane juice for vegan)
2 T sesame oil
1 T chili powder (I didn't have the chili sauce the original recipe calls for)
4 organic garlic cloves, minced
1 inch chunk of fresh ginger, peeled & finely minced
2 t chili flakes (or to taste)
black pepper to taste
Instructions
Combine all ingredients.
Whisk and serve over quinoa (rinse and cook like you would rice: 1 part quinoa: 2 parts water), rice, 100% whole grain noodles, or on vegetables.
Refrigerate leftover sauce for up to a week.
The Verdict: The first time I made it last year all of my family had at least a second serving, it was so tasty.   When I resurrected the recipe a couple of weeks ago, two of my kids had seconds, and the rest of us had thirds.
My husband absolutely loved it with the quinoa.  1 cup of uncooked quinoa makes 4 cups of cooked quinoa for us in the crock-pot.  4 cups of cooked quinoa plus approximately 3 cups of veggies was the perfect amount for this sauce.
I love that this sauce is a great way to invigorate vegetables.
Have you made your own enchilada sauce, yet? 
Go here for a complete list of recipes.
We would love to hear from you!  Get free e-mail updates by subscribing here.  Follow us on Pinterest, Facebook and Twitter. "Moreover, it is required of stewards that they be found faithful" (1 Corinthians 4:2 ESV). Thanks for visiting!
Sonja