For this edition of Slow Cooker Saturdays, I am sharing how to make rice in a slow cooker.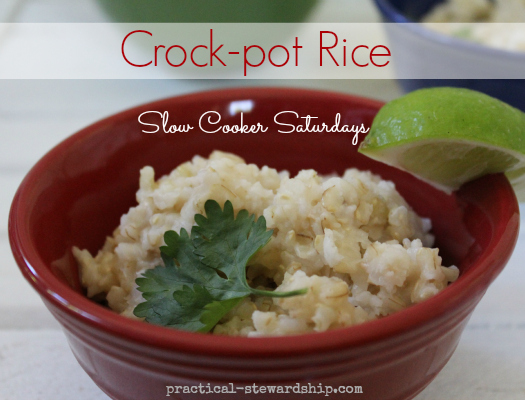 There are two big reasons that I love making rice in the slow cooker.  First, I love putting rice in the crock-pot before teaching my afternoon music class and piano lessons, so when the music-making is done, I switch to my chef hat, and the rice is ready to be topped with deliciousness.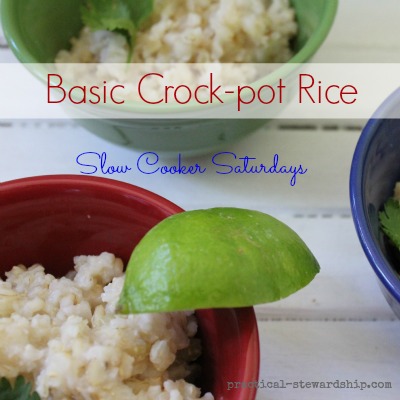 Secondly, I also love that making rice in the slow cooker doesn't involve the rice cooker.  Honestly, I have never made rice in a rice cooker, and I am sure they work fabulously.  The thing is I have plenty of kitchen gadgets and appliances, and I don't want to give up precious culinary real estate for another singleton appliance.  What I mean by that is there are so many small appliances out there that only do one job: the pizza maker, the quesadilla maker, the popcorn maker, the yogurt maker, the waffle maker, etc…; you get the picture.  I like to stick with my multifunctional appliances like my crock-pot(s).  I regularly make my whole chickens, broth and soups, granola, apple crisps, rice and WAY more all in the crock-pot.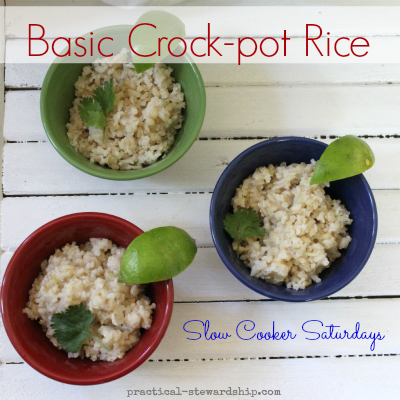 By the way, if I could only have one crock-pot, I would own a 6 quart crock-pot because you can do more things with it and it's a bit bigger than the standard 5 quart.  I really do use all of my crock-pots, and every week it's quite normal for me to be using a couple of crock-pots at the same time, especially when I am making things overnight like broth or yogurt.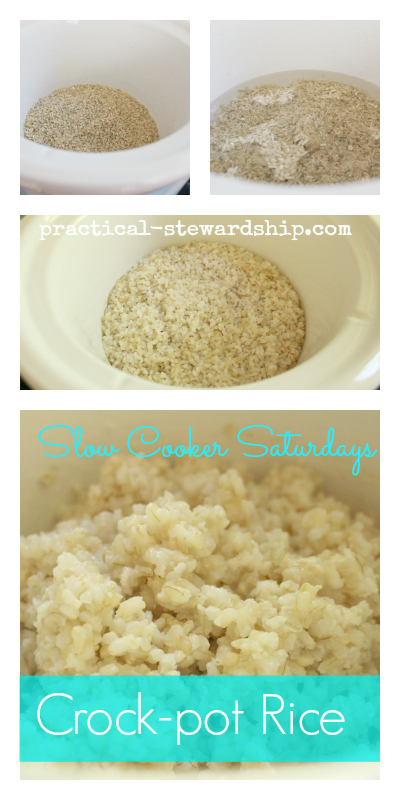 When you make rice in the slow cooker, don't worry if after you pour the water over the rice you have some rice floating on top as shown in the photo below.  Don't stir as you go.  Just stir at the end to fluff.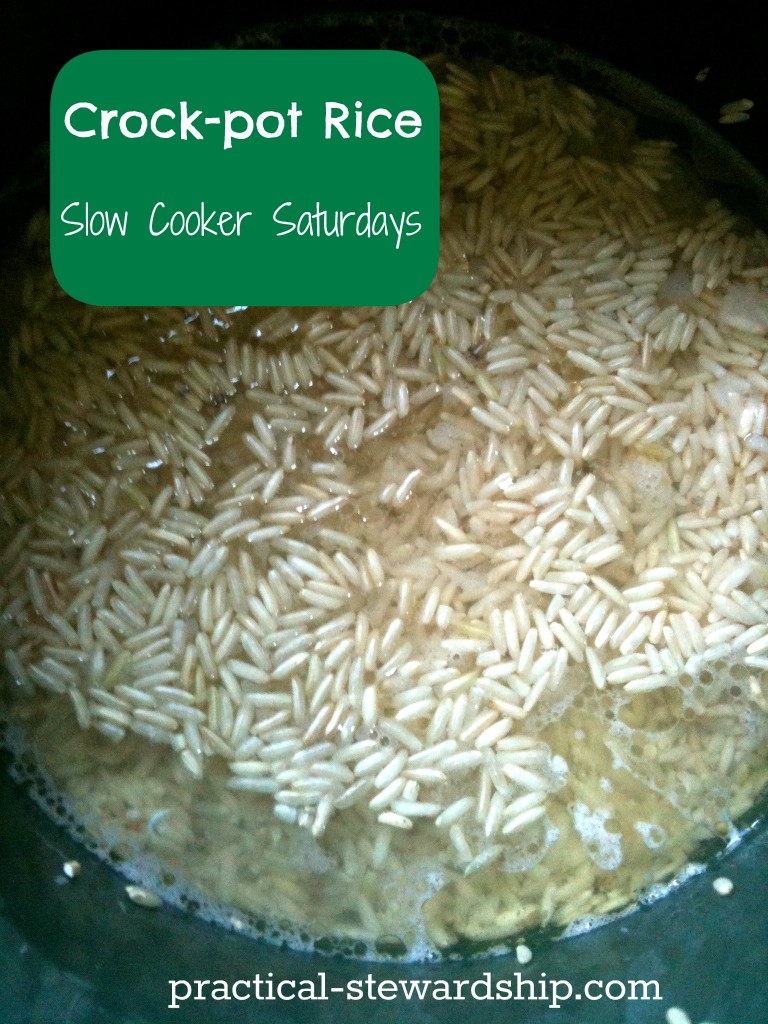 I make the rice in my 2 quart or my 4.5 quart crock-pot.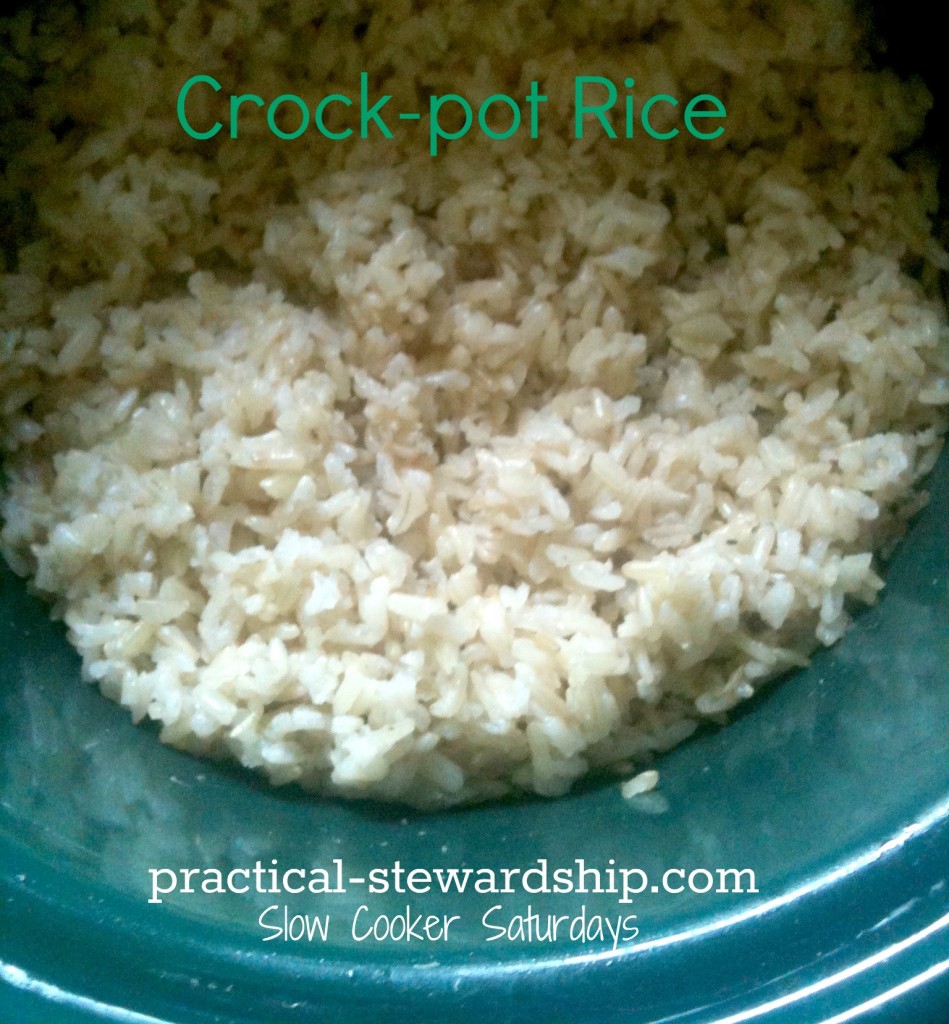 Easy Crock-pot Rice
Ingredients
3 1/4 cups of water (for more flavor, you can sub part or all of the water with broth depending on what you are serving the rice with)
1 1/2 cups organic brown rice, I use Basmati (basically it's a generous 2 parts water to 1 part rice). The amount of cooked rice yielded depends on the type of rice you use.
Instructions
Generously grease the slow cooker with coconut or olive oil.
Place the rice in the bottom of the slow cooker.
Slowly pour in the water.
Cover and cook on high for about 2 1/2 hours or on low for about 5 hours or until the rice is soft and the water is absorbed. Every crock-pot cooks differently, so WITHOUT lifting the lid, check the crock-pot every hour the first time you make this.
Stir when completely cooked and top with your meats and sauces like Thai Cashew Shrimp.
The Verdict: Some people call making rice in the crock-pot, the perfect rice.  I don't know if I would go that far, but the slow cooker rice comes out quite nicely. Just make sure you grease your crock-pot well.
When we were kids, one of our favorite lunches my mom used to make was white rice topped with cinnamon and sugar drenched in milk.  While I don't buy white rice anymore, out of nostalgia, and if we have leftovers, I will occasionally give cinnamon and sugar rice to my kids, and they LOVE it.
Have you tried…?
This post may contain affiliate links that cost you no more money, but support our blogging efforts. Thank you! 
Sharing at some of these great link parties.